Throughout my brief journey on this world, I've come across some amazing people in my travels — and Amanda Mathews is at the top of that list. Amanda is the co-founder of Love Is A Seed, an inspirational/second-to-none jewelry company based out of Corpus Christi, Texas. Amanda granted me a rare interview that I am so damn excited to share with you all! We chatted about her goal to spread the story of love through her art. Please sit back, relax, enjoy the interview; be prepared to be inspired. Help spread a seed of love this holiday season. You  can support small businesses like Love Is A Seed by shopping its Etsy store. You can click on the logo below and it will take you to Love Is A Seed's Etsy page and if you write in "Whiskey20" when you checkout, you will receive 2o% off of your order. You can also hit up Love Is A seed on some of your favorite social media outlets too… a list of some of them and their links are provided at the bottom of this post.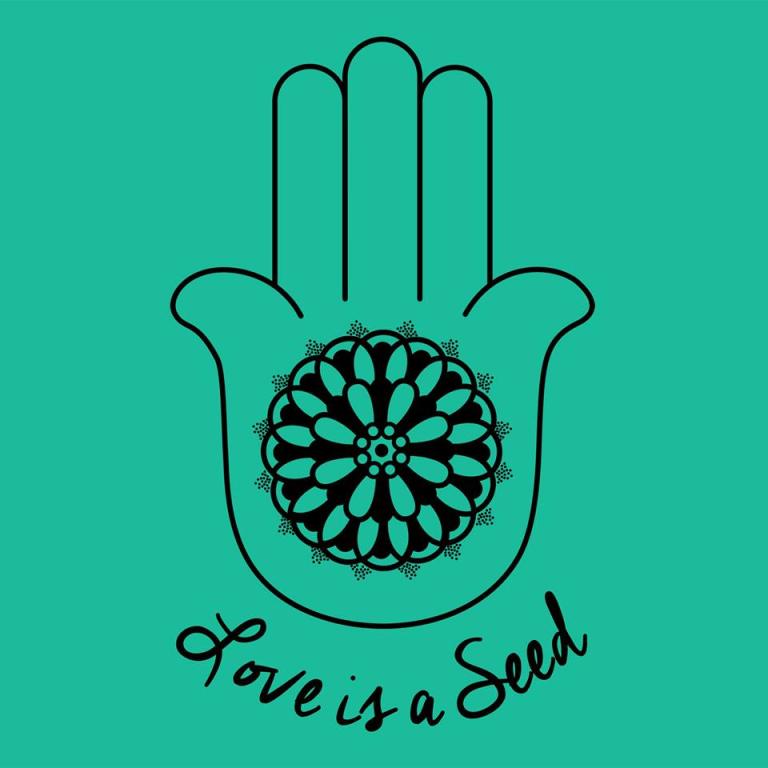 More about Love is a Seed from it's creator:
Our Love is a Seed.
Love is a Seed is rooted in the belief that all things are for a purpose and everything is sacred. Peaceful. Beautiful. Authentic. Hand-made. Everything that we make has had our hearts, thoughts, enjoyment, and attention to the smallest detail go into it. We hope you will wear y(our) items with all this in mind and be confident that you are a part of our story.
Our Logo – Our roots: The logo features a few powerful images not only for us at Love is a Seed, but also offers a message to all. Much of what we began creating was for our own spiritual practice. The hands on approach of taking seemingly unrelated objects and sitting with them, putting in work and love, creating something wearable that was encouraging and healing for us. The vision grew to wanting to share it with others and blessing them with the gifts we have been given. Over the last few years, we have tried to come up with an image that would explain our process and hope. Finally one day everything fell into place.
Our Hamsa. The "hamsa" is a hand accompanied by a palm design usually featuring flowers and vines. This symbol predates Christianity, Judaism, and Islam. We chose the Hamsa because it is a symbol of humanity and life. It resonates and symbolizes our life, protection, creativity, the hand of God, and the spirit of peace. These are the things that we all find ourselves wanting in one way or another. Also it is a reminder that we cannot give or receive with a closed fist. We must open our hands to experience the blessings life has to offer. We hope this image gives you peace and the opportunity to come back to it often.
Our Mandala. A "mandala" is a practice using geometric shapes and meditation to nurture spiritual healing, prayer, and focus. It's like yoga for the mind. The idea is to begin in the center and allow the image to grow from the inside out. We dreamt of a seed in the middle growing into a beautiful bloom. We do believe Love starts like a small seed, growing, and blossoming in all of us. Love changes us and yet makes us who we are. Love crosses all the boundaries, communicates beyond what language can provide us, and surprises us every time.
We hope the name "Love is a Seed" can be a meditation or a reminder for you all, love is like a seed. No matter how great or small the seed may be, if we nurture the awaiting potential, it will grow. It will blossom and fulfill its purpose; and as people that is our greatest hope for each other.
We have a great friend Amber Estrada who drew up our logo. She said once during a tattoo session, "I've heard it described as, you plant a seed, and let it grow". We, as people, and as a business look to create items and spaces where you can grow and create yourselves. Gerald Flores at Taco Creative made it possible for us to share it with you. We are so grateful for his talents and the time he dedicated to this project.
We hope you enjoy and remember… Love is a Seed. Harley and Amanda Mathews
Follow Love Is A Seed:
Etsy: Love Is A Seed
Facebook: Love Is A Seed Designs
Pintrest: Love Is A Seed
Tumblr: Love Is A Seed Blog
Twitter: @loveisaseed