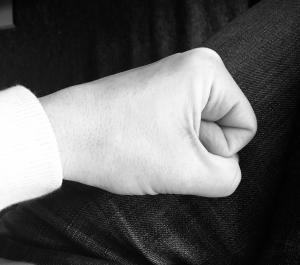 I caught myself recently for the fourth or fifth time in as many days sitting on the couch with clenched fists.
There was no chaos around me to put me in such a state. And yet, my left fist was rolled tight. And when, after noticing, I opened my hand…
It felt all wrong:
Unsafe. Vulnerable.
At this, naturally, I did what all wise people do upon realizing they're living with an unnamed source of tension that's manifesting in decidedly physical ways: I consulted Facebook.
One friend commented, "chronic muscle tensioning (aka armoring) is a symptom of trauma."
My body whispered back, "mhmm."
I haven't seen my therapist in almost a year because she's no longer covered by insurance. (That, by the way, didn't cause any stress at all.) Plus, to be honest, after five years working with her — and she was amazing, and her wisdom and guidance carried me through the darkest depths of post-partum grief — I think I've outgrown her.
Or maybe it's that I've outgrown talking therapy.
I suspect a great many of us are beyond talking therapy most days. The daily onslaught of trauma to which we're perpetually exposed by the highest officer of the land is an endless barrage of meaningless yet damaging words(alad).
Noisy words to cover this and defend that. Noise to condemn immigrants and refugees and people of color; Noise to steal land and money and healthcare and education from the weakest and poorest; Noise to defend and champion the rise of sex predators.
Noise made for the sheer purpose of silencing or drowning-out any sounds of peace or solidarity or resistance.
So the trauma we now live with is way too deep for language. We carry our own and each other's pain in our hips, shoulders, in the bags under our eyes, in the weird anxious shakes we get, and in clenched fists. The jolting way our bodies move is us living in intercession for one another.
Now, when I think of how "the Spirit intercedes for us with groans too deep for words…"
I know these groans and I know these depths.
I think we all do.
And we are at a point, collectively and personally, of needing fewer words and more space to weep and groan with each other.
Right now, more noise — even "good" noise in defense of truth and justice — is just more noise.
And I think maybe what I need — what we need — is the quiet assurance of a two stable hands cupping my own clenched fists.
Or something like a Christmas Eve candle to wrap our fists around as we sing about a "silent night" long ago when a Christ was born into the same kind of darkness.
At least then we're carrying Light, even in clenched fists.