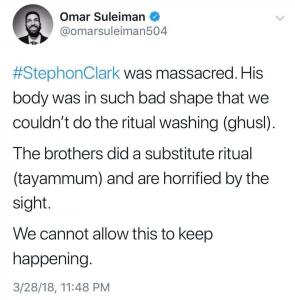 Most of us white people cannot even imagine what a body decimated by 20 bullet holes looks like, but our Black peers are intimately acquainted with such horrors.
Mike Brown's destroyed body was left to fester in the August heat on the streets of Ferguson for four hours before the scene was processed or his body collected. Regardless of official reports, his neighbors understood he was left as a warning to witnesses who might be inclined to fight back.
Eric Garner's slow-choke murder and strangled cries for breath as he was killed were captured on video for the world — and his family — to watch over and over again. While his family grieved his lynching, his murderers walked free, and white folks simultaneously defended them and demonized the dead.
12-year-old Tamir Rice was gunned down by police in a public park on camera and in front of his sister. She was then handcuffed and physically restrained from comforting her little brother as he died. For four minutes, he was dying alone and without aid while his sister was forced to watch but forbidden from helping.
We can keep going back over the countless, evil murders of Jamar Clark and Philando Castile and Alton Sterling and Freddy Gray and Rekia Boyd and… and… and… — all, notably, defended by the state and acquitted by its (white) citizens — till we stand in front of Emmett Till's and all the other lynched bodies that Black Americans were forced to behold as their bodies hung for days, a warning of what happens when white liberty mixes with white rage against blackness.
At some point we get all the way back to an innocent Christ and His state-sanctioned murder, to those who watched and either celebrated or suffered the public massacring of His body.
At some point, those with ears to hear and eyes to see wake up to the reality that
we do unto Christ exactly as we do unto these.