It's been a while.
Much has transpired and sparked conversation about white terrorism, white supremacy, and modern white abolitionism since last we spoke in the wake of the Valentine's Day Parkland mass shooting.
The survivors of the Stoneman Douglas massacre have fired back against the NRA, the congresspeople they've purchased, and the American culture of gun lust, sparking a nationwide revolution through legislation, marches, walk-outs and responsive sit-ins. They've persisted against threats from the highest level, while rejecting attempts to declaw their movement through dismissive, limp countermovements that serve only to undermine the pervasive theme of white male rage and entitlement that breeds (usually white) male terrorism, even as the mainstream media and majority culture minimize the acts of terror through compassionate headlines focused on how terrorists are born.
While these survivors have been organizing a revolution, American high schoolers survived another school shooting, this time in Maryland, at the hands of a white "lovesick teen" who shot his ex-girlfriend. (She was taken off life support and died this morning.) And the city of Austin stood on edge for 19 full days as a "frustrated, very challenged, yet low-key and peaceful" white Christian man terrorized the city with a series of package bombs, first targeting and killing members of prominent black families and then turning his rage on the entire city, ultimately ending his own life as a suicide bomber.
It's noteworthy that none of these white men have been called a domestic terrorist. On the contrary, media and law enforcement have gone to great lengths to avoid that label. As ever, they are shooters, bombers. They are brilliant, athletic, depressed, lone wolf misfits, unemployed, country-music-loving, angry white boys. They are always humanized, but almost never identified or defined by their terrorism.
Meanwhile, in Sacramento, CA, Stephon Clark, an unarmed black father of two young children was shot 20 times by police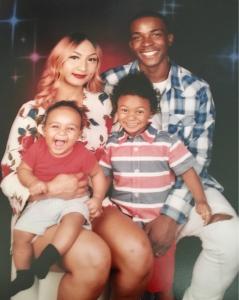 officers who tracked him to his own backyard after he allegedly broke a number of car windows. The officers claimed they fired the 20 rounds because Stephon was holding a weapon and so they feared for their lives. He was holding a cell phone.
With almost all killings of unarmed black men, the news of the killing is delayed until social media goes viral, and earliest reports often fail to even name the dead but focus instead on their alleged criminal backgrounds. And then, as the movement for Black Lives organizes and takes over the city with their protests of institutionalized brutality, proving through interstate shut-downs and marches that the majority white public is far more inconvenienced by traffic delays than by the killing of innocent civilians by those we pay to serve and protect us, temperatures rise, anger flares, and protestors are condemned as violent thugs destroying their own city.
This isn't what I wanted to talk about in my first blog after a month away.
I wanted to tell you about Mexico, and embodiment, and how that sacred space — and a week of determined detachment from All This Madness — awakened me to unnamed trauma and helped me grieve it and learn to love my body. I wanted to tell you about what it was like to spend a week encircled by wise and gracious elders. I wanted to tell you about body shame and hatred, how every cell communicates with everything else, and how for the first time in my life I maybe kind of love my body, or at least am not actively abusing it.
And I still will. I'm working on a series of posts to talk about all of that.
For now, though, we don't really have a choice but to grieve — again, still — the toxic masculinity and white supremacy that terrorize our homes, schools, and cities, and to consider what it'll take to turn the tide.
I think the Stoneman Douglas students and the Mass Shooter generation are leading the charge to change the way we live and think about life and liberty, and they give me bright hope in our future.
I think social media is a powerful tool to expose injustice and hypocrisy in lawmaking, enforcement, and reporting; inform the people when the media and those with power fail; and to organize protests against state-sanctioned or minimized violence.
And above all, I firmly believe white people like me are responsible and obligated to protect the future for Stephon Clark's two boys and every other parents' black children by educating ourselves and our kids early and often about the historic realities of systemic racism and institutionalized white supremacy, and raise them to do the exclusively white work of dismantling and destroying white supremacy, and then move out of the way for people of color, Indigenous leaders, and minorities to rebuild an equitable nation without our interference, but with our reverence for their wisdom and resilience against our centuries of abuse and oppression.
The creation and maintenance of institutionalized systemic white supremacy was and is our crime;
Its destruction is our culpability;
Renouncing the stage and giving it to minority leaders is just the beginning of long-overdue reparations.