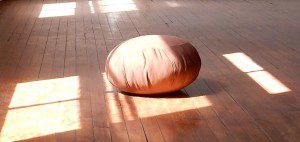 Dear Friend,
Great Tides Zen is at an important crossroads. We have the opportunity to relocate to a dedicated space in the Maine Central Railroad Building at 222 St. John Street.
And we are asking for your support.
During our first nine months practicing in Portland, ME, we have been at Still Water Yoga. The owners, Joseph and Candace, have been supportive and gracious hosts from the beginning. Now to more fully actualize the possibilities for practicing together, we would like to take a significant next step on the Great Tides Zen journey.
What is the next step?
A space dedicated for Great Tides Zen where we could share more of the buddhadharma that we're passionate about by continuing to offer the weekly Open Zen session (with several periods of sitting and a dharma talk), weekday morning zazen, and the Monday night class. We would be able to add a weekly beginner's class, evening zazen, and monthly all-day sittings.
Importantly, we could have a home, a place of refuge for community members to practice together, both formally and informally, discovering and deepening dharma affinities through tea and conversation.
We have found a place that we believe would serve us well for this next step, in the fully accessible Maine Central Railroad Building with 760 sq. ft., serving our needs for a meditation hall, library/social area, and a separate room for practice meetings (see photos below).
As an added bonus, the building may have the best parking anywhere on the peninsula. It also sits right on a bus line.
Why not just sign the lease?
It would add about $350 to our monthly expenses. From a big-picture perspective, this is not a lot of money, but it is a stretch for our emerging practice community.
To exercise due diligence, we are coming to you, begging bowl in hand. Will you help us pay the rent for our first year, contribute toward giving the place a fresh coat of paint, and provide funding for more cushions and chairs?
Our hope is to raise $5,000 by June 1. In order to reach this goal, we expect needing a couple $1,000 gifts, several $500 gifts, and about a dozen $100 gifts. If you can give any of these – or other – amounts, your offering will be deeply appreciated. Great Tides Zen is a 501c3 nonprofit organization, and your contribution will be tax deductible.
Please join us in establishing the first dedicated space for Zen practice in Portland, Maine.
To donate, click here, or send your check to Great Tides Zen, 169 Longfellow St., Portland, ME, 04103.
With gratitude,
Dosho and Tetsugan
Click to enlarge: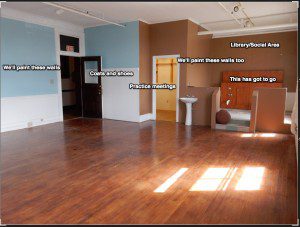 Practice meeting room: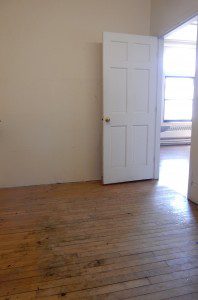 Panoramic view of the Railroad Building and parking lot: