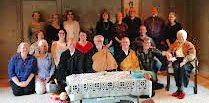 This past Thursday night I had the pleasure of attending the Soto Zen priest ordination (shukke tokudo) of Doug Kaishin Phillips Sensei, at the Empty Sky Sangha in West Cornwall, Connecticut, officiated by the inimitable James Myoun Ford Roshi.
Doug is in the front row, third from the left. James is next to him.
I arrived about thirty-five minutes before the ceremony and after chatting and getting reacquainted for about fifteen minutes, someone suggested that we review the ceremony. I was assuming that whoever was running this thing had matters well in hand. Then I found that James had appointed me shika (master of ceremonies) – par for the James' course in Zen – and that I was (in a loose sense of the word) running this thing.
Well, we all got to it and the ceremony seemed to go well.
Doug has been practicing the buddhadharma for thirty-some years in both Zen and Vipassana and is an authorized teacher in both traditions.
He's done many retreats and a lot of sitting. A lot. And it shows.
His main teachers have been Maurine Stuart, George Bowman, Larry Rosenberg, and James Myoun Ford.
In my view, Doug represents the best of Western dharma. He is a practitioner who has put inquiry into the great matter of birth and death front and center and followed his nose through whatever traditions the inquiry led him. His teaching represents the imperative of this wholehearted inquiry without mixing it up or watering it down. Doug takes the great matter intensely seriously and himself not so much at all.
Obviously, I respect Doug and just like the guy a lot.
And we agree (aka, "he's right") on just about everything.
It is such a great thing to find a dharma friend like Doug.
During the ceremony, when I recited a rendition of Dogen's "Words of Praise for Leaving Home," Doug's tears flowed.
What kind of guy cries when he hears Dogen's "Words of Praise for Leaving Home"?
A homeleaver, that's who.
Meeting a person of the Way on the Way.
So good to meet you, my friend.
(pictured below: Jan, Dosho, James, Doug)