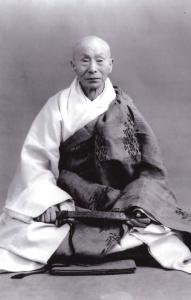 Dosho's Note: Below you'll find a translation of an article that first appeared in a magazine from Hosshin-ji, Shoyu (勝友, "Victorious Friend"), written by Chisen Shiroyama, a nun who trained as a lay woman with Harada Daiun Roshi (October 13, 1871 – December 12, 1961) and received inka shomei from him. Later in life, she became a nun and attended to Daiun Rodaishi after Harada Tangen Roshi became the abbot of Bukkoku-ji. For more on our great ancestor, Harada Daiun Sogaku Roshi, see The Lingering Radiance of Harada Daiun Sogaku.
This is a translation by Bukkokuji monk, Kogen Czarnik:
On the last day of rohatsu sesshin, on the 7th, the warm weather radically changed and a cold wave hit, with hail and thunder preceding the snow. It was a really intense onset of bad weather. Roshi's 91 years-old body, which was quite weak from the acute pneumonia he had the previous summer, was likely influenced by this sudden change of weather, and from the morning of the 7th, he fell sick.
Quickly we called his main physician, Dr. Ozu, who came and checked on Roshi. He found Roshi's pulse, breathing and blood pressure were normal, he had no fever, and there were no other symptoms. Dr. Ozu said that because of old-age related weakness, Roshi should be very careful and rest.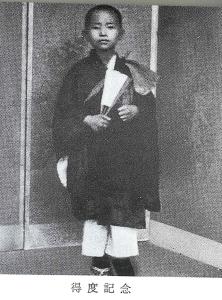 Roshi ate three meals that day as always, and was just resting in his bedroom, but from the next day, the 8th, he slept almost all day and night. During those next few days, until the morning of the 11th, if I would put a spoon to his mouth with fruit juice or milk, he would drink it, and on the evening of the 10th he ate some mashed banana that he always loved with yam juice that I offered to him. I asked him "Is it good?" "Very good," Roshi answered. "Was it enough?" "Yes, enough," he replied in a small voice, and these were his last words.
After that Roshi just slept all the time and from noon on the 11th he didn't eat or drink anything. On the 12th, at 11:25 a.m., his body finally entered eternal sleep. Dr. Ozu said, "There was no sickness, it was a perfectly natural death from old age. I have seen many people dying, but I have never seen someone die with such a beautiful face. He looks more beautiful than when he was alive." And he looked at Roshi's face for a while.
It was truly a peaceful death. He didn't suffer a bit. It was just like a lamp gradually dimming down and finally extinguishing – that quiet kind of last moment.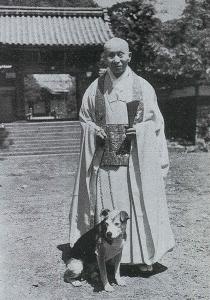 A telegram was sent to Roshi's disciples and attendants, who rushed in shock and grief to come; the Bukkoku-ji abbot, the Shinpuku-ji abbot and myself. Three temple-member practitioners – Mrs. Kawa, Mrs. Hayashi and Mrs. Tsukuda – were asked to help, and respectfully wiped Roshi's body with a wet cloth, dressed him in a white kimono, a white koromo he liked, and put on the hand-made linen 25-panel okesa made by the late Mrs. Sumiko. His body was enshrined in the same bedroom he was in.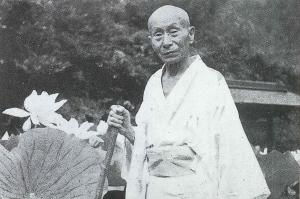 Many students, one by one, started to come to pay respects, many of them saying, "How noble Roshi's face looks. Just like during dokusan." Some people were bringing their ears close to his tightly closed mouth saying, "Roshi doesn't look tired, his face color looks good, he looks as if he was just about to say something."
That evening, Docho Roshi (Sessui Harada Roshi) and 35 other priests gathered by his bedside chanting sutras, performing otsuya, and on the 13th, there was another otsuya at Kakusho-ken. On the 14th we waited for Sozen Nagasawa Roshi with three of her disciples to come from Mitaka,Tokyo, to transport the coffin to Hosshin-ji hatto. That evening we had a big otsuya in the Hosshin-ji hatto which was full of temple supporters, and people from the Fushiwara area. Gagyu Kawase Roshi, the abbot of Manpuku-ji in the Murakami city, Niigata prefecture, was doshi and the "Bequeathed Teachings Sutra" was chanted. After that, the recording of Roshi's teisho from the previous sesshin was played, on the 47th case from the Mumonkan,
"Tosotsu's Three Barriers," and the 48th case, "Kanpo's One Road". His voice was flowing as if it were his living words coming to us, and I remember seeing an image of him in front of my eyes, gesturing when talking.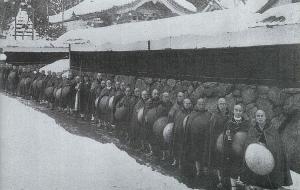 On the 15th, at 1pm, with the hatto tightly packed with students and temple supporters, the funeral service was solemnly performed with Ryoten Ueno Roshi, the abbot of Garyu-in from neighboring Mikata as doshi. After that, people boarded a few buses and following the hearse, everybody went outside of Obama to a crematory ground on a low hill, and following Roshi's last wishes, he was burned outdoors in traditional style just like Shakyamuni Buddha. There was a big mortuary tablet saying, "Freshly entered nirvana, the 27th abbot of Hosshin-ji, Daiun Sogaku Osho Zenji". Roshi's ashes were put into a small urn which was enshrined on the main altar at Hosshin-ji. Everyday, a constant stream of students were visiting and saying some prayers to it.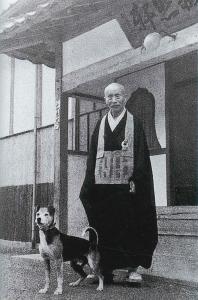 For the following weeks, it was moving how many people showed Dharma-love for Roshi in different ways. People from every part of Japan were coming just to offer incense for Roshi, and many more were sending letters of condolences to Hosshin-ji, and sending offerings and gifts which were put near the altar before Roshi's urn. On each seventh day from his death, a taiya ceremony would be solemnly performed. After the 49th day ceremony, all the board of temple supporters, Roshi's successors and attendants, and people with close connection to the temple gathered to discuss the main funeral ceremony, which happened on May 12th.
It was a day that all of us will remember forever. From May 11th, all Dharma heirs, close disciples and followers, from Hokkaido, Kyushu, Tokyo, and every part of the country, made time, put everything aside, and came to participate in ceremonies for the farewell of our Roshi. On the 11th evening there was a taiya ceremony in Hosshin-ji hatto, and then as before, we listened to an old tape with Roshi's teisho, hearing his energetic voice.
From the morning of May 12th, it started to rain more and more. Roshi always used to say, "Usually I bring nice weather," but on this occasion it felt like the sky was mourning with us and crying. Thanks to that rain, the mountains that were re-forested by Roshi, became lushly green, making Hosshin-ji look magnificent for that day. However, from 2pm, when the ceremony started the clouds were clearing, and at 4pm, when everybody was going to depart, it was perfectly sunny. Everyone thought, "Ah, just like Roshi said," thanking his great merit, and everyone was able to go home. Of course, some people said that maybe without rain even more guests from the town would have come, but the hatto was already completely full, and the tatami that were put for the day on the outside wooden corridors, were packed tightly.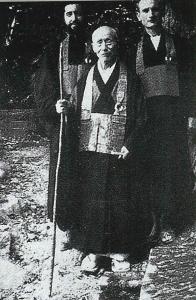 For the ceremony there were delegations from both Daihonzan, and over 200 people from various temples. There were seven doshi's, to perform the ceremony with utmost dignity: Monji Tokutake Roshi from Hoon-ji in Morioka; Gagyu Kawase Roshi from Manpuku-ji in Murakami, Niigata prefecture; Ryuko Kishimoto Roshi from Kuin-ji in Obama; Kenshu Matsumoto Roshi from Shinmei-ji in Sanda, Hyogo prefecture; Senkai Takahashi Roshi, from Eikyu-in in Miyazu; Yuko Fushii Roshi from Kotoku-ji in Obama; Etsudo Nishiwaki Roshi from Chugaku-in in Haibara, Shizuoka prefecture; and other venerable teachers.
At the end, there was a moment for the lay community to offer incense, but the voice of the person instructing was not reaching everyone. Lay practitioners and temple supporters started to get up all at once from every side of the hall, going in front of the altar decorated with Roshi's photo to offer incense. It became complete chaos, but also it felt like it was a natural manifestation and outpouring of genuine deep feelings for Roshi. I was moved, reverently watching it.
After the funeral, everybody participated in the ceremony of placing Roshi's ashes at the abbot's grave, in the cemetery behind the temple. The ashes were divided and buried also at the various temples where Roshi was the abbot: Kakusho-ken; Tosho-ji in Tokyo; Chigen-ji in Miyazu; Hoon-ji in Morioka; Choan-ji in Chiba prefecture; Ankoku-ji; and Chisai-in; and at the temples that Roshi had deep karmic connection with, like Kannon-ji in Tokyo; Kosho-ji; Engaku-ji in Niigata; and Senpuku-ji in Fukui.
Roshi's nirvana poem is:
"For 40 years, selling water by the river.
Ha ha ha ha! All my labours – no merit.
KATZ! No merit, great merit.
Do you see it or not?"