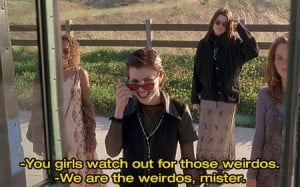 In my last post, I introduced a series on my experiences as an Interfaith Pagan.  Today, that series continues.
Let's be honest with each other for a moment:  we've all probably seen it.  I know Pagans who weren't even born in 1996 who've still seen The Craft.  I remember watching it on premium cable while I was in high school and I'm not ashamed to admit … okay maybe I'm a little ashamed to admit … that I own it on VHS, DVD, and I have the soundtrack.
But, in case you're unfamiliar (and outside of Pagan circles, or at least outside of my Pagan circles, I suspect you are), it's a movie about four young women who form a coven, and because it's a movie, they find themselves able to perform feats like levitation, mind control, illusion, etc.  Since it's classified as a fantasy horror, one of the foursome (with the ruby glasses and the grin in the screenshot) goes power mad. She and one of the others have it out at the end of the film.
That said, before the madness kicks in, the scene pictured above takes place.  They're riding a bus out into the countryside, and when they exit in the middle-of-nowhere, the driver says to them, "You girls watch out for those weirdos," to which one responds, "We are the weirdos, mister."
Perhaps we're less weird today than we were in the 90's.  More and more, people know we exist.  Movies and television shows have characters who casually comment about their Pagan faith, books on Pagan topics have proliferated, and national efforts to recognize Paganism and modern polytheistic practices — like the availability of the pentacle and Thor's hammer on military headstones — have succeed.
But, that doesn't mean that people are always prepared when we show up to an interfaith event.
Monotheistic Default
Byron wrote about the monotheistic default in interfaith settings before.  In her story, she was sitting on an interfaith panel discussing "Faith and Creation."  She points out that, for her, Paganism isn't so much about faith and that which the other panelists thought of as creation, she thinks of as life-giver and creatrix.
This sort of thing is everywhere at interfaith events here in the United States.  I suspect it may be different elsewhere, especially in locations where the "Big Three" monotheistic faiths take up smaller portions of the population.  That said, overcoming or working within this framework is almost always the first challenge for me when I attend an interfaith event.
When I lived in Illinois, there was a student run organization at the University of Illinois called Belief in Question.  It was advertised and run as something of a debate club as opposed to a dialog or conversational session.  The organizer was an atheist, and he structured the topics based on monotheistic defaults.  One that I recall specifically was simply put:  is God benevolent?  Far greater logicians than the group of us gathered together that evening have struggled with this question for centuries, but on that evening we plunged into the waters of that debate and tried to stay afloat.
For a while, I engaged in the first of two ways that I tend to deal with these situations and, by far, the less enjoyable one:  remaining silent.
Sometimes, when faced with a question that just doesn't truly make sense in from a Pagan point of view, you have little to add to a conversation.  I don't usually settle on this strategy because it means that I end up having to remain passive through some or all of the event.  But, having been raised Jewish and now a practicing Pagan, I've encountered situations wherein I lack knowledge to speak with any authority.  In those cases, I to tend follow the advice often attributed to President Lincoln:  better to remain silent and be thought a fool than to open one's mouth and remove all doubt.
But, this doesn't really allow you to get deeply involved and, if you didn't want to be involved in the event, why did you go?  So usually, I'll keep an eye on things, and wait either be invited to speak or for a dramatic moment to pose a question that I've termed The Polytheists' Dilemma.
The Polytheists' Dilemma
When faced with a monotheistic default, I've often been able to shake up an event–or as I've come to term it: to un-quo the status–by responding with a question of my own.  Presented with the topic Is God Benevolent, I'll respond:  which one?
So often, in a room filled with monotheists and–considering I work with a lot of people in my age cohort and younger–atheists, when a polytheist metaphorically kicks the carefully constructed sandcastle of others' expectations it can create a bit of a stir.  Usually, it just allows me to briefly share a bit about my own belief and explain how the monotheistic topic at hand has little to no meaning when you experience life from outside that context.
Sometimes it lets you take the floor for a bit longer.  Maybe you'll be able to share some of your thinking about the gods, how they're a mix of many different qualities, how some of us tend to think of them as neither omniscient nor omnipresent, and how their benevolence (or malevolence) is often based on the situation they face or the interpretation of their stories by human minds.
To be clear, these moments can be a bit of an ego boost; I'd be lying if I didn't admit that I enjoy the spotlight.  And, sometimes I'm just not up to being the center of attention–even if only briefly–and so I may steer a conversation back toward the topic at hand rather than trying to change directions in the middle of an event.
But, each of these more Pagan theological topics run counter to the monotheistic default, and by bringing them up however briefly they're discussed during an event, it offers others the opportunity to investigate further.  On that day, at the Belief in Question event, a Christian pastor from a local church approached me afterwards and admitted that he'd never met a "polytheist like me" before.  I asked him what he meant, and he somewhat bashfully explained that he meant a Caucasian, American one; he'd always assumed that people who believe like me were somehow more different and further away from central Illinois.
We didn't have much time to talk, but I did share a bit more of my personal journey with him and then recommended that he grab a copy of Margot Adler's Drawing Down the Moon.   I never had the chance to meet him again so I don't know if he ever read it.  But, I like to think that he did.  I like to think that on that day, in that moment, I took the chance to un-quo the status for him.  And, I like to think that should he ever organize an interfaith event of his own, that he might remember me and that evening and try to avoid some of the pitfalls that that we encountered together.
---
I'll be back in two weeks to discuss some two of the most common preconceptions I encounter related to Paganism while attending interfaith events, one of which is the very expectation of difference that the pastor described to me above.  And, in four weeks the series will wrap up when I share a bit about how I handle the sometimes overly-bright spotlight that others turn toward me during these sorts of moments.