What to do when December rolls around, and your friends are pagan and witchy? Fear not! I have lots of suggestions for Yule, Winter Solstice and general gift giving for December holidays.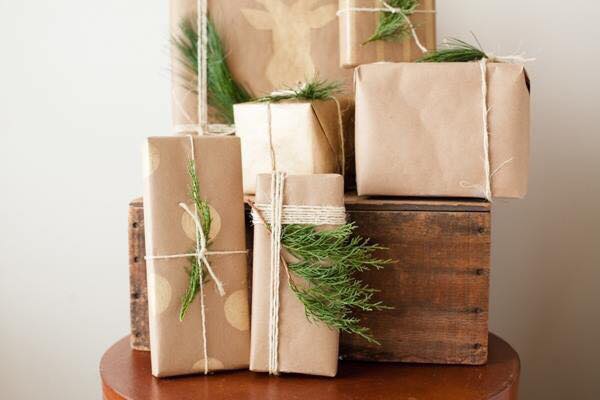 Oftentimes, people come into the witch shop where I work and ask for help in picking out presents for their friends who are interested in "all this" (the phrase is accompanied by the waving of the hands in the general direction of the entire shop). I also get the sigh of relief that the person is in the right place for their friend, who also loves the shop. Then there are the people who wandered in, seemingly by accident, and are enthralled with the many treasures we sell.
Gift giving can be stressful, but the wonderful thing about pagans and witches is that it need not be. If you're not sure what to get that person, below are a few suggestions.
Candles: Oh, how we love candles. We use them, stockpile them, and need them for all sorts of things. You can dress a candle in oil and herbs, if you would like to add a personal touch. You can get a plain 7 day candle and decorate it to reflect your recipient's interest (photos of people they admire, make it sparkly, collage photos of the two of you, cover it with natural items such as herbs, grasses and leaves).
Crystals: Nothing elicits more joy than a wee cotton bag filled with crystals. Enjoy perusing the different uses of them, and select a few that are meaningful to your recipient. Needs stones for calming anxiety? Hematite, lepidolite, and clear quartz would be a lovely gift. Books on crystals are also very helpful. Which leads me to my next suggestion…
Books: Pagans and witches love to learn! There are so many lovely books out there on a variety of subjects. Find a topic the recipient is interested in, and find a book or two on the subject. Maybe they mentioned a passing interest in a form of divination? Get them a book on the subject. Another good idea is journals. For writing, spells, and more.
Divination: Who doesn't like to receive a new deck? We have several shelves of tarot cards, and I like to advise gift givers to stand in front of the variety, and see which ones call to them. They start out nervously, a bit overwhelmed by the variety, then they take a few deep breaths and a certain deck will literally call to them. The look of delight is a joy to behold. Pick a deck based on your recipient's interest, art preference, or subject matter. There is truly a deck for everyone. If not cards, then gift a pendulum. They can be inexpensive, and if not used as a form of divination, can be re-purposed for something else (a necklace, an art piece, to use in their car, etc.)
Ritual/Spell Kits: Gather together different components for a spell. Have a friend who could use a good money spell? Gather the items together for them. If you're not sure what is needed, do research or ask someone who knows. Make a spell or working yourself, and gift that to someone. I had a friend create a work of poetry along with a few items, and she created a wonderful manifesting spell for me. So much care and thought went into it, and that meant so much to me. Look up herbs related to protection, gather them together and place them in a clear glass ornament or bottle.
Bottles/Boxes/Bags: There are so many uses for bottles, boxes and bags. Many stores have a variety, and I don't know a single magical person who would not be delighted with such a gift. Find an antique bottle at a flea market, an unusual set at the dollar store, a bag at a craft store, or a box you've had or no longer use. Trust me when I say that all will be appreciated and used.
Nature: I was given a sprig of lavender my friend grew in her garden, and I cherished it. Made me smile every time I saw it, because she is an avid gardener and it was a thoughtful gift. Lavender is calming and soothing, which we can always use. If you are out on a hike or a nature walk, and you see an unusual stone, a pine cone, or a wonderfully shaped stick, gift it to your friend. It's a thoughtful and inexpensive way to add to their altar, and who doesn't like to be reminded of nature, especially during the long cold, winter months?
Jewelry: You can't go wrong with a pendant, necklace or bracelet. Especially if it features your friend's deity, or is made with natural items or their favorite crystal. Rings can be a bit trickier, not only because of sizing, but also because people tend to be a bit pickier about what to wear on their fingers, if anything. A pendant or necklace can be used in other ways, such as something to hang from their rear view mirror, an addition to their altar, or added to other pieces they may already have (like a charm bracelet, or a necklace with many pendants).
Stickers/Buttons/Patches: An inexpensive way to bring delight to your friend. Stickers are used on everything from cars to water bottles and laptops. Buttons are not only used on clothing, but on bags and backpacks, and patches definitely have been popular, for both practical and fashionable use.
Gift giving can be stressful for some, so don't think you have to give your friend THINGS, when you can also spend time with them. Your presence is more important than presents, but if you would like to gift a little something at this festive season, you can't go wrong with any of the suggestions listed above.