2018 was a year I can safely see in that rear view mirror. Most of the time, I prefer to look through the windshield, are we there yet? Ready for a new adventure. This past year brought me to my knees in so many ways. I am grateful for my community, my spiritual practice, and my faith in the magic the Universe provides.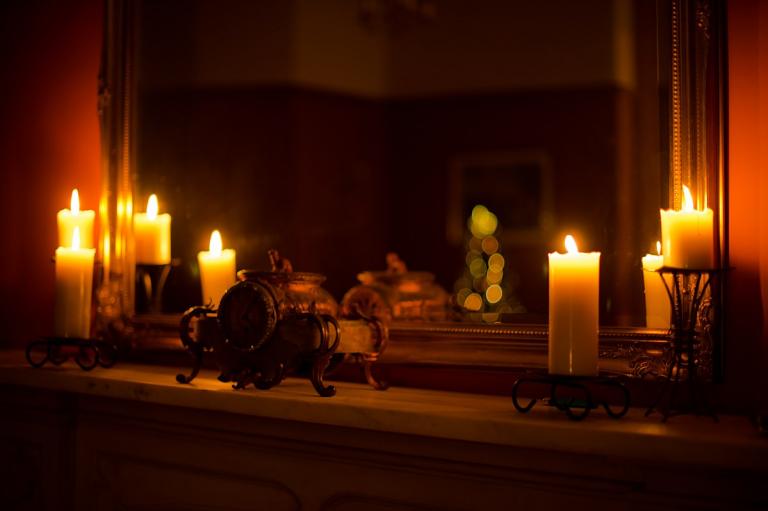 Time was more like a rubber band than ever, to the point I can barely remember yesterday, much less back to January 2018. I begin each year with an excited hopefulness and then it seemed the world battered me senseless. I am tough, and have been through worse, and soldiered on. I kept steady with observing new and full moon rituals, with a few dark moon ones thrown in for good measure. I decided to fully observe the Wheel of the Year, making each part last for a full six weeks. It made me more mindful, and I felt in tune with the cycle of the planet. While the news was full of chaos, I took a deep breath, and went within, observing, making mental notes, and kept moving onward.
It began with Imbolc. With my beloved mentor, we explored a spring known to many as Brigid's, and performed ritual under cloudy skies. A nearby tree was filled with clouties (cloth ties imbued with intentions), the spring bubbled, I felt attuned to my beloved Brigid. I remain devoted to her, for she changed my life the year before, and it was satisfying to honor her. A few weeks later, I returned to the spring, and someone had destroyed the altar and clogged up the spring. I wept, but was not surprised. The cycle of life continues.
Spring arrived and I had presented my workshop on building community at a well known conference. Achievement unlocked. Friendships blossomed and waned, and I went within. The sands shifted beneath my feet metaphorically, and I felt alone in a variety of ways. Don't we all, as people wax and wane along with the moon, with love and affection. The cycle of life continues.
My youngest son arrived to live in my beloved Asheville before Summer began, and spent his first days in the ICU with unexplained blood clots. To see your child in an ICU, no matter the age, is not for the faint-hearted. My community rallied around me, he seemed to recover, I breathed again, and held fast to my rituals. The cycle of life continues.
Summer Solstice, and I hiked with my youngest to the top of a mountain. We gulped in the clear air, gazed at the vistas, and felt relief. Nothing could touch us, life was good. Health had returned, life was full of possibility. The cycle of life continues.
Seven weeks of unrelenting, unexplained pain for him followed soon after. My heart broke and I cried when his pain was so bad, he couldn't look up and see the stars or his reflection in the mirror. He told me that, and I wept. I weep now, writing that. having never felt so helpless in my life. The cycle of life continues.
Lymphoma diagnosis for my youngest as we move towards Samhain. The days grow darker, more candles are lit. I ask for help all around the world. Prayers, invocations, crystal energy, Reiki healing, any form of relief my friends can provide. I am humbled by their support and caring. They envelop us in this cozy blanket of community that literally traverses the world. Chemo begins, and he slowly starts to feel better. The cycle of life continues.
Ever grateful for the improvements, however incremental. I adopt an apocalyptic outlook in decision-making. If the world were to end next week, would the following decision really matter? It makes things so much easier. Black and white, yes and no, do or do not, move forward or stay still. The cycle of life continues.
Early November, and I meet someone for coffee who changes my life. The small ember I had kept burning for years, is tended to, and soon becomes a steady, cozy fire. How can I integrate that into my already busy life? See apocalyptic outlook decision making above. It works, and another layer to my life is added. The cycle of life continues.
Preparing for Yule and Winter Solstice, I alternate between exhaustion and celebration. My youngest's scans come back and show improvement. Only two more chemo treatments in the new year. His health has defined my life in 2018, but other things have grown lovingly around it. I observe Yule and all other celebratory events with a full heart, love and a sureness that was lacking the year before. I am on this path, destination still unknown, but a bit more clear in the fog ahead. The cycle of life continues.