Have you ever visited a witch shop? It is not a common experience, but if you ever have, know that so much energy, thought and caring goes into creating that space. Come with me as I walk you through a day in the life of a witch shop.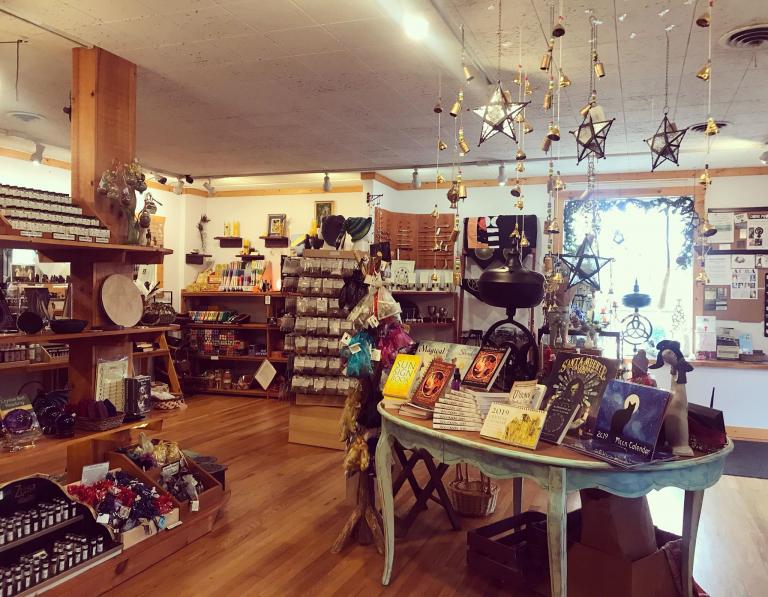 Recently, we finished doing inventory in the witch shop I manage in North Carolina. It's usually a traumatic experience, filled with me muttering, "let's get rid of all this and sell just sticks and stones." You have not lived until you have counted endless candles. We have lots. And incense sticks. So.may.little. items.
Most people smile and sigh when I tell them what I do for a living. "That must be the best job ever," they say, as their eyes cloud over and they daydream about magical happenings. It is indeed one of the best jobs I have ever had, but it's no picnic. I don't get paid to sit there and look cute while I ring up your purchases. One day in the life of a witch store could quite possibly make you cry. Sometimes I do. It's hard but rewarding work, and there are many layers to it. What's a day like? Let me tell you…
I start the day by making tea with one of the many herbal blends we sell. The owner of the shop, along with her husband, make many of our products: teas, candles, incense. They are amazing products, made with love, and they are items I use regularly myself. It's a point of pride for all of us who work there: we contribute by making a few products, all designed to help people with their workings. I create travel altar kits, along with seasonal altar kits, for people with limited space, or for those who don't know where to begin to create their own altar space. Others make bath kits, spell kits and more.
I love opening up in the mornings, the calm before the swirl of the day. The shop is quiet, and I light incense and candles. I cue the music, straighten shelves, get ready to unlock the door. And it begins.
The shop opens, and people tumble in. They literally tumble sometimes. We are on a corner of a busy thoroughfare, and sometimes a person will come up to me with a sense of wonder, saying, "I have lived here for years and never knew about this place." I tell them we appear when we are needed, which adds to their mystical feelings. Others have found us purposefully, while visiting the area, and they are so excited to be in a shop that has what they need. "We don't have a shop like this where we live," I hear often.
People come in with questions. All questions are welcomed, and I love answering them. "This may sound stupid," they will begin, and I hasten to assure them there are no stupid questions. It is important to me that people feel a sense of community as soon as they walk through the door. We are all in this together, learning from each other. We try to have items that honor many traditions, so it's a joy to help people find what they need. It can be something as simple as a candle or a bracelet, or more items to help create a ritual.
Then, shipments come in. There is so MUCH STUFF. More items to add to the other items that fill our shop's nooks and crannies. Somehow we always find a place. My personal favorites are the books and tarot cards. I love watching people find just the right book on the subject they were interested in, and then I love seeing how the cards will literally call to a person when they are undecided which one to get.
People come in with all sorts of concerns: wanting to remove negative energy, spirits, new to the path and not sure what to do next, love gone wrong, not sure what to do with their gifts of intuition and more. A variety of questions that require personal attention.
The daily reader comes in, and gets set up in the reading room. We have daily readers, a wide variety: tarot, psychic/mediums, astrologers, runes. Our readers help with questions as well, which is great, as the shop can fill up with customers in ebbs and flows. The readings are a quiet murmur under the busy hum. Many are nervous about getting a reading. "I don't want to know what's going to happen!" they will say nervously as they scurry out the door. Others who have readings are beaming, or finding items to help with the concerns that popped up during the reading.
More shipments come in, people drop in to say hello, more people have questions and concerns. We are open daily from 11-7 pm, so it can make for a long day, but the energy keeps me going. Someone can come in full of thanks for help with a ritual or spell that worked for them, and their joy is palpable. As we head towards evening, a workshop presenter will show up to begin setup. It's a personal satisfaction to see the calendar filled with a variety of interesting workshops and events. We have an aura photographer who comes in once a month, and the delight of her subjects is infectious.
As we head towards closing, I can feel weary. More work to be done before I can call it a day. Writing copy ads, working on the next month's calendar, checking stock, figuring out what needs to be ordered. In addition to the energy of people coming at me non-stop during the day, it can make this introvert tired, but I recharge once I lock the door for the day and revel in the quiet once more. Each day is different, with its own challenges, and no two days are alike. It can be overwhelming, it can be satisfying, it can be delightful, and it can be exhausting. I know I am fortunate to be able to do what I do for a living, and I'm thankful for it daily. If you have a shop in your area, be sure to say thanks to the employees. For us, it's a labor of love, and a way for us to help heal this crazy world. So mote it be.