Imbolc is coming! Not sure how to celebrate? Here are a few suggestions to get you started, in the spirit, and inspired to create your own rituals.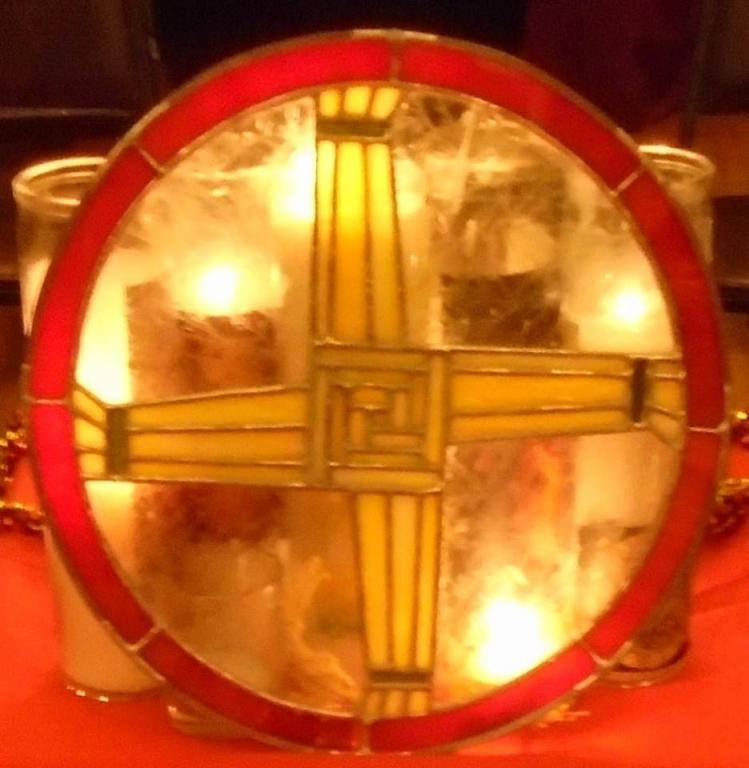 Imbolc is my favorite celebration in the Wheel of the Year. It means a lot to me personally because I am devoted to Brigid, but also because it is part of the journey towards Spring. It comes at such a lovely time, when you are fed up and sick of winter (unless you are a fan of Winter, skip that sentence then), the days are becoming a little bit lighter outside, and the whiff of Spring can be in the air. What's not to love? It's a time of candles, healing, poetry, beer and more. I love Brigid because she is a multi-tasking deity who covers so many areas that are personally important to me. Not sure how to celebrate? No public ritual nearby? There are lots of other ways to celebrate, some suggestions below:
Dress a candle: dress with a bit of Brigid oil (or create your own oil in her honor) and the herbs of Imbolc (angelica, basil, blackberry leaves) Make several so that you can place one in each room to light on Imbolc and welcome back the sun. Make some to give to friends, and tie with gold and red ribbon.
Write poetry: Don't get hung up on writing the perfect poem. Take some time to light a candle, meditate on Brigid and write what comes to you. Get in a dreamy state, open your heart, and see what comes out in your writing. Write a letter to someone you love, a letter to Brigid, or a letter to yourself. Prepare for the growth and renewal of the Spring Equinox: write down a list of what you want to let go, and prepare a list of what you would like to see grow. Burn the list of what is let go, and keep the other list where you can see it daily, or better yet, place it under your statue of Brigid as your pledge for the year.
Drink Beer: Self-explanatory, but if you have ever had a yen to make your own beer or mead, look into it and let it be your project of the year. Make your first batch in honor of Brigid, create your own label, and have a party to celebrate.
Light a fire: There is something mesmerizing about fire scrying. Gaze into a candle, light a wee fire in your cauldron, light a fire outside, either a campfire or in a firepit. Celebrate the warmth of fire on a cold evening, warm your hands over the flames, and ponder what you see in the flames. I find Imbolc to be a dreamy time, so spin your dreams while you gaze into fire, and let that dreamy state permeate your daily life. See what evolves during that time. It may lead you to bliss.
Use gold and red liberally: Tie red and gold ribbons on your candles, wear red and gold in your daily attire, find a red and gold crown to wear on Imbolc, find a red article of clothing that makes you feel warm and loved. Invoke the fiery spirit of Brigid and burn brightly for all to see in the cold depths of February.
Listen to Imbolc Songs: Type in Imbolc, Brigid and Celtic into YouTube and have fun. The music is uplifting and may inspire you to create your own celebrations.
Talk to Brigid: On Imbolc, or even before and beyond, sit and talk to Brigid. That is how I began my journey with her, and amazing things unfolded. I wept, I told her all I wanted to say, and didn't think I knew how, and I felt her presence. She listened and answered me, for which I am ever grateful. Sometimes puzzling things out loud makes more sense, and processes what you're feeling, so gaze upon a photo of Brigid and really talk to her. Follow what happens in the following weeks.
Blessing Ribbon: On Imbolc eve, I leave out a green cloth ribbon and place it on a windowsill outside my apartment. If you have a safe spot outside, leave a ribbon there. It is said that Brigid comes by and blesses the ribbon during her journeys that evening. Known as the Brat Bride, the ribbon would then be used throughout the coming year for healing and protection.
Feast: The foods of Imbolc include dairy products, pumpkin and sunflower seeds, Poppyseed cakes, breads, scones, lamb, winter vegetables, raisins, flaming foods (such as Cherries Jubilee or Crepes Suzette) remind us that remind us of Brigid's light can be part of the feast. Have fun with creating a menu, incorporating any of these items, or whatever you feel best represents Brigid and Imbolc.
Decorate: Decorate with lamps, candles, and oil lamps. Weave red and gold ribbons around your home, highlight your besom that will sweep the winter away, paint or draw a picture of Brigid, display a Brigid statue, or create an altar with all the items that remind you of her (beer, candles, poetry books, candles, athames or knives to represent her smithing aspect, just a few suggestions)
And finally, have fun. Imbolc is not just a day, it can be an entire season. Find the parts of Imbolc that speak to you, get to know Brigid and celebrate. Honor her with words and beer, flames and ribbons. It is a bright spot in the dreary days, and can lead to joy in your life.