When faced with a decision, do you listen to your deities or assert your free will? Do you sometimes want to take the easy way out? Wonder why the deities want you to do this certain thing when it's so darn unpleasant? Do you have the endless why?, followed by resignation, followed by doing what they ask, all the while grumbling with more why?!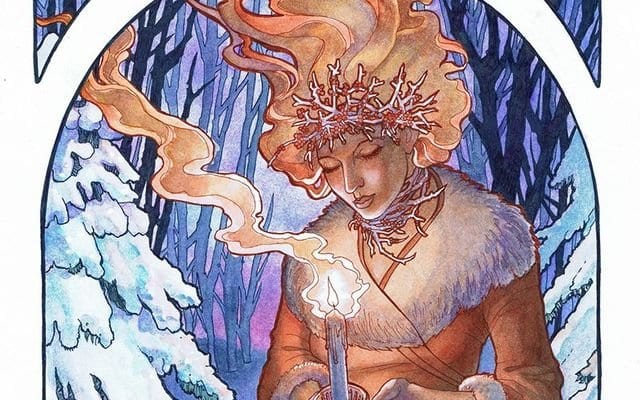 Recently, I had come to a crossroads. I kept trying to avoid it, kept trying to avoid the glaring potholes ahead of me, and wanted to just tune out the world, and do my thing. I asked my partner for his advice, and he reasonably asked "What do your deities say?" Immediately, I got defensive. "Well, sometimes I listen to the deities, and sometimes I don't. I still have my free will." Admirably, he tried not to laugh, offered his opinion, and let me stew on this for a bit.
I had been struggling with decisions, wondering "why me?!" I ask lots of whys in life. I need to know answers. I take my tribe's opinions, sort them through, compartmentalize, worry, fret, get anxious, have nightmares, struggle mentally, grumble vociferously, and yet…the deities find a way to help me get answers in my humorous struggle to resist them.
One of the many gifts I've received in my relationship is the introduction to The Pattern. If you haven't heard of this app, I strongly urge you to add it immediately. It is freakishly on-point, and many of my family members and friends use it. Idly, I turned to my phone, and clicked on The Pattern. Then I started shrieking.
It was so very much on point! It had one screen after another (you swipe right for more, eyes widening in shock as it lays bare all your darkness, needs, and present issues) It ultimately and precisely summed up the very issues surrounding my decision, and filling up my mind with endless questions. It pointed out I have a rare gift for healing (I read this part modestly, of course) but that I need to include myself in the healing. I need to get to a place of wholeness in order to be of service to others.
What I was wrestling with will change my life, in yet another extraordinary way. A huge part of me is screaming, "I don't want to!" all the while knowing I have a calling. Funny how you can resist things until you can't anymore.
Being stubborn, I looked for yet more answers, and looked to my daily reading of The Celtic Spirit, by Caitlin Matthews. One of my goals for the year is to read this amazing book of daily meditations, and it has also brings me pointed messages me as I journey through this thing called life. That entry was "Shutting Out the World." I kid you not. The thing I love doing most, because after all, I am the Queen of Boundaries, and this passage is telling me not to, on this very day. When that's what I would prefer to do on most days.
Well, a certain thing happens to me when the deities call and guide me: I get a physical reaction, similar to feeling a waterfall washing over me. Between these two messages, I was in a deluge. Was this coincidence, you may be thinking? Maybe, but I don't believe in coincidences, and I do believe in signs.I get very pointed support and assurances from my deities, sometimes from several of them, and sometimes a few. In this case Brigid who I am devoted to, and Oya, who sweeps things clear in my life were both showing up with messages.
My relationship with my deities is both a comfort zone and a challenge. In this instance, I knew what they were asking of me was what they want me to do, and as much as I mutter about "free will", I know deep down that ultimately, when I follow them, amazing avenues open up, and my life changes in yet more magical and interesting ways. Looking back on things that have happened in my past, I see the trail of breadcrumbs from events that may have seemed overwhelming or just plain wrong at the time, but ultimately led to very good parts of my life.
I may resist mightily, but my deities feel comforting and I am surrounded by their love and care. It's a lovely feeling in this cold, chaotic world. If you are not working with or listening to your deities, I urge you to spend time with them. Be still and listen, is what I usually tell those who are frustrated in their "lack" of messages. They will tell you, they will give you signs and they will let you know in no uncertain terms. May your journey with them bring you joy.