Celebrating Beltane solo this year? The thought may make you a bit sad, but I am here to point out the advantages of celebrating Beltane as a solo practitioner. I've celebrated Beltane in crowds, and sometimes alone, and each time had its own unique joy. No matter the reason, there are many ways to celebrate Beltane that don't involve other people.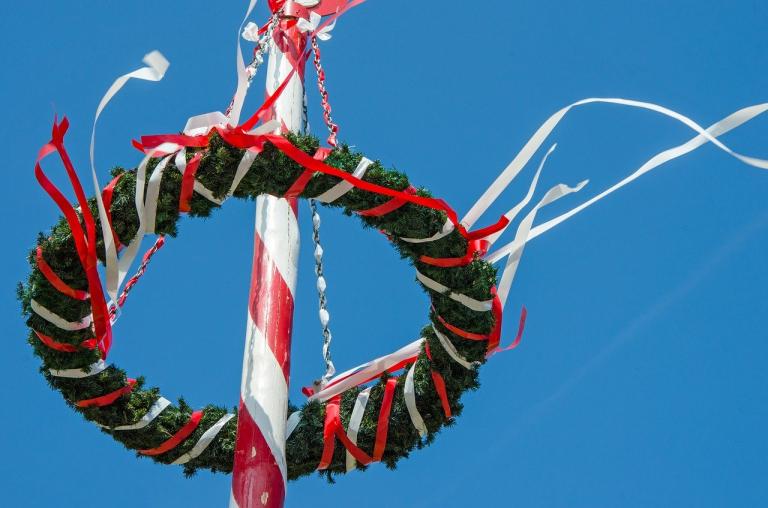 There are pros and cons of celebrating alone, so let's focus on the positive: no crowds, no bugs, no sweaty gatherings, no going along with how the crowd celebrates. You get to decide how you want to celebrate, so enjoy the process and plan a festive observance.
Clear off and clean your altar, dust your objects, and consecrate anew the ones you want to put back. Add flowers you've found in nature, or order some to add to your decor. Flowers can be in vases, arranged into a flower crown, decorate windows, doors and mantles, or added to little baskets hanging from your door handles. Add red candles and your favorite incense, offerings to your deity or deities, and follow your intuition for any other additions.
Dust off ye olde flower crown! Surely you have one somewhere from a Renn faire or previous Beltane celebrations. If not, add flowers to your favorite hat or headband. Make paper flowers if you can't get a hold of real flowers. Be creative and make festive headgear, and look for the most colorful outfit in your wardrobe to complete your ensemble.
Create a maypole decoration of a wooden pole with ribbons, whatever size you can manage. It can be a table decoration, or decorate a tree outside with festive ribbons. Create a mobile that dances in the wind, using ribbon, streamers or curling ribbon.
What kind of music will you be playing? Line up a festive playlist on Spotify, find some songs on YouTube, or go through your vinyl LPs. This is your celebration, so you can find whichever music that makes you feel festive. Some favorites include "Walpurgisnacht" by Faun, "Beltane Heart" by Morrigan's Path, "Beltane" by Lisa Thiel, "The Mummer's Dance" and "Huron Beltane Fire Dance" by Loreena McKennitt.
Line up a viewing of The Wicker Man (the 1973 version is superior in my opinion, and free on Netflix at the moment). Or watch both to compare and contrast the 1973 and the 2006 versions.
What sort of food and drink would you like to have? Prepare a feast or a tea party, make a cake or bake bread, make cookies or a tasty smorgasbord of food. What decadent dessert can you create? Use the flavors of lavender, cinnamon and rose, or make some sun tea. What sort of drinks would you prefer? May wine is a lovely addition to your festivities. Here is the recipe that I like to use:
May Wine
One bottle dry white wine (or use white grape juice)
1 tbsp. lemon juice, preferably fresh
1/2 cup strawberries, halved
2 tbsp, dried or fresh woodruff leaves (dried can be found online if you can't get to the store)
1/4 tsp. lavender (optional)
1/2 cup superfine sugar (optional)
Extra strawberries for garnish
Fill a carafe with white wine or white grape juice. Add the rest of the ingredients, except for the garnish and lemon juice. I've added lavender and sugar in years past,and some years I omit them. Let stand for at least 2 hours. Strain the berries and the herbs, add the lemon juice, and stir. Chill for a few hours and serve with strawberry garnishes.
With the prevalence of Zoom nowadays, host or participate in a Beltane Happy Hour. Wear your flower crowns, drink your festive drinks, and reminisce about past Beltanes, or plan for future ones.
Get out in nature, and go for a hike. Or pick up trash in your neighborhood park or street. Plant a tree, or start a garden. If you are in an apartment, check on local community gardens, or start an herb garden for your kitchen witchery.
Add fire to your festivities with either a fire in your fire pit or lighting a large red candle on your altar. Burn the dregs of winter (write a list) in your cauldron, and dance around the fire with delight and glee. Whether you are skyclad or not is up to you, but if you are feeling so moved, please do so! If you are stuck inside, burn some woodsy incense to remind you of an open campfire, and take this time to meditate. What do you want to bring forth in the coming months? Use Beltane to plant the seeds of these imaginings.
Unite the Lord and Lady in whatever fashion you choose. Write a story or poem, use two candles representing their union, write a play or a song, or create some Beltane ornaments. An easy dough recipe for you to use:
Salt Dough Recipe
4 cups all purpose flour
1 cup plain table salt
1 1/2 cups warm water
Mix together, roll out thinly, and create! Use cookie cutters, glitter, paint, or leave plain. Use a drinking straw to create holes so you can hang them up with ribbons.
Don't forget about your ancestors in all the celebrating. Beltane is another time on the Wheel of the Year when the veil is thin, so be sure to honor them with offerings, a special candle, or clear a fresh space for an ancestor altar. Practice your spirit communication: be still and listen. They may want to convey something to you.
Beltane is one of my favorite celebrations on the Wheel of the Year, with so many options available if you are solo or a solo practitioner by preference. Be joyous and utilize the fertile energy of this time to create something meaningful to you in the coming months. Blessed Be!