It is usually at this time of year when I stare aghast at my calendar, wondering where the year went. How do six months go by so quickly? Summer is hands-down my favorite season, yet I spend an inordinate amount of time looking backwards and forwards during this month, and manage to miss some of the elements of summer that I love so much.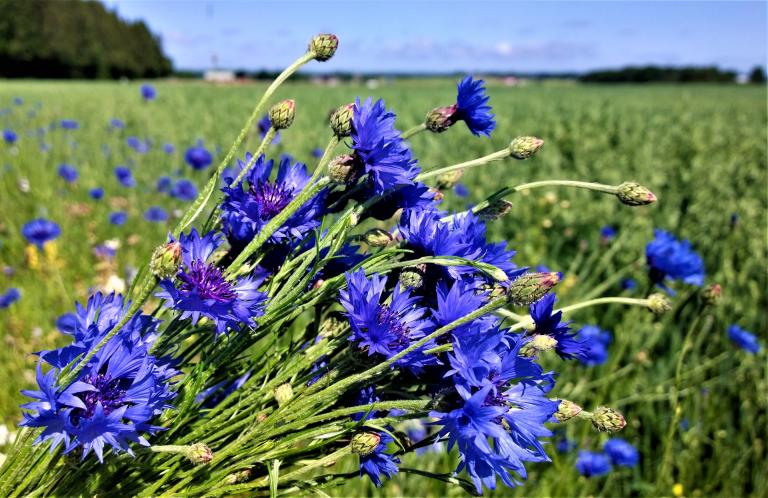 Which is why I love Midsummer, Summer Solstice, Litha, whatever you want to call it. To me, energy is precious, words are magical, so to me it doesn't really matter what you call it, as long as you take some time to truly celebrate this magical time of year. It is the midway point of the year, a time to pause, reflect, and yes, celebrate. Midsummer is the perfect time to pause, reflect, plan, appreciate and observe all the wonders of this time of year. Even if it ends up being a rainy day (which it usually does, but there is always hope!)
Below are a few simple ways you can celebrate the Summer Solstice. Bring a bit of summer cheer to your life, look back at how much we have survived, and ponder what we have to look forward to, as we navigate the months of summer.
Celebrate Water:  No matter where you live, celebrate water. Whether it be a trip to a beach or lake, dipping your toes in a stream, or taking a luxurious bath, incorporate water into your celebrations. Make it special, by adding a picnic to your visit, or add special bath salts and flowers to your bath ritual. Buy a special soap or create your own body wash if a shower is your only option. Wash and cleanse your cares away, and truly sink yourself into the experience of water surrounding your body. Go for a swim at a local swimming hole, or friend's pool, or create your own swimming area. Collect rainwater if it does rain, and splash in puddles after it stops.
Celebrate Fire:  Bonfires, or a grouping of candles? Which would you prefer? Add some fire to your celebration as well, maybe a few sparklers as you sit around your firepit, or filling that non-usable fireplace you have with a beautiful array of candles. Stare deeply into the flames, and lose track of time, as the warmth and glow of the flames transport you. Make plans to observe the fire of a sunrise or sunset, and take yourself out of your daily routine. Write down all the you feel is holding you back on strips of paper, and burn those papers in your own cauldron. Watch dragon movies if it's a rainy day, and observe the powerful force of this element.
Celebrate Air:  There is nothing like incense to shift you into a sacred space. Is there a certain smell that reminds you of home, no matter where you are in the world? I have been to Ireland quite a few times, and smell of Irish turf/peat helps soothe my homesickness. If Midsummer falls on a windy, rainy day, go out there and breathe in the scents of your surroundings, and feel the rain on your body. Incorporate whirl-a-gigs into your garden, and watch the hypnotic twirl as the winds move through them. Blow bubbles, get a harmonica and learn a few songs, schedule a sing-a-long with friends. Celebrate moving air through your body by running, and really feel the air move around your body. If you've never tried aromatherapy, give it a try with some favorite scents of childhood (lemon and mint always take me back immediately).
Celebrate Earth:  Ground yourself by walking barefoot on grass or sand, or have a picnic with nothing but vegetables that have been grown in the ground. Lay in a field and notice how your body feels when it is connected to the earth. Tend to your garden, or get a few houseplants so that your fingers touch the soil when needed. When walking, really stomp the ground, and feel the satisfying thump your feet make when they strike the ground. Get a wooden bowl, fill it with some dried beans, and with clean hands, scoop up the beans and let it fall through your fingers, over and over. That sensory experience is soothing and very grounding. Drumming is also very grounding and earthy, so consider what kind of drum you would like, and
At this time of year, you may also get the feeling of FOMO (fear of missing out). So many people are making plans, and you may not be able to, for whatever reason. Centering and grounding yourself with simple element-based activities as listed above will help diminish those feelings, and allow you to truly experience the wonder of the latest turn in the Wheel of the Year. However you celebrate the Summer Solstice, I hope it is satisfying and enriching.