As summer begins and COVID restrictions ease up a bit, you may find yourself traveling or planning to travel in the coming months. This may possibly be the first time you are going somewhere outside of your home and community; visiting family, revisiting favorite locations, or exploring your area a bit more. Feels a bit strange, doesn't it?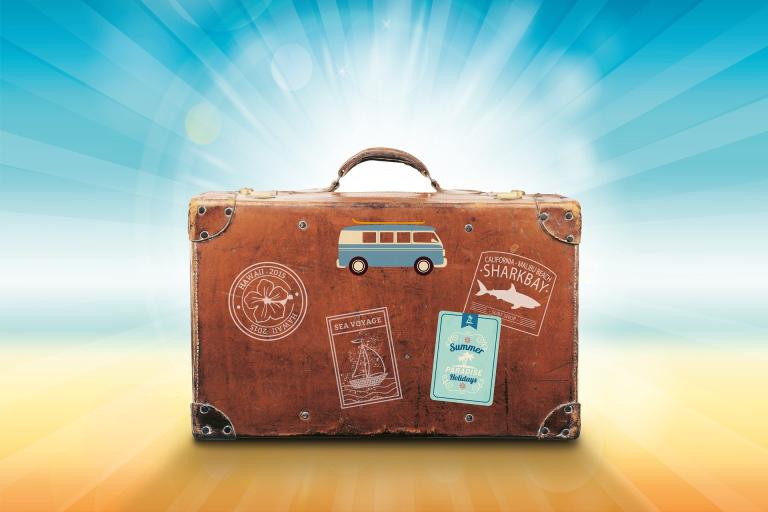 If you're like me, you may forget to pack certain things. I tend to overlook at least one or two items when packing, even when I resort to lists. Outside of clothing and toiletries, however, don't forget to pack your magical items! Below is a list that I like to use to draw inspiration from, packing what I need and can transport easily, depending on the situation and location of my travels.
Travel altar:  Something as simple as an empty Altoids container can hold what I need for a travel altar. I like to set one up in my room wherever I stay. Nothing fancy, just one item each to represent earth, air, fire and water. Sometimes, it's just a small photo of a deity, or a piece of jewelry, along with a battery tealight. If you forget completely, you can always create a little altar with items you find in nature during your trip.
Protective Jewelry:  When I travel, I will pack and wear some of my jewelry that either have protective qualities (hematite and tourmaline) or are pieces that I've anointed with protection oil. I find this is usually helpful, especially when you're around people. You can also place a dot of oil on the four corners of your face mask as well, preferably the ones made with darker material. You can find protection oil online, or at your favorite metaphysical shop, if you don't have time to make your own.
List of metaphysical shops: Personally, I love scouting out metaphysical shops and love to research if there are any in the neighborhood I am visiting. One, to support small businesses, and two, to see what's available outside my own little corner of the world. It can be inspiring and fun to visit a shop or two on your travels, and add to your magical tools.
Bandannas:  This item is something I always like to bring along, because they have so many uses!  You can use them as an impromptu altar cloth, fashion it into a makeshift bag for natural treasures, and of course, wear as a head-covering. Although not optimal, also useful as a face mask when needed.
Jars:  I like to pack a few small jars in case I am near a body of water, or if I want to add some dirt from a place dear to me on my altar. Water from different areas and origins are useful additions in my spell work. Jars are also wonderful for holding shells or nature items, and practical to have on hand in case one of your toiletry containers break.
Books:  You know that book (or books) you were so excited to get a few months ago, yet never read? Pick one or two out of your pile to take along! Being away from the daily routine in life might be enough to get you immersed in that book, and you may learn something new for your magical practice.
Divination Tools:  Pack your divination tool of choice, because you never know when you might need them, for yourself, or for others. Friends or family may love a reading, or you may come across a situation that needs a bit of guidance via your divination tool of choice.
Do you have anything to add? Did I forget anything? Be sure to let me know, so I can add them to my list (and possible second blog on the subject). If you travel, be safe out there. May your travels be filled with ease, and your return be filled with inspiration, lovely memories and souvenirs of all kinds.