Confession: December is usually a hard month for me. I find the frenetic energy/grouchy people combination hard to bear, and "bah humbug" leaves my lips more often than not. We are supposed to feel all peaceful and joyful no matter what we celebrate, right?! The opposite would usually happen, and I would grimly get through the days of that month, counting down to the quiet of January.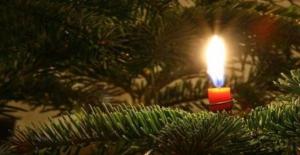 Sure, I still have those moments here and there, but I stepped back from all the things I dislike about the month, and found ways that bring me some inner peace in the cacophony of noise and busy-ness that this month usually entails. Below are a few things I do to find joy in Yule, and they can apply to whatever holiday you do celebrate, or however you spend your Decembers:
Candlelight: Sounds simple, doesn't it? Get a few candles, and all will be well. But do you truly gaze into the candlelight, and lose yourself in that moment? Try it. Light a few candles in a comfy spot in your home, play some soothing background music, breathe deeply and gaze. If you use scented candles, then breathe deeply in and out, relishing that scent. Add your favorite beverage and comfy blanket, and see what happens. If you incorporate this practice into your week, you will find yourself a little oasis in the midst of the bustle.
Music: Sure, you just got your Spotify list of what you listened to most in the past year, but how about branching out? Try some medieval Gregorian chants, some soothing African tunes, or some Indian bhajans. There is a wide variety of World Music out there, go down a few paths and see what resonates for you. You may find yourself listening to a few new genres in addition to your usual favorites.
Limit your social media: It is ever so tempting to just keep scrolling, and I justify my time on Instagram by saying I look at "pretty pictures", but social media is a time suck, and can have an adverse effect on you. Limit your time to an hour or two at the most, and then go do something. It can be a walk around the block, making a new recipe, or calling a friend. Keep moving, and fill your day with things that bring you joy. You will feel the better for it.
Check on your friends: This may seem deceptively simple, but do you really check in with your friends, outside of your innermost circle? Try checking on a few friends a week, see if they want to talk, and catch up. I have had so many joyous moments of friends who wanted to talk, but thought I was "too busy". How often do we do that? And it works both ways, because catching up with friends is an immediate boost of joy, and powers me through whatever needs to get done next. If you don't have time to talk, send a few postcards or notes to people you love. It makes a difference to us all.
Create: Writing brings me joy, as do a few other creative endeavors. I try to stretch out of my comfort zone by trying new things, like baking bread or painting. This year, I am creating a Yule tree outside for the local wildlife, and it is bringing me so much joy this month. Cranberry garlands, dried orange slices, peanut butter, bird-seed covered pine cones, the whole works. What can you create? Your own wrapping paper, a new family meal, a piece of handicraft? Give something new a try, and see how it makes you feel. You may discover a new passion.
Giving: People do not need more things, despite what the media tells us. Be creative with gift-giving, recycle, reuse and repurpose. Sometimes, we run out of time, and it seems easier to just run out to the store to buy something, but I urge you to take some time and think about something you can give that would enhance the recipient's life. Maybe a handwritten family recipe, or a plant, a coupon to spend time with that person at a later date, or tickets to an experience you think that person would enjoy? Also, consider donating time or volunteer hours at local organizations. A bonus is that you will feel good about these efforts yourself. Give it a try, and see what happens.
Movement: I just signed up for some daily movement in the month of January. It's a no-obligation calendar reminder thing that will hopefully get me out of my usual sedentary ruts. I am starting a bit this month, so that it won't be a complete shock to my system. I like moving my body, it just takes a huge effort to actually start moving. So I decided to focus on things I love: being outdoors, yoga, and walks around the neighborhood. Nothing hugely out of my comfort zone, but the thought of actually doing this for once is making me feel a bit giddy. Come join me? What will you do to move your body? Ooooh, also a dance party of 80s music will be added to my list.
Engage the senses: Recently, I found a Winter tea at Trader Joe's, and it makes me happy. I am more of a coffee drinker, but this tea is made with cinnamon and ginger, and it soothes my grumpy self. I've also purchased hot chocolate bombs, and love the experience of these spheres exploding in my hot chocolate. I bought persimmons from the local Asian food store, and delighted in their taste. Find something new to add to your life, in taste, sensation, sound or smell. Rediscovering my love of the smell of pine trees has resulted in a variety of ways in my home, so when I step back inside after hours away, it hits my senses in a burst of joy. Go through the five senses, and think about ways you can engage them this month.
Put you first: Sure, everyone tells you to do that, but do you? Raises hand. Lately, I have actually scheduled time for myself on my calendar. And honored that time. Sometimes it's no more than staring into space while enjoying a tasty beverage, but it restores me. I visited a local art museum this past week, and realized while gazing at beautiful pieces of art, that this experience fills my cup. Mostly, I wanted to see an exhibit that had opened up, but it became so much more. Visiting museums was a big part of my childhood, and I took it for granted. Having not done so for so long, just walking through the galleries made me tear up. I hadn't even realized I need it until I was in the midst of a large room, surrounded by so many different types of beauty. What can you do this month to put yourself first? Schedule an experience, some time alone, or some time to do absolutely nothing. It's a huge gift to yourself.
However you experience December, I hope it's a peaceful and joyful one for you. Hopefully my list has inspired you in some way to really enjoy the days of this last month on the calendar. Blessed Be!