Hard to believe a new year is soon upon us! New Year's Eve for many people can be a sad time, or even a date not really acknowledged (go to bed early, and voila! a new year begins). It can feel disconcerting, odd, heavy with portent, or just plain boring. Or maybe you are one of those people with big plans, a get-together or time spent with family and/or friends. Either way, the hours leading up to midnight is a magical, liminal time.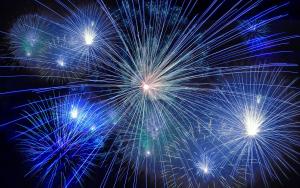 A few things you can do, no matter what your plans, can help start the new year off on a magical footing. If you have plans, you can squeeze these in. If no plans, enjoy adding them to whatever rituals you might be thinking about in the meantime. New Year's Eve can remind you of sad times or loss, but it is also a book, where you get to turn the page to a fresh start. Try it and see how it works for you.
Review:  Since I am someone who can barely remember yesterday, much less the whole year, I rely on my phone camera roll to remind me of events and special moments. It's also a good time to clear out the aforementioned camera roll. Being productive and reminiscing at the same time is a win-win, as far as I am concerned. This past year, my partner and I wrote down once a week what had happened that week, small and big things. It's a ritual we looked forward to weekly, so I am looking forward to reviewing 52 entries of our life this past year. Other people write down highlights as they happen, or things they are grateful for, and add them to a jar (witches love jars, amiright?!)
Thinking of others:  It's easy to get caught up in the me-me-me type of thinking this time of year. "I want a boyfriend/girlfriend next year!" "I want a better job!" All good things to set intentions on, but do take a moment to think of others. Make donations, put together some meals for the homeless, check on an elderly neighbor or relative, feed the animals, or adopt a pet you are willing to take responsibility for, just think outside of yourself for a bit, and see how you can make the world a bit brighter for someone else. The bonus is, you will feel great doing so, and isn't that a great way to start the year?
Set intentions/pick a word:  I don't like the word "resolutions" so instead I pick a word to define the upcoming year. That word turns out to be a guidepost, a mantra, a solid space to hold onto when then chaos of the world invariably intrudes. This past year I picked the words, "Soul Roots", and while it got lost in the shuffle of the craziness of this year, looking back, I can see where I literally absorbed the concept into my being, because I have so many examples of my soul roots going deeper. Setting intentions doesn't have to be overwhelming, try thinking of it as an arc over your year. Do you want to focus on your health? relationships? a new career? Set the intention for what areas you'd like to improve, set the intention, and then let it go. If that truly is your focus, you will naturally make movements in those areas, and if not, well, it's not time for that intention yet.
Light a candle:  When ritual seems to be so much, bring it back to the basics. Take some time to light a candle, play some soothing music, and stare into the flames. Send some good energy and thoughts to those you love and for the world, because we sure could use it.
Feast:  So many times people deprive themselves, for diets, or because they don't like putting themselves first, or for economic reasons. This time, follow our medieval ancestors and indulge. Go ahead and get those treats, and truly savor them. Celebrate that we survived this year! That alone should prompt some scrumptious feasting. It can be as simple or as elaborate as you'd like.  Just be sure that it makes you happy, fills your belly and comforts you in the truest sense of the word.
Tradition:  In the South, we embrace collards, black-eyed peas, cornbread or some other family variation of that meal for the New Year. It is said to bring luck, and so many people I know are adamant about this  tradition. Traditions give us comfort in time of unease, so what traditions would you like to carry on, or begin? What feels authentic to you? Maybe you will bake a loaf of bread, a special dessert, a nod to your heritage? Think about it, and begin. A year from now, you will be glad you did.
Enjoy this liminal time, my friends. A new moon is also soon upon us, so you can go into the year magically, and keep the magic going. Sue, you can go into the year with sadness and feeling morose, or you can take a few moments of magic ritual, grab onto some gratitude, and really make a change in your life. I hope you do. Happy New Year!