March always seems to come in a rush, all full of an excitement, a quickening of the senses. Spring and Ostara are soon upon us, and we cannot wait for plants, to be outside, to feel warm again. It also feels a bit like it's too much, too soon, and we look at Ostara and its celebrations with a sense of overwhelm.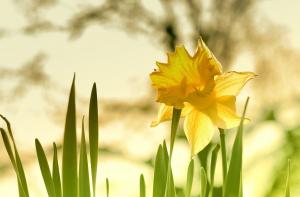 If you feel the same, welcome to the Ostara Overwhelm Club. How on earth can we manage a celebration, this turning of the Wheel of the Year? It feels too important to ignore, and there should be a way to mark this event, no matter how tired or overwhelmed we feel.
Don't resist the sense of overwhelm. Acknowledging that feeling lessens the panic a bit, and puts things into perspective. This overwhelm happens, and not just at this time of year. Take a few deep breaths (yes, right now as you read this). It can be done. Below are a few quick ways to honor the day, the season, the wonderful energy of the Spring Equinox. No matter how you normally celebrate, lower your expectations for yourself, and embrace the beauty of the season: Spring is soon here!
Step outside and breathe  Either step outside your home, go to a local park or your favorite natural area, and breathe deeply the smell of Spring. It's there, a scent of possibility, future warm days, and plants growing. Bottle this scent in your memory, and appreciate it. Also, take this time to ground and center yourself, by walking barefoot on the grass, hugging a tree, or however it is that you respond to nature.
Have a picnic  Eat a meal outside, whether it's at a picnic table, in your favorite nature spot, on your balcony, or on your front porch. Slow down, and enjoy the preparation of the meal (make it as simple as possible if you are busy, or indulge in making a fancy meal, whatever works for you). Drink deeply of your favorite beverage, indulge in your favorite foods, and be present for the time you carved out for yourself.
Light candles  The days are getting longer, so enjoy the glow of candlelight in a darkened room. Light some light blue and yellow candles in support of Ukraine, or simply some tealights. Gaze into the flames, and appreciate the light and warmth for this simple and magical light.
Feed the birds, plant a plant  Go outside and leave some birdseed for our feathered friends. They are no doubt filling the air with beautiful birdsong, and could use the sustenance. Go birdwatching, or read up on local birds to see if you spot them in your neighborhood. Get some seeds and plant them, or pick up a plant at your local garden center or store. Bring nature inside, making an altar with natural items you find on the ground, adding some fresh flowers.
Make something with eggs  Decorate eggs with natural colors (onion skins, beets, experiment) or use art supplies to decorate little egg characters. Lose yourself in baking or making quiche, either with eggs or vegan egg substitute. Make deviled eggs for a gathering with friends. Make your favorite yummy breakfast or try duck eggs, if you haven't tried them before.
Treat yourself  Whatever makes you happy, do it. Whether it's buying a favorite baked treat, being curled up with a book, talking to a friend, buying a bouquet of flowers or taking a bath. Choose one thing to indulge yourself, and make time for it. This is a season of renewal, so take those moments, offer thanks for what's been and what will be.
Clean  If you find cleaning comforting (some of us do!) then do so. A good Spring clean will do wonders for the energy in your home. If all else fails, clean all the doorways. Dust, wash the threshold, sprinkle Florida water (or whatever protection oil/waters you have on hand) all around the doorframe, and really clean the door handles. Or clean out your nightstand and the area around your bed, and change the sheets. Open the windows wide, and let the fresh air clear out some stagnant energy.
Hopefully, one of these ideas appeals to you as we cross the threshold of Spring Equinox. Give yourself a huge hug for surviving the winter, and welcome what's to be. Send out some good thoughts to those you love, and spend some time with yourself. Whatever you choose to do, realize it doesn't have to be huge, and one small action can change your outlook for the days ahead. If you do one of these items, see how you feel the next day. Step firmly into the Spring season, and be open to the possibility of the days ahead. Blessed Be! Happy Spring! Happy Ostara!