I recently visited Witch City/Salem (MA) for the first time ever!
Not only was it my first time on an airplane in five years, it was my first trip with friends in many years (because of COVID + life), and it was also my first visit back to the area in a very long while. I grew up living and traveling between both New York (state and city) and North Carolina, so I have a deep appreciation for both parts of the country as home.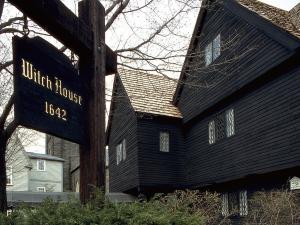 Getting There
Traveling during Mercury in Retrograde felt a bit daredevil-ish, but all flights went well, and traveling went smoothly, happy to say. I was beside myself with excitement, so I packed my witchiest clothing (well, my usual clothes, honestly. I guess I dress witchy anyways) and went on my journey. In the space of five days, my friends and I drove from Pennsylvania to upstate NY to Salem, MA. Seeing the scenery did my mostly homebound heart good.
Living in Asheville, NC (also known  Beer City) it was interesting to travel to the place known as Witch City. What would be the similarities, if any? The differences?  Would I feel at home, or a bit detached? Managing a metaphysical shop, would I see any unusual items out in the witchy wild? Is it  a typical tourist place, or would I find magical moments there? Would I feel disappointed or energized?
For a quick trip, I got to see and experience quite a bit! It really helps that Salem is quite the walkable city, and that everything I wanted to see was fairly close together. Essex Street was our first stop, and I thoroughly enjoyed popping in and out of shops, seeing the Witch City Mall, and then having dinner at the local Village Tavern. The people we encountered were so friendly and welcoming, and in some cases, delighted at our presence. That was really affirming.
Tourist
Due to time constraints, there was only one full day of visiting all the "tourist" spots. First stop was the Samantha/"Bewitched" statue. That show meant a lot to me growing up, so I was happy to see it in person. Good timing, as it was vandalized a few weeks later. The damage done changed the patina, and I am bereft at the senseless vandalism.
From there, we saw the Witch House, which was a magical experience. The house was the home of Judge Jonathan Corwin, and the only structure in Salem tied to the Salem Witch Trials. To wander upstairs (up some very narrow and twisty stairs) and down, to see objects from that time period, and to be immersed in its history was very interesting. I found myself drawn to a poppet found at Bridget Bishop's house, but wasn't sure why. It seemed that she practiced a form of what I consider folk magic, but I'll get back to that later.
We wandered through the beautiful and magical public garden of the Ropes Mansion (Allison's house in the movie Hocus Pocus), then onward to the Salem Witch Trials Memorial. I walked to each granite slab, on which is etched the person's name, means of execution and execution date. On the stone threshold to the memorial, words of the accused from court transcripts are etched, some cut off in mid-sentence, just as their lives were cut short.
It is a very powerful and moving memorial, and I felt compelled to stop at each one, offer a few words, and noted the nature offerings already left at every single slab . At Bridget Bishop's I stopped, and felt a nudge to leave her an offering. The hairs on the back of my neck stood up. I sensed a presence, andI did leave her an offering. That experience has compelled me to find out more information about her, as well as read more about the Salem Witch Trials. I usually find that nudges such as these lead me somewhere interesting. Where that ends up, I will be sure to share with you in future blogs.
I also had the pleasure of meeting Therese DeVoe, one of the Salem witches featured in a famous photograph in the 1979 National Geographic magazine. I remember seeing that photograph, so to meet her in person was a thrill. Still active in the community, she is a tarot reader at the Salem shop The Magic Parlor, which itself is a unique mystical mercantile, full of curious and intriguing objects. We spent a wonderful time together, and it was lovely to see how revered she is in the community.
Leaving
Leaving Salem was a touch of bittersweet, as there was so much more I wanted to see, but to me a sign of a good trip is a list of things to see upon my return, so Salem definitely fit the bill for that. I definitely want to visit the Satanic Temple, also recently vandalized. All in all, I experienced both magical and mundane moments in Witch City, and felt at home. I know I am fortunate to live in a place where being a witch is not so unusual, but to travel to a place where it is celebrated (despite recent vandalism) was very deeply fulfilling.
I will definitely go back, and explore even further, and I do highly recommend a trip there, if you've been wondering if you should go. I came home with memories, mementos, and magical moments.