This fun and tasty recipe that looks like a Yule Wreath is topped with a creamy herb dip and bell peppers. It is vegetarian, and always a crowd-pleaser when I serve it at our Yuletide celebrations.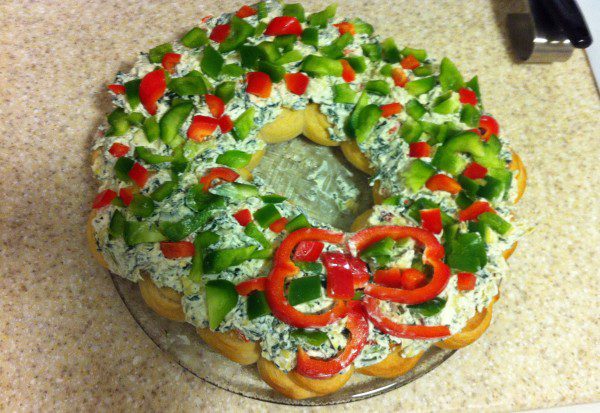 Yule Wreath Veggie Appetizer
Ingredients:
2 (8 oz.) packages of refrigerated crescent roll dough
1 (8oz.) package cream cheese, room temp.
1/2 cup sour cream
1 teaspoon dried dill weed
1 teaspoon parsley
1 teaspoon sea salt
1/2 teaspoon black pepper
2 teaspoons Worcestershire sauce
2 cloves of minced garlic
2 green onions, white and green parts, finely chopped
1 green bell pepper, diced
1/4 cup diced red bell pepper and a few long slices to form the bow
Directions: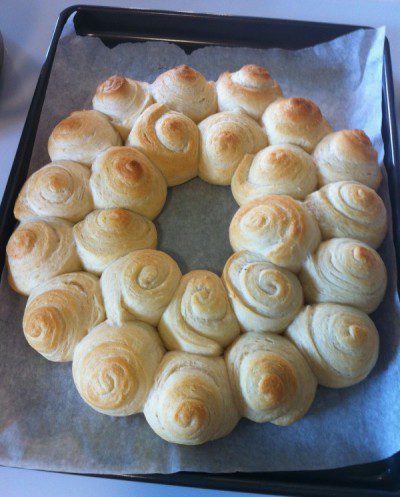 Heat oven to 375 degrees. Remove dough from cans in rolled sections, but do not unroll. Slice each dough section in half-inch sections to yield approximately 12 rounds each. Two packages should provide 24 roll rounds. Line a baking sheet with parchment paper. Place a small round bowl, inverted in the center as a guideline for a circle. Arrange flat dough slices around the bowl to form a wreath shape, then arrange an outer ring. The slices should all be touching each other, but do not press together. Remove the bowl and and bake for 11-13 minutes or until golden brown. Cool one minute; then loosen with spatula and slide off onto a serving platter to cool completely.
In a small bowl, blend the spread by adding cream cheese, sour cream, herbs and spices, garlic and green onions, and Worcestershire sauce and folding together until smooth.
Top the wreath of rolls with the cream cheese spread and then top with the green bell peppers to form the foliage. Sprinkle the red bell pepper pieces around to form the berries. Arrange the red bell pepper slices to form a bow.
Refrigerate until serving, then your guest can just pull the roll sections apart.
Merry Solstice!
~Heron