This torta made of sun-dried tomatoes, pesto and cream-cheese is served spread over the crunch of wheat crackers or toasted baguette slices. This is one of my all-time favorite appetizer recipes to take to parties during the Yule season. It makes three tortas and freezes well, so at the beginning of the season I prepare the lot of them, and buy a couple extra boxes of fancy party crackers to have on hand. This way, I'm all set to dash out the door with an impressive snack to share!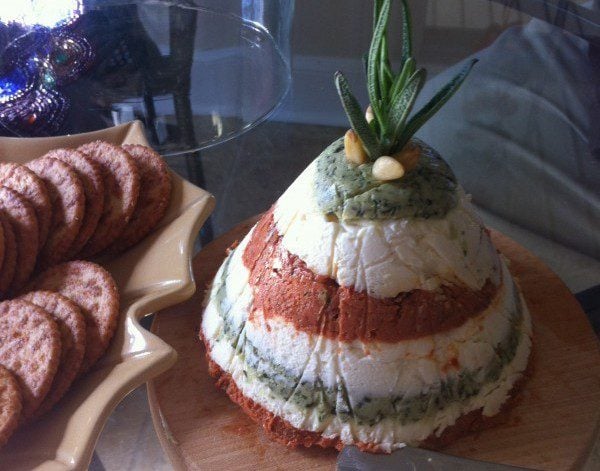 I've never met a person who didn't oooo and ahhhh over its complex, savory and tangy flavors. I'm salivating just thinking about it! While it has a fat-content through the roof, I say that cream cheese has its own brand of emotional-healing magick, so calories be damned! (Another reason why I only make this once a year, but its worth it!)
Though it requires no cooking, you will need some equipment: A food processor, a hand or stationary mixer with a medium sized bowl, and if you don't have three 16-ounce souffle dishes, I suggest using a martini glass–that way they look like little evergreen trees. I used stem-less plastic martini-shaped glasses I found at a party supply store.
"Deck the Halls" Torta
(Makes 3 tortas, vegetarian)
Ingredients:
6-8 cloves of fresh garlic. Muchas garlic…don't be shy.
1 1/2 cups packed fresh basil leaves
1/4 cup pine nuts
2 Tablespoons extra-virgin olive oil
1 teaspoon lemon juice
3 cups (3 packages) cream cheese, room temp.
1/4 cup grated parmesan cheese
1 1/3 cups drained oil-packed sun-dried tomatoes
1/3 cup tomato paste
3/4 cup butter, room temp.
salt and pepper
plastic wrap
slices of toasted baguette or wheat crackers
Preparation:
In a food processor, finely chop garlic. Add fresh basil, pine nuts, oil and lemon juice. Process until well blended. Add 1/3 cup cream cheese and Parmesan cheese. Using on/off turns, process until just blended. With a spatula, scrape out as much of the pesto blend as possible into a separate bowl. Don't worry about washing the food processor, all these layers will end up in the same place, anyway.
Back in the food processor, coarsely chop the sun-dried tomatoes. Add tomato paste and process until almost smooth. Add 1/3 cup cream cheese and blend well, scrape it out into a separate bowl.
Using an electric mixer, beat the rest of the room temperature cream cheese (2 1/3 cup should be left) and butter until fluffy. Season with a little bit of salt and pepper.
Spray 3, 16-ounce souffle dishes or bowls (or martini glasses) with non-stick spray. Line with a big piece of plastic wrap as smoothly as you can manage, extending plastic over sides.
To assemble, you will layer all three mixtures so that they have white, red and green stripes when finished.
To begin, spread 1/4 cup of cream cheese mixture evenly on bottom of each dish. Next, divide tomato mixture into thirds and layer one portion in each dish. Layer about 1/4 cup of the cream cheese mixture in each dish to make another stripe. Again, divide pesto mixture into thirds and layer one portion into each dish. For the final layer, divide remaining cream cheese mixture into thirds and distribute into each dish. Smooth evenly and fold plastic wrap over the top to cover. Chill in the refrigerator over-night. If you only need one torte, you can wrap the remaining two and freeze for up to 3 months then thaw in the refrigerator for about 24 hours prior to serving.
To serve, invert chilled torta onto serving plate. Remove dish, peel off plastic. Garnish with basil sprigs and toasted pine nuts. Serve as a spread on crackers or toasted baguette slices. It is even delicious on slices of pumpernickel bread. Enjoy!
Merry Solstice,
~Heron