The custom of sharing personal recipes is a time-honored tradition that is a big part of my Southern culture. To share, and be entrusted with a bit of culinary wisdom, can be form of social magick not to be taken for granted. Allow me to illustrate…
Long ago, I was invited to dinner at the home of one of my (then) husband's associates, who was newly returned from Kazakhstan with his new wife. She was a lovely woman, who was doing her best to integrate into her new country and make friends. She served us a delicious meal, prepared with great finesse and obvious devotion.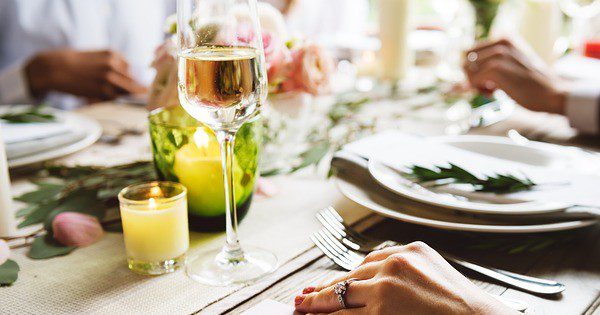 When we first arrived at their home, I could feel how important this dinner was for her–it was a smidgen awkward as we made introductions and settled in. She was rightfully a bit nervous. As you can imagine, she had been feeling isolated in her new life, in a new country, learning a new language, in a new marriage. Thus, reason enough for them to host a dinner party, and invite over the other company wives.
Never underestimate the importance of expressed gratitude.
I was 27, living in Houston, Texas, and newly pregnant with our first child–so I was in a HUNGRY phase, and she just glowed with pride when I requested a second helping of her delicious tomato basil soup. I might have had more than my share, but my gracious hostess didn't seem to mind.
Now, I'm a Southern woman, and one of the ways we women bond and make allies, is through the exchange of recipes. The subtle art of "buttering yur biscuit" by asking for a woman's personal recipe, is a long-practiced, and sacred tradition of flattery around these parts.
That night, without thinking much about all that feminine intrigue, I innocently asked our hostess if I might have her recipe for the soup. As first she looked a bit confused I have no idea what the etiquette for such things may be among the women of Kazakhstan, and for a hot second, I worried that I'd offended her.
It took some translation, and her husband's help explaining that I was complimenting her culinary artistry. Her immediate shift of demeanor transcended all language barriers; she was delighted. My request deeply complimented her, and her new radiating confidence over so simple a thing, touched me just as deeply.
Awkwardness dwindling, she animatedly told me all about her methods in a gestured game of charades, and I helped her put English words to the ingredients she showed me. We found common ground in the kitchen, as women like us are want to do.
Culinary Magick
A week later, I was presented with a printed recipe from her, and I found out later, that she worked at honing down the exact quantities of ingredients, translating into the English language as well as the English measurement system, and typing it up for me. Her husband thanked me, too. The transaction gave us each a unique joy that I've not forgotten.
Sharing of food is some practical and effective applied magick, that overcomes cultural boundaries. Think of the endless enjoyment she's granted me over the 15 years since that night, and now I offer to you! I've made this recipe countless times for dinner parties of my own, and with each serving, I raise my spoon in salute, with hopes for their continued happiness.
I've made an adaptation or two of my own, and I now call it "No Toil or Trouble" tomato soup, because I like witchy references. May it serve you just as well.
~Heron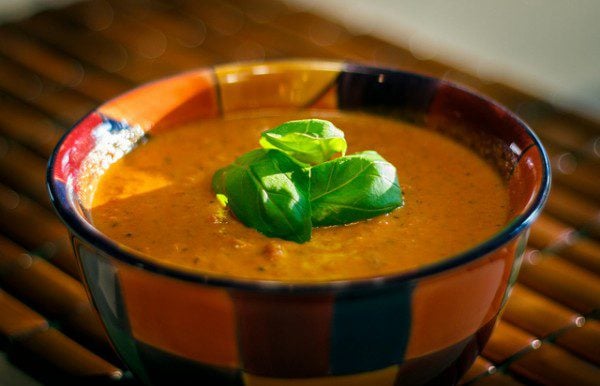 No Toil or Trouble Tomato Soup (Vegetarian)
Ingredients:
2 Tablespoons Extra Virgin Olive Oil
1 carrot, grated
1 small onion, finely chopped
2 T. flour
1 t. basil
1 t. dried thyme
1/2 t. salt
1/2 t. pepper
1 1/2 cups whole milk
8 oz. cream cheese
1 large can crushed tomatoes–795 grams
1/4 C. chopped fresh basil
Grated Parmesan cheese
Equipment:
Medium sized soup pot
Whisk
an Immersion blender is the easiest way to cream a soup, but you can use a standard blender in a pinch.
Directions:
On high heat, saute vegetables in the olive oil until soft and glossy–about 5 min.
Reduce heat to med-low and with a whisk, blend in flour and spices, absorbing the oils.
Whisking constantly, pour in milk slowly. Continue to whisk until simmering and slightly thickened–about 5 minutes more.
Now, slowly blend in the can of crushed tomatoes and the juice. Whisk, whisk, whisk.
Reduce heat to low and simmer uncovered about 15 minutes.
Chunk the cream cheese and stir into the soup until dissolved. Stir in half of the fresh basil. Using your immersion blender, process until smooth. Alternatively, transfer half the pot at a time to the standard blender, and then pour back into the pot to reheat.
Sprinkle each serving with grated parmesan and garnish with a pinch of fresh basil. I also like a sprinkle of freshly ground black pepper on top, just for good measure.