I'm just not feeling the Halloween Spirit this year. Halloween has always been my favorite season, but for the first time in my witching life, I dread our Samhain sabbat rites this weekend. Honoring the dead seems so secondary to the needs required to protect the living in our current world. Earlier this month, Jason Mankey wrote a piece about how Samhain is Pagan Christmas, and it got me to thinking… If that is so, this year I know who is starring in the role of "the Grinch. (1)"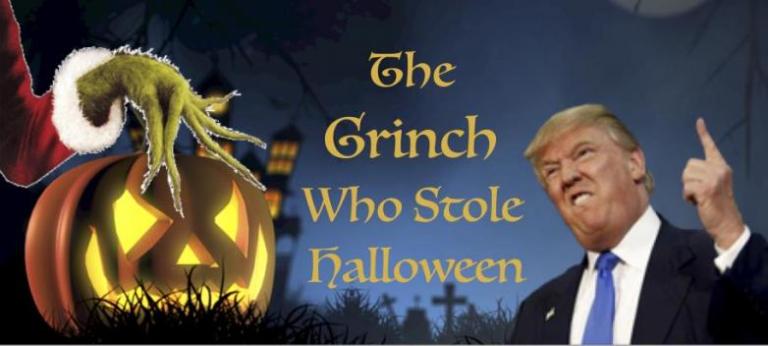 I admire anyone who found the wherewithal to carry on like everything is just fine – but I can't muster enough damns to participate in much of the frivolity this year. For the first time in 12 years I didn't throw a gigantic Witches' Ball/Masquerade/Carnival for our community. That just seemed like a "bread and circuses" distraction that I refuse to attend. Isn't it sacrilege to expend those resources while the world is erupting, drowning, blowing away, burning down and being gunned down around us?
The Grinch Who Stole my Halloween
I finally get it…I understand the old, grouchy hag trope…the curmudgeon living alone on the edge of town screaming at people to get off their lawn. That would be me right now. From last year's full-cackle Halloween Witching extravaganza, to this year's angry recluse, I know what changed for me: hopelessness.
For the first 8 years I was in the business of public witchery, we were in the Obama administration, and I was full of Hope. I could relax into the fun of living, trusting that global issues were well in hand by reasonable leaders who were qualified and sane. I felt safe enough to open a Witchy shop in Obama's America, willing to go out on the weirdo limb, investing every dime I had in the hopeful dream that Martin Luther King, Jr., taught me: that "…the arc of the moral universe is long, but it bends toward justice."
Last Halloween, I was still riding on the optimistic wave, hoping that the Tuesday following our big Samhain sabbat, the vastly more qualified presidential candidate would take the most powerful office on the planet. I resigned myself to a few more years of the same old business as usual. It wouldn't be my first choice, but clearly they weren't a malignant narcissist, megalomaniac, and his evangelical side-kick who were hell-bent to regress the country back to the dark ages.
Samhain passed, election day dawned, and the real nightmare began. I wrote about my feelings the day after the elections in Blue Witch in a Red State: Election Horror and the Advice of Wizards. I wandered through the Yule holidays in a haze of disbelief, just sure that some miracle loop-hole would over-turn the electoral college. I live in a state who's votes went to the pussy-grabber, and I've had to accept that half of my neighbors, and half my family, thought that was a good idea. I started looking at people differently – doubting everything and everyone. The day after the inauguration, I didn't want to March on Washington, but I went Anyway because I had to do something to stop this madness from happening.
Since then, I've been in an inwardly collapsing spiral of disaster fatigue that really pinned me to the mat with the #MeToo campaign. I can only hope that this new fervor of outrage against sexual predators will finally bring justice against accused rapist Donald Trump. I believe every person who has spoken out against these powerful men despite terrible threats and ridicule. I always believed "Katie Johnson" the woman who, before the election, had an open case in New York against Donald Trump and Jeffry Epstein for raping her when she was 14. That case suddenly disappeared after he won, but I have not forgotten. Current reports says they "settled," but that is inadequate justice. I'd like proof that Katie is still alive and well, and not sleeping with the fishes somewhere, Russian-mafia-style. If you want to know more about this case, check out all the details and links provided in this article about it on snopes.com.
The Monsters Wear no Masks
This Halloween, I'm more concerned with who was indicted in Washington yesterday, who is pleading guilty, and testifying against the rest of the treasonous bastards about their collusion with Russia. I'm REALLY worried about the tweet-threats of nuclear attack with psychopaths in Northern Korea. As a mother of teenagers, I'm always worried about sexual predators. These are the horrors that terrify me this Halloween, and I can't hide from those demons behind a convenient mask, because nothing is scarier than that.
Death is the least of our worries. Death doesn't scare me. To pass back into Spirit actually sounds pretty convenient. The scary shit this Halloween is trying to survive Trump's Nightmare on Pennsylvania Avenue. This isn't a flick you watch for a thrill at Halloween, and then tuck away in favor of your tacky sweater come Christmas; these dangers are real and the monsters are all parading right out in the open. In the name of all that is holy, please get out and vote in your municipal elections next week.
Just Keep Singing the Welcome Song
The Grinch who stole my Halloween is a broken and fearful society lead by an orange, weirdly-groomed lunatic who only loves himself, planet and decency be damned. But what are all us witches down in Whoville supposed to do about it this winter? This Samhain, my devotional work must be to drag my disheartened bones back out of my sad hidey-hole, down into the town square, and force myself to take hands in circle with my community. Rather than retreat into a cave and forsake all the madness of humanity, I have to keep singing. We all have to keep singing. We have to trick ourselves into believing in the basic decency of most people again, though I know that is no treat right now.
It may take a miracle, but if enough of us can keep singing together, perhaps our country's heart can grow a few sizes in the coming year.
~Heron
How the Grinch Stole Christmas! is a children's story by Theodor "Dr. Seuss" Geisel written in rhymed verse with illustrations by the author. The story was published as a book by Random House in 1957 It follows the Grinch, a grouchy, solitary creature who attempts to put an end to Christmas by stealing Christmas-themed items from the homes of the nearby town Whoville on Christmas Eve. Despite his efforts, Whoville's inhabitants still celebrate the holiday, so the Grinch returns everything that he stole and is the guest of honor at the Whos' Christmas dinner. (source)