Halloween approaches, with tricks luring us down those Sleepy Hollow roads. I have a treat that will fire you up to face the darkness – and magickally ward you against any marauding Headless Horsemen riding that night. This may just be my German heritage talking, but I think this recipe is a culinary masterpiece of comfort food. The crossroads where smokey and savory meets sweet and tangy is my happy place. But yummy food can also be potent witchcraft! Today I consulted ye olde G'oracle (google) to find out more about the folk lore and magickal uses of horseradish. Here is what I found out:
Magickal Uses of Horseradish
"horseradish…has been employed by many societies as a protective, banishing, and empowering herb. Folkloric magick attributes warding properties to horseradish root…[and] is a frequent fixture in Germanic spellwork…one can opt to strongly decoct the roots or leaves and employ it as a purifying and de-hexing rinse, or as 'holy water' for the purposes of (nonChristian) exorcisms. The root of the plant, when graven with runic markings, are employed as 'bartering goods' for favours, or as protective talismans against supernatural entities. [12]"Alexander Leonhardt © herbs-info.com 2013

Wouldn't you know it! One of my favorite winter foods, and it is good for protection, exorcisms, and warding. How convenient! Even my magickal German ancestors used horseradish as a talisman against the boogyman. This is definitely what I'll be serving before we go trick or treating this Halloween.
Magick aside, another helpful thing about this dish is that it can work with a variety of dietary needs. Hillshire Farms brand Turkey Polska Kielbasa is gluten free, for example, as is the rest of the dish. By trading the butter for more olive oil, it can become dairy free. Its also fairly low-carb, just meat, a "head" of cabbage and apples. The hero of the dish is what I'm now calling my headless horse-radish sauce that will make you very glad you still have your own head…and taste buds.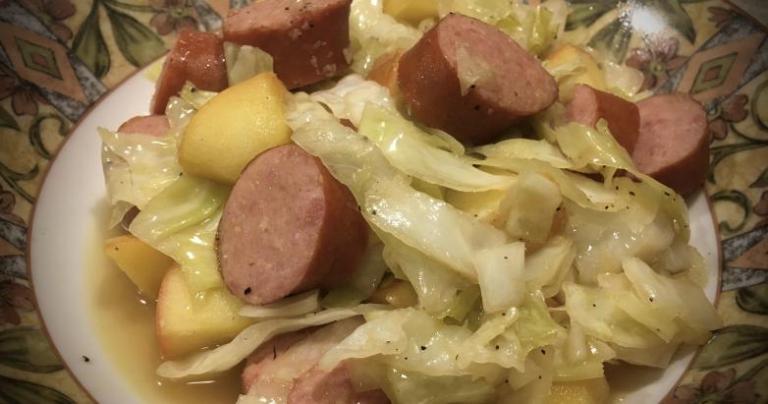 Headless Horseradish Kielbasa and Cabbage
A Gluten-Free and Low-Carb meal
Ingredients:
1 package of Smoked Turkey Kielbasa, make sure it is Gluten-Free, if that is a concern: sliced into rounds.
2 gala apples, cored, and cut into bite-sized pieces.
1 small "head" of green cabbage, chopped into ribbons – Get it? Head? <lol>
3 Tablespoons of extra virgin olive oil
1/4 cup (half a stick) real, organic butter. You'll notice I don't use fake foods like margarine at all. Might as well eat plastic.
1/3 cup apple cider
1/3 cup lemon juice
3-4 tablespoons prepared horseradish
3 Tablespoons Bragg's Liquid Aminos or Gluten Free Tamari Soy Sauce. You'll also notice I prefer to use these rich, soy based sauces in lieu of salt.
1/2 teaspoon, or to taste – black pepper
3 tablespoons maple syrup. I also don't use processed white sugar or artificial sweeteners. I prefer natural sweeteners like honey, maple syrup or agave nectar, which are also rich in minerals and have medicinal benefits of their own.
Directions:
In a large, deep skillet, on high heat, I heated the olive oil and the butter. Then I sauteed the cabbage until it was starting to look shiny and translucent, a few minutes.
Throw in the apples and continue to saute, allowing to brown just a little, adding more olive oil if need.
In a separate measuring cup, blend the prepared horseradish, lemon juice, apple juice, maple syrup, tamari and black pepper. It ends up equaling about a cup of sauce.
Push the cabbage/apples to the edges of the pan, and pour in the sauce and let it come to a simmer. Add the sausage into the sauce, allowing to cook about 5 minutes more.
Now stir up everything together.
Turn down the heat to medium. Cover the pan and allow to simmer on medium until the cabbage is just soft enough, but still has an al dente bite to it and the apples are cooked but not mushy – Check it after about 5 minutes.
Test a bite to make sure it is salty enough for your tastes and adjust from there.
May all your Halloween shenanigans be treats, and all your horsemen keep their heads!
Happy Halloween!
~Heron