The witching season is in full cackle, with glittering Halloween parties and somber Samhain dumb suppers to attend. This Scary Muenster Pasta recipe is a great pot-luck contribution. Its relatively easy to make, requires no fancy equipment or skills, and is made mostly of non-perishable packaged goods that the crafty witch can keep stocked in the cupboards for some dark and stormy night. This is a vegetarian dish, and can be made two ways: hot, for a main dish, or cold, as a side salad.
I've made varieties of this recipe for decades now, and other than my own son, <grumble> I've never met a soul who didn't love it. Substitutions are easy to fit any preference and budget. No kidney beans? Try garbanzos. Don't like zucchini? Alternate with broccoli or cauliflower florets or sliced carrots. Don't have the cash for black olives or sun dried tomatoes? Just leave them out. Honestly, if all you can manage is pasta, cheese and the sauce ingredients, you'll still have a great meal to keep you going this winter.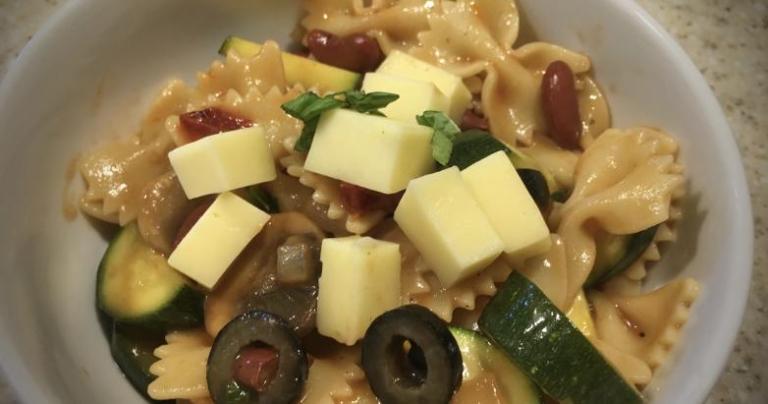 Scary Muenster Pasta, Vegetarian
Ingredients:
1/4 Cup Extra Virgin Olive oil
8 oz. package of sliced button mushrooms
1 small chopped yellow onion – or a few teaspoons of onion powder if onions are scarce.
3-4 cloves minced fresh garlic – or a few teaspoons of garlic powder, same reason.
1 tablespoon Bragg's Amino Acids, or Tamari Soy Sauce
1 teaspoon black pepper
2 small halved and sliced zucchinis
1 can Dark or Light kidney beans, drained and rinsed.
2 tablespoons finely chopped fresh Basil leaves, or 2 teaspoons dried basil
2 cups Farfalle (bowtie) pasta, cooked to package directions
1 small can of sliced black olives – about half a cup
1/3 cup julienne cup dry sun-dried tomatoes
1 can tomato condensed soup
1/3 cup red wine vinegar
1 cup+ cubed muenster cheese

Directions:
In a deep, large skillet heat olive oil over high heat, cook onions and garlic until glossy. Add the mushrooms and Bragg's aminos or Tamari sauce, black pepper, and saute about 5 minutes until mushrooms have released their juices. Stir in zucchini, beans and basil and cook covered until Zucchini are tender-crisp, about 5 minutes more. Remove from heat. This whole process is about 12 minutes total. Its important not to overcook the veggies.
2. Toss together the cooked vegetable mixture, can of tomato soup, vinegar, cooked noodles, the olives, and sun-dried tomatoes.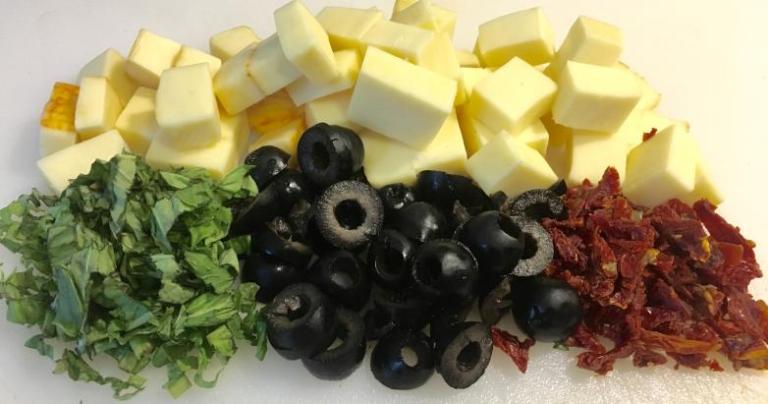 3. At this point you can make a choice to serve this immediately as a hot main dish or as a cold pasta salad.
Hot Main Dish:
4. Do a taste test for saltiness. Add more pepper and Bragg's/Tamari as desired. If you don't keep these soy salty sauces on hand, substitute with sea salt. Serve up the warm pasta and veggies and top with a hand full of muenster cheese cubes.
Cold Pasta Salad:
5. Cover the salad and refrigerate a few hours until completely cold. Add muenster cheese cubes just before serving and toss lightly.
Happy Halloween and Samhain Blessings!
May all your pot-lucks be lucky, and all your dumb suppers be satisfying.
~Heron