I've been snowed in at home with nothing to do today but rest, write and cook. So I whipped up a batch of lentil soup, with a plate of my Grandfather Stormy's famous "fried cornbread." This recipe is so easy and fast to make, and such a standard of southern cooking, that its almost silly to write it up as if I had anything to do with it's creation (1). However, the best traditions are often quite simple, and they require a mom like me to pass the knowledge down to the next generation. So, here you go… you're welcome.
There is just something so satisfying about this cripsy, crunchy, buttery, carb-y fried cornbread dipped in hot soup. To make this meal on this snowy day is a form of ancestor worship for me, considering how often my grandfather (and my mother) made these for us.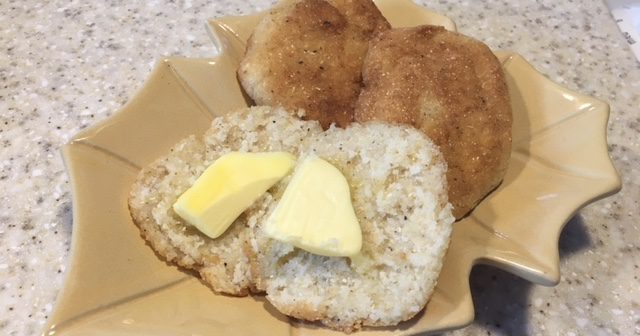 Stormy's Fried Cornbread Recipe: Vegan, GF
Ingredients:
2 cups of finely ground white cornmeal. If you can get organic, non-gmo and otherwise un-tampered with corn meal, that is all the better
1/2 to 3/4 teaspoon sea salt, depending on your sodium preferences
1/4 teaspoon black pepper
1/4 teaspoon paprika
1 teaspoon onion powder
Less than 1 cup of boiling water
3 tablespoons of Coconut oil for frying
Real butter, or vegan butter substitute
Instructions:
Step 1: Blend 'em up
Put the tea-kettle on to boil. Blend all the dry ingredients together in a mixing bowl. Heat a few tablespoons of coconut oil in a large skillet on high.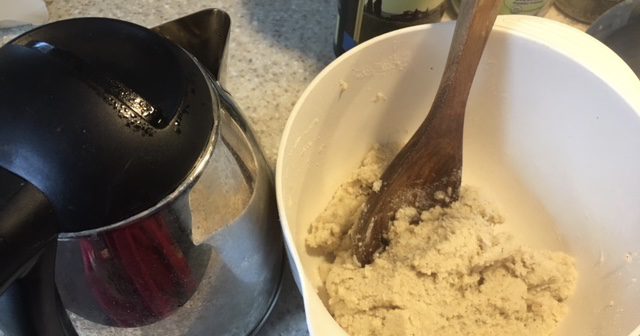 Step 2: Mash 'em up
After the water is boiling, add a few tablespoons at a time into the dry cornmeal mixture, blending thoroughly with a fork.  You CAN NOT just dump the whole amount of water at once, or it gets impossibly clumpy. Just keep adding splashes of hot water a little at a time, blending away, until you suddenly have a doughy cornmeal mash that suddenly forms a cohesive dough, balling up without any dusty bits remaining, but also without being gooey.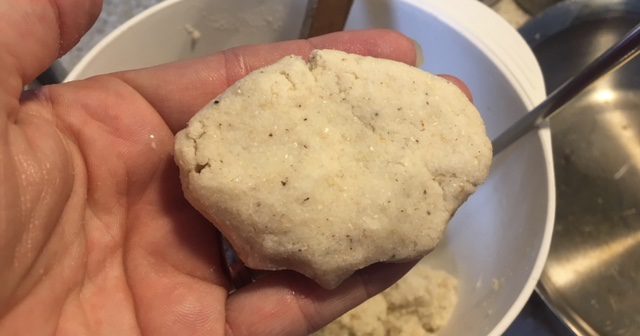 The cornmeal dough is perfect when you can wet your own hands with cold water, and scoop up a heaping soup-spoon worth of mash into your palms, and roll it into a ball without it sticking to your hands very much.  This is the magick of this recipe, and I have no idea exactly how much water is actually in it – just jump in there and do it, and you'll see what I mean. And if you DO add too much water, just add more cornmeal until it is right again.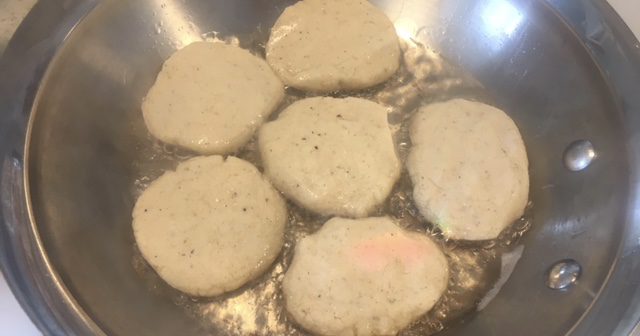 Step 3: Fry 'em up!
Squish the patties flat between your palms, then lay them carefully in the hot oil. The oil is hot enough when they immediately start sizzling. Don't touch them, or attempt to move them around the pan for at least 2 minutes on each side, or else you may tear them and that's a disaster. When the bottom is golden brown, hard and crunchy, they'll flip over easily with a spatula.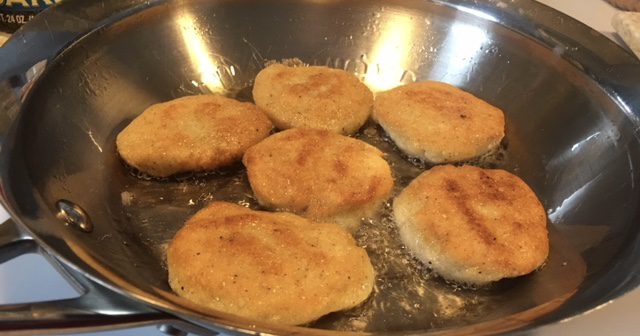 Then flip and fry another 2-3 minutes on the other side. With a spatula, transfer the cornbread to drain on a paper towel on a plate. This recipe makes 12 palm-sized cakes, so you'll fry two batches. You may want to slightly lower the temperature to medium-high for the second batch.  They will be perfectly crunchy on the outside, but still mushy on the inside when done.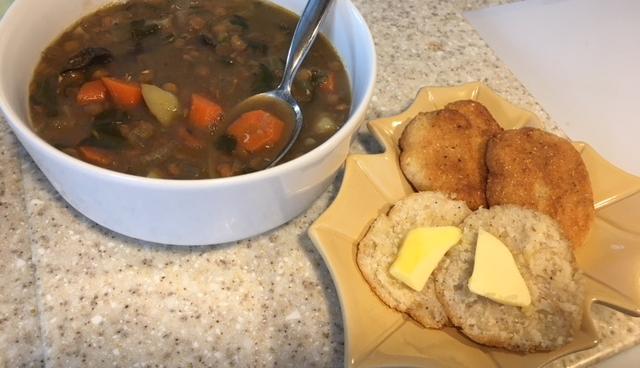 Step 4: Butter 'em up!
While they are hot, slice them open with a sharp knife and butter them up. My vegan sweetheart enjoyed them with honey or maple cream instead. I prefer mine savory and dipped them in a hot lentil soup. Check out Turkey Bone Stock for Lentil Veggie Soup recipe for a delicious way to put that left-over holiday turkey carcass to good use.
Wishing you a cozy hibernation season!
~Heron
---
For what it's worth, I added in the onion powder and paprika on a whim. I hope the Spirit of Stormy Rouse doesn't mind too much!