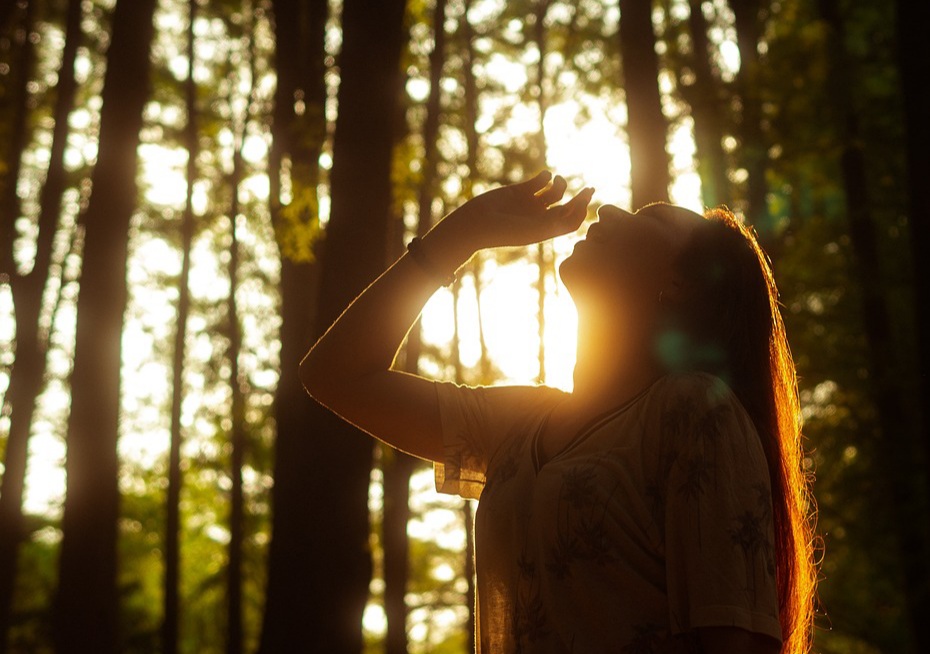 How God Answered My Most Earnest Prayers
Pray fervently in righteousness and avail much (James 5:16).
May 4 is the National Day of Prayer – the perfect time to share how God answered two of my most meaningful and earnest prayers. I availed much, you might say. In the first instance, he answered immediately and powerfully. In the second, his answers came slowly over a period of years. But he answered.
I believe God always answers prayers. Sometimes, he says "Yes," sometimes it's "No" and at times, it's "Not yet."
A New and Different Prayer
The first time I prayed in earnest was during college. My beloved grandmother had leukemia and suddenly took a turn for the worse. As she lay in a hospital bed on the brink of death, I prayed as I had never before prayed. It was a new and different kind of prayer.
Saying that my grandmother and I were close doesn't begin to describe the depth of our relationship. She had lived next door to me from the time I was born until I turned 14, and she helped shape my character and values.
Her house was my second home during those years. I followed her around as she worked, joined my grandparents for occasional meals and sometimes spent the night. And we talked about everything. When my teen years began and talking to my parents wasn't something I wanted to do, I talked to Grandma. Nothing was off limits.
She truly enriched my life.
Not Ready to Lose Her
When Grandma became ill, she moved 100 miles away to live with one of her daughters. She had had ups and downs with her illness, but now, her doctor was preparing us for her death. I did the only thing I knew to do. I turned to God.
"I'm not ready to lose her," I told him. "Please, please don't take her from me now. Please give her one more year of life, and let it be a good year." I repeated the same words over and over throughout the day and into the night.
Why did I ask for a year? I have no idea. I simply knew that I wasn't ready to lose her.
My grandmother lived through that night, then another night and another. As the days passed, her doctor became more and more confident that she had survived the crisis. And I thanked God for answering my most fervent prayers.
He Answered My Prayers
Grandma lived almost one year to the day after I prayed so fervently to God. Some will say it was coincidence, but I am convinced that he answered my prayers.
When death finally came to my grandmother, I was devastated, but it would never have been easy for me. I was grateful that God had given me one more year with her.
I couldn't see her every day as I had earlier in my life, but I could talk to on the phone. It was all I had, and I was grateful to have it.
Talking to God
There have been other meaningful and heartfelt prayers I have prayed since that time.
The next prayers I want to share were quite different from the prayers I prayed for Grandma – and if I'm honest, for myself.
The story began to unfold about 12 years ago when I became seriously ill with an illness that left me bedridden. I saw one specialist after another, but none of them could identify the illness that caused my ever-present fever, extreme lethargy and other symptoms. No illness quite fit the symptoms, and none of the prescribed medicines worked.
So, I retired early on disability and spent my days in bed, praying and talking to God a great deal. I discovered that there's a difference between praying and talking. When I pray, I begin with words such as "Dear Lord" or "Dear Father" and talk to the Lord in a formal way.
Talking to God is like having a conversation. I share what's on my mind, and God gives me answers either then or later. Sometimes they are clearcut, sometimes they aren't.  It's important to note that some of my worst mistakes and sins have come when I misinterpreted his answers.
Reaching Out
One thing I had wanted to do in retirement was spend more time focusing on God, and I was doing that. It just wasn't quality time. Retirement had come too early, and I was too sick to attend church, read the Bible or do much else.
Unable to take care of myself, I sold the home where I had lived for half of my life and moved in with my older daughter, who is a registered nurse.
My most strenuous activity was getting out of bed to eat dinner every evening. I had in-home physical therapy, but it did little for me, and my physical decline continued month after month.
I've heard the expression "use it or lose it," but I had already lost "it" if "it" meant vitality.
I had never experienced such unrelenting lethargy. My fever ran as high as 104 degrees at times, and I felt drained of nearly all life. I stopped caring whether I lived or died and was convinced I had cancer or some horrible infection. Either way, I wasn't long for this world.
The Turning Point
My illness reached a crisis point one December morning when my daughter found me in bed, unresponsive and running a high fever. She and my son-in-law bundled me into her car, and she rushed to the hospital where she worked.
A pulmonologist was called in, and my long road to recovery began at last. This doctor ordered numerous tests that revealed I had severe double pneumonia and scarring from the infection. My white blood count was extremely high, and I suffered from sepsis among other things.
With the infection taking over, I was the sickest I had ever been. Was this the illness that had baffled doctors? I don't see how. Pneumonia shouldn't be too hard to detect.
At any rate, my new doctor prescribed several antibiotics, steroids and a slew of other medicines administered through the multiple IV lines attached to my arms.
A Slow Recovery
My body began to respond, and I left the hospital the day before Christmas Eve. It was a different kind of Christmas, as I managed to spend only a few minutes opening presents with family before crawling back into bed, exhausted.
I continued taking antibiotics and steroids for more than a year, did breathing exercises and treatments several times a day, and had in-home physical therapy three times a week until I eventually transitioned to outpatient therapy. I don't remember much about the prayers I prayed during the early weeks and months of recovery, but I think they were generally prayers of thanks.
Eventually, the good days began to outnumber the bad, and I began to feel stronger than I had in a long time. My new-found health brought with it a strong belief that God had a new purpose for my life. I didn't want to be dramatic, but I couldn't shake that thought.
If I was right, what was his purpose? I had no idea.
A New Direction
As my strength returned, I regained enough energy to attend Sunday School and church in my new hometown. It took only a few visits for me to realize that I had found my church home.
The class was one of the best – if not the best – Sunday School classes that I had ever attended. I was constantly learning and felt blessed to know some very intelligent, knowledgeable and wonderful women. The pastor preached inspired sermons, and the music was outstanding. Talk about blessings!
And still, I wondered about God's purpose for my life. Why was I still alive?
God's Plan
God didn't begin to unveil his real plans for me until one morning after Sunday School when the class president approached me. Our class had four teachers who took turns teaching, and one of them was moving out of state. Would I replace her?
My first thought was something like, "You have to be kidding!" though I'm sure my actual response was more along the lines of "Why me? I don't feel qualified to teach these women anything."
I had never taught Sunday School and didn't feel smart enough to begin now. Most of all, I had a paralyzing fear of speaking to groups. And I mean paralyzing to the point that in college, I took a year of math – which I despised – rather than a year of speech – which terrified me. A year of math was hell, but it was better than living in constant dread and terror for eight or nine months.
"Being a teacher would be a great honor," I wanted to tell the class president, "but I can't possibly teach Sunday School." Instead, I asked her to give me time to consider her request. They weren't the words I intended to say, but I couldn't take them back.
I would simply pretend to think about the request, wait a couple of weeks and then graciously decline. But the next two weeks didn't go the way I planned, as I couldn't get the conversation out of my mind.
I argued with God, and he persisted. It seemed as though he was telling me, "You prayed for a closer relationship with me and said you wanted to learn. I'm trying to answer your prayers, and you want to turn me down. Give me a break!"
You're wrong if you say I was arguing with myself. Had the decision been left entirely to me, I would have immediately declined the invitation to teach and forgotten about it. No, I was definitely arguing with God.
Painful Beginnings
The first few lessons I taught were painful for me and probably, the class. I prayed before every class and asked God to help me teach a meaningful lesson.
Still, I was ill at ease and read most of what I wanted to say from pages of notes. The women were very supportive, and I slowly gained confidence in what I was doing.
That was several years ago, and I can now admit that God knew best.
Praying for Guidance
I still had a strong sense that God had more plans for me and continued to pray for guidance. Yet, nothing happened until my older granddaughter approached me with an idea.
"You need to write for Patheos," she told me one day. She had considered applying to become a contributor herself, but with a husband, two energetic pre-schoolers and a full-time job, she decided now wasn't the time for her.
I felt that her degree in Christian education made her eminently more qualified than me to write for Patheos, but the more I thought about writing a blog, the more interested I became.
Patheos quickly responded to my inquiry about becoming a contributor and requested several writing samples from my time as a journalist and a public relations-marketing professional. Within days, I was – to my great surprise – accepted as a contributor.
I settled into writing, and the more I wrote, the more I felt that writing a Christian blog was God's plan for my life. I had something to say, and I was saying it.
Researching and writing about Christian topics drew me closer to God, taught me more about him and fulfilled me. I was finally doing the very thing I had been preparing to do for many years.
Our Father….
Prayer has directed the last few years of my life, and I would like to close this post with one of the world's most famous prayers. It's the prayer that Christ taught us to pray:
Our Father, which art in heaven, hallowed be thy name. Thy kingdom come, thy will be done on earth as it is in heaven. Give us this day our daily bread and forgive us our trespasses as we forgive those who trespass against us. And lead us not into temptation, but deliver us from evil, for thine is the kingdom, the power and the glory forever and ever. Amen.