Before Christmas, we got our first dog. A dog that will live 14 years when we'll have kids home for 3 ½ more years. I can't tell you how many people tell me we're crazy. I think we're crazy. It's been a moment of parental and marital madness.
I am not a pet lover.   Admitting that feels almost as un-American as saying I don't love apple pie. But I don't prefer cooked fruits, I don't prefer animal smells, and I'm allergic.
I didn't grow up with real pets even though Mama had multiple pets growing up. Even in China when they didn't have enough food she had cats and dogs (and indeed, they ended up eating a pet dog—not because of starvation but because a neighbor said it would cure her of malaria and went ahead and cooked up the dog for her). But she couldn't handle the stress, work and mess that a pet would have added to her brood of 4 kids and physicist husband so though we begged, she said no.
We did catch little fish near Kailua beach and take them home, but without salt water, they would quickly die. Or once, in a quicker demise, they spilled in the back of the station wagon, and in scraping them up, Mama scraped their flailing little bodies into mush and into the carpet.
For the 6th grade animal care module, I somehow wangled Mama into letting me get a rabbit—Cookie, because he was black and white like an Oreo. I was not the greatest animal carer, and when we left Cookie with my youth pastor to spend a year in China 2 years later, Cookie kept running away until he finally ran away for good—eaten I'm sure by a mongoose or some other Hawaiian predator. My youth pastor was guilt-ridden, but Mama just laughed and said, "No problem, we're happy to be rid of that rabbit."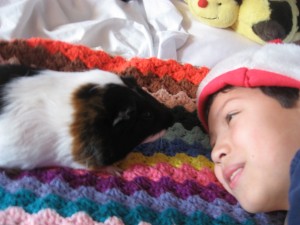 Our kids begged for pets. Because Scott grew up with 2 dogs, he's been much more open than me—so we got a guinea pig as an experiment to see if kids would actually take care of him. Kalua the pig was cute and loved, but 98% of the time, kids fought over whose turn it was to change his litter.
When he stopped eating and started wheezing, I called the vet who said a visit cost $60, treatment about $300, and most rodents died once getting a respiratory infection. The kids cried when we said we weren't going to spend that amount of money on a $30 guinea pig, but when we offered for them to pay and try to save his life, they let the poor pig expire.
Ren's been an animal lover from almost birth.  He's also a kid who studied the 3-toed sloth in kindergarten and took on its characteristics. So Scott, without consulting me, somehow promised him a dog if he ran cross-country as a freshman.
Of course Ren broke his toe kicking his sister at the beach 3 days before the season started and was out for the first 6 weeks. I kept arguing that this meant the contract should be void. But somehow it wasn't.
Scott has said all along that mothers don't let living things die (unless, apparently, they are wheezing guinea pigs) so she's mine, even though she's supposed to be Ren's. Presenting Haddie—a dog I'm sure I'll be writing about for years to come. . .