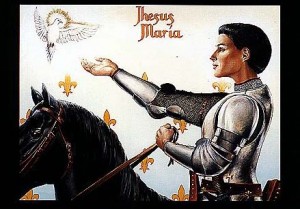 I skipped Music for Mondays yesterday. So in this holiday shortened week I've got some more Joan of Arc music for you, and more good girls we love. I shared the first part of this series last week. Truthfully, that is where most of the good stuff was. Today I've got a few more stragglers, and then I move on to other good girls that kick ass, like St. Joan. Huh?
Why does Joan of Arc captivate us? Is it her bravery alone? Her feats of daring do on the battlefield? Is she like the true version of Disney's Mulan? No.
Here's why. In my opinion, Joan's appeal is her childlike faith in Christ, and the fact that she is a badass. She was not a nice little girl, but a very good girl, indeed. Her faith inspired her to do things that no ordinary person could ever have done successfully on her own. Not in her time, nor ours. No one believed her at first. But there was a fire in her eyes, and she spoke with power and authority in a manner that shocked others into acknowledging that they must go to war.
How's that for being dainty? Divine inspiration has that effect sometimes. And her faith would not allow the powers-that-were to sway her from her beliefs either.
So we turn again now to a few more modern songs revolving 'round our heroine and patroness, and then I'll skip right to another Joan who is so good being bad, as well as a few more good girls that aren't afraid to kick a little ass and take a few names.
Kate Bush, Joanni.This is from the album released in 2005 called, Aerial. The scenes from in the video that accompanies this song are from the 1999 film The Messenger: The Story of Joan of Arc. I've never seen the film, so I can't say whether it matches up with Ingrid Bergman's portrayal of Joan or not. Metacritic says "Meh," so I'll pass. But this is one of the few Kate Bush songs that holds my attention. Check these lyrics to see why,
Joanni, Joanni wears a golden cross
And she looks so beautiful in her armor
Joanni, Joanni blows a kiss to God
And she never wears a ring on her finger
That sounds about right. Now listen to Kate bring them to life.
This just in…New Music from a band you never heard of!
The Traveling Creatures, Joan of Arc (OWS). In the combox from last weeks post, Michael Hansen sent me a video of a song he was inspired to write in light of the Occupy Wall Street movement. I figure we can close today's Joan of Arc portion of the set with it. It's got guitars and fiddles too. Only 84 views? That's how new it is. And check out the Cyndi Lauper lilt. Leaderless and anonymous? Well, that ain't Joan's way, and it's probably why OWS is doomed unless they find the kind of backbone that Martin Luther King, Jr. had. But the tune sounds pretty cool.
http://www.youtube.com/watch?v=V7NkqAvJnUA
Moving right along, yesterday I shared the harsh truth that
nice girls kill vampires
. Seriously. It's either kill or be prey. Besides, it's more important to be good, than to be nice.
Just ask Elizabeth Scalia
. So lets segue on over to the next Joan.
Joan Jett & the Blackhearts, Love Is All Around You. I'm not sure when this aired on the David Letterman show, but I truly love how Joan and her crew throw the rock n' roll twist on the theme song from the Mary Tyler Moore Show. Love is all around, and with Joan cranking it like this, I think Lou Grant might even have tapped his toes to this one.
Joan Jett & Foo Fighters, Bad Reputation. This too is from a David Letterman show that aired just last week, and has Joan teamed up with another band I love, Foo Fighters. She opened for them at Madison Square Garden a week or so ago. How cool is this? And what she's singin' about? Heh. Catholics have to be like this most of the time, you know.
Did you realize that Joan did 61 concerts for the military via the USO and directly with base commanders, etc? Now you do.
Good girls, not not nice girls. Hmm…I might have to change the title to my Buffy post after all. As I ponder that, here is "good girls" Exhibit C). I don't know the music, but this is the final scene from The Cutting Edge which starred Moira Kelly and D. B. Sweeny. Broken hockey player who needs a skating gig meets difficult prima donna who needs a partner. Sparks fly early, and often. Here they are with the championship on the line and she decides to do the Pamchenko…because she's "in the mood to kick a little ass."
http://www.youtube.com/watch?v=II2h-TLxN5E
True story. Just the other day, my daughter (12, going on 18) said, "Did you know the Beatles sang Lady Madonna?" To which, in reply, I jumped up, danced around, and sang a verse or two to prove my bonafides as the crazy dad who knew the answer. The memory scaring of that scene is now seared into her brain (and yours) forever. Sorry.
Our Lady, the Terror of Hell, is the good girl who didn't finish last. Ladies and gentlemen,
The Beatles, Lady Madonna.
That's a wrap for this belated issue of MfM. Have a Happy Thanksgiving!