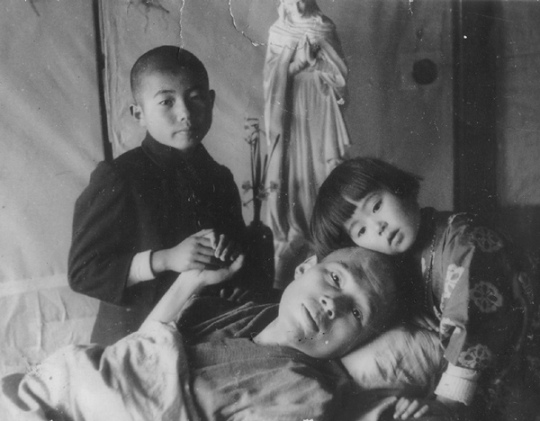 Both events happened yesterday. Are they related? Honestly, I have no idea. But in the midst of Presidential Campaign sabre rattling fervor directed towards the sovereign state of Iran, I was heartened to learn that the less sexy alternative, diplomacy, made some serious headway in North Korea.
The United States announced a major diplomatic breakthrough with North Korea Wednesday.

Under an agreement reached in direct talks in Beijing last week, North Korea has agreed to allow the return of nuclear inspectors from the International Atomic Energy Agency, and has agreed to implement a moratorium on long-range missile tests, nuclear tests, and nuclear activities at Yongbyon, including uranium enrichment activities, the State Department said. In return, the United States will provide North Korea with a major food aid package.

"To improve the atmosphere for dialogue and demonstrate its commitment to denuclearization, the DPRK has agreed to implement a moratorium on long-range missile launches, nuclear tests and nuclear activities at Yongbyon, including uranium enrichment activities," State Department spokeswoman Victoria Nuland said in a press statement Wednesday. "The DPRK has also agreed to the return of IAEA inspectors to verify and monitor the moratorium on uranium enrichment activities at Yongbyon and confirm the disablement of the 5-MW reactor and associated facilities."

Despite the stunning breakthrough, "the United States still has profound concerns regarding North Korean behavior across a wide range of areas," Nuland's statement cautioned, but added that "today's announcement reflects important, if limited, progress in addressing some of these."

In return, the United States will "move forward with our proposed package of 240,000 metric tons of nutritional assistance along with the intensive monitoring required for the delivery of such assistance," she said.
Diplomacy doesn't mean "appeasement," and I'm sure Dr. Takashi Nagai, whose story we intend to introduce to a new generation through the film All That Remains, would approve of this method of resolving our differences. The photograph at the top of this post is of him and his two children.
Which brings me to the other great piece of news disclosed in the title to this post: another anonymous person gifted $1,000 toward the project of completing this timely film. Thank you Mr., Ms., Mrs., Anonymous! And thank you YIMCatholic readers for sharing the previous "praise report" post (special thanks to my editor Elizabeth Scalia for her help in getting the word out), for contributing (no donation is "too small"), and praying for the success of this mission.
Ian Higgins has a few words for everyone as well, from a few days ago…

Because words are all we have, right now…

Yesterday an extremely generous person donated $2,000 to our campaign on Indiegogo! We've said it before, but as it's true, we'll say it again: every dollar/pound we receive goes a very long way, so a donation like this is a huge leap forward for us.

And so, we thought now would be a good time to pause and say a big thank you to everyone who has so far donated, supported and championed our various campaigns to raise the necessary budget we badly need.

Special mention should go to blogger Frank Weathers for all his support (and donations) since the launch of our first campaign on Indiegogo. Frank's efforts and enthusiasm have been a crucial part of the successes we've had. You can check out Frank's blog here –

We couldn't not also give mention to Fr. Paul Glynn, who has been so helpful and supportive of our efforts, and continues to offer help and assistance, despite not long returning to Australia, having spent several weeks in Japan, raising money for a far more noble and worthy cause than ours, helping the victims of the Fukishima earthquake.

Marist Fathers, Australian Province

We'd also like to give a special mention to Mr. and Mrs. Yoshida from Nara, Japan. After hearing of our desire to find authentic, traditional Japanese clothing, the Yoshida's have sent us several parcels containing various items of clothing! Not to mention the fact that while we were in Nara, Mrs. Yoshida kindly offered to come shopping with us – an offer we gratefully accepted!

Obviously, we still have a way to go until we reach our goal, but for all that we have received so far, and all that we may receive in the weeks ahead, thank you.

I'll second that statement, and then I'll put my Honorary Producer hat back on and beg you to give some more. 'Tis the season for alms giving, after all, and I'll again post the trailers of what the good, hard working, folks at Major Oak Entertainment, who also gave us Finding Fatima a few years ago, have in store for us in bringing this story of hope, born out of nuclear desolation,
And the bonus animated short film 26 Martyrs will be released concurrently with the feature film too. Have a look, as it sets the stage for the history of how Nagasaki became the home of many Christians in Japan long before their city was targeted for destruction.
A little while ago, my friend Marc Barnes of BadCatholic shared a little post on Catholic design, and how basically good design elements "matter." I agree. Having seen what Ian and Dominic Higgins, and their staff, are capable of, in the examples above, and over at their Production Blog, I think you will agree that these projects land solidly in the category of "Christian Art That Does Not Suck." Throw your wallet at them, QUICK!
Thanks again for all your help, dear readers. This fund-raising campaign ends in 10 days and we still need about $14,000 dollars to wrap this project up admirably. Your donations will help feed starving artists and actors, so your contribution counts as a corporal work of mercy. I have that on good authority.