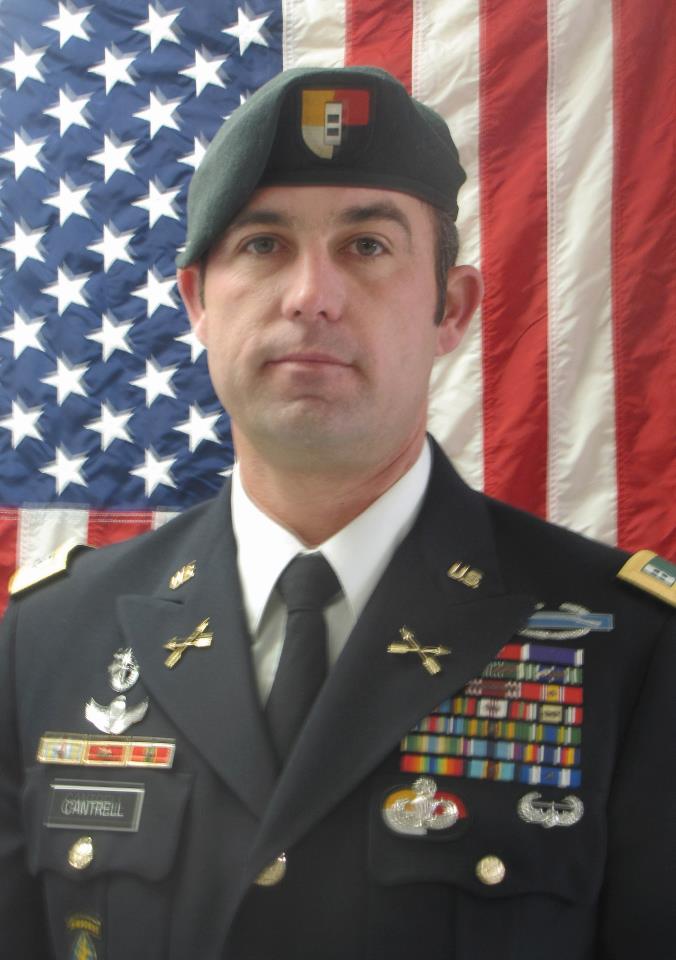 By the sweat of your brow you shall eat bread,
Until you return to the ground,
from which you were taken;
For you are dust,
and to dust you shall return.—Genesis 3:19
We're almost a third of the way through Lent, and reckon I needed to cry today. Perhaps you need to cry too? As such, I'll share the following tragic story of a hero's death that sent me running for the tissues this morning, and forced me to yet again examine my own life.
You see, CWO-2 Edward Cantrell, a Special Forces soldier, died a hero yesterday in Hope Mills, North Carolina, while trying to save his two daughters, Isabella and Natalia, when their home caught on fire. He was 36 years old, and his daughters were ages six, and four.
I learned of this news this morning when a friend posted the following press release from the U.S. Army Special Forces Command (Airborne) on his wall and I'll share it with you now.
PRESS RELEASE
No. 20120306-001
March 6, 2012

Special Forces Soldier killed while attempting rescue of daughters from fire

FORT BRAGG, N.C. – A soldier from 3rd Special Forces Group (Airborne) was killed in a house fire at his home in Hope Mills, N.C., March 6.

Chief Warrant Officer two Edward Cantrell, 36, died while trying to rescue his two daughters – ages six and four- after their home caught fire during the night. Cantrell's wife survived the fire.

Cantrell, a Green Beret, was the Assistant Detachment Commander for an Operational Detachment-Alpha in 3rd Battalion. ODAs, also known as "A-Teams," are the cornerstone of Special Forces.

Cantrell was born in Dyersburg, Tennessee, and joined the Army in 1994 as a military policeman. He served in 2nd Infantry Division, Camp Howze, Korea, and then the 503rd Military Police Battalion, at Fort Bragg, N.C. where he deployed in support of Operation Joint Endeavor to Bosnia and Herzegovina. He later served with the Southern European Task Force in Vicenza, Italy.

In 2004, Cantrell graduated from the Special Forces Qualification Course and was assigned to 3rd Special Forces Group (Airborne), serving as a Communications and Intelligence Sergeant on four combat deployments.

Cantrell attended the Warrant Officer Candidate Course followed by the Special Forces Warrant Officer Basic Course in 2009 and was then assigned to another ODA as the Assistant Detachment Commander.

Cantrell has completed six total combat deployments: one to Iraq and five to Afghanistan. He returned home from his most recent combat tour supporting Operation Enduring Freedom in August, 2011.

Cantrell's awards and decorations include four Bronze Star Medals, the Purple Heart, the Army Commendation Medal with Valor device, four Army Commendation Medals, eleven Army Achievement Medals, Army Good Conduct Medal, National Defense Service Medal, Afghanistan Campaign Medal with four stars, Iraq Campaign Medal with one star, Kosovo Service Medal, Global War on Terrorism Expeditionary Medal, Global War on Terrorism Service Medal, Humanitarian Service Medal, six Overseas Service Ribbons, Army Service Ribbon, the NATO Medal, the Combat Infantryman Badge, the Master Parachutists Badge and the Air Assault Badge. He was also the recipient of the Bruce E. Price Leadership Award.

Cantrell is survived by his wife, son, and parents.

Story by Capt. Jennifer Bocanegra
The local news outlet filled in the gaps with more details and a video here. I simply ask you to pray for the souls of this brave man, and of his daughters, while also remembering the survivors of this tragedy in your prayers as well. Blessed are they who mourn, for they will be comforted.
I did not know this soldier, and it's likely that neither did you. But I have known many like him, and a number who have died tragically in similar circumstances, and not so similar. I came close to death at a similar age, but in far less honorable circumstances, while also serving this great country of ours.
I have no idea if Edward Cantrell was a man of faith, or not. He died trying to save his children and he had pledged his own life to save mine and yours as well. I only know that my own near brush with death helped set me on the path to the Church. For if I would have died on that day in the California desert, it would have been tragic for my wife and three young children (my youngest was a 3 month old at the time). But it would have been devastating for my soul, see, because I was not prepared.
And so, like many of the saints have counseled, I now think often of my future death, and nowadays I tend to act as if every Mass may be my last. And when a brother-in-arms like Edward Cantrell dies, I am again confronted with the fact that I did not die. Not yet. But in living on, I am also challenged to try and make sense of death in the midst of grappling with the mystery of life, and of a life lived well. Am I living only for myself? Or am I living as a servant for others? I fear the answer leans more towards the former, though as today's gospel reading informs us, it should be devoted to the latter.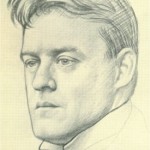 My long passed Catholic friends, who led me to the Church, helped me immensely in understanding this mystery. Blaise Pascal's letter to his sister upon the death of their father was a light beckoning me out of the darkness. Even clearer were the thoughts of Hilaire Belloc, who threw a floodlamp on the subject for me with truths that I had ignored when I had tried to be my own magisterium.
For Belloc provided the clarity that a dunderhead like me needs to hear early, and often.
To answer that main question we must consider a prime truth of the Catholic Church itself, which has shortly been put in this form: "The Catholic Church is founded upon the recognition of pain and death." In its more complete form the sentence should rather run "The Catholic Church is rooted in the recognition of suffering and mortality and her claim to have provided a solution for the problem they present."
I had been like a lost man in the jungle, with no map, no compass, and no water. Tell me more, bwana!
How can we call man's destiny glorious and heaven his goal and his Creator all good as well as all powerful when we find ourselves subject to suffering and to death?
First, Hilaire provides the examples of the dead-ends presented by the best of mankind's feeble attempts at grasping the mystery. You may have experienced a few of these approaches.
Nearly all young and innocent people are but slightly aware of this problem. How much aware of it they may be depends upon what fortunes they have, how early they may have been brought into the presence of loss by death or how early they may have suffered great physical or even mental pain. But sooner or later every human being who thinks at all, everyone not an idiot, is faced by this Problem of Evil; and as we watch the human race trying to think out for itself the meaning of the universe, or accepting Revelation thereon, or following warped and false partial religions and philosophies, we find it always at heart concerned with that insistent question: "Why should we suffer? Why should we die?"

Various ways out of the torturing enigma have been proposed. The simplest and basest is not to face it at all; to turn one's eyes away from suffering and death; to pretend they are not there, or, when they are thrust upon us so insistently that we cannot keep up the pretence, why then to hide our feelings. And it is part also of this worst method of dealing with the problem to boycott mention of evil and suffering and try to forget them as much as one can.

Another way less base, but equally contemptible intellectually, is to say there is no problem because we are all part of a meaningless dead thing with no creative God behind it: to say there is no reality in right and wrong and in the conception of beatitude or of misery.

Another nobler way, which was the favourite way of the high pagan civilization from which we sprang the way of the great Romans and the great Greeks, is the way of Stoicism. This might vulgarly be termed "The philosophy of grin-and-bear-it." It has been called by some academic person or other "The permanent religion of humanity," but it is indeed nothing of the sort; for it is not a religion at all. It has at least the nobility of facing facts, but it proposes no solution. It is utterly negative.

Another way is the profound but despairing way of Asia, of which the greatest example is Buddhism: the philosophy which calls the individual an illusion, bids us get rid of the desire for immortality and look forward to being merged in the impersonal life of the universe.

What the Catholic solution is we all know.
Maybe Belloc knew it well, but I sure didn't. But when I read these next thoughts, life in this world, with all it's marvels and inconsistencies, its tempestuous mix of the miraculous and the mundane, and its riddle of longevity juxtaposed against the fact that death often comes unexpectedly, the beautiful mind that is the Church, comforted me.
Not that the Catholic Church has proposed a complete solution of the mystery of evil, for it has never been either the claim or the function of the Church to explain the whole nature of all things, but rather to save souls. But the Catholic Church has on this particular problem a very definite answer within the field of her own action. She says first that man's nature is immortal, and made for beatitude; next that mortality and pain are the result of his Fall, that is, of his rebellion against the will of God. She says that since the fall our mortal life is an ordeal or test, according to our behavior, in which we regain (but through the merits of our Saviour) that immortal beatitude which we had lost.
And the bell that signals the end of the test may ring at any time. Dum vivimus, vivamus? At one time, when I was ignorant. Nowadays a better motto is one of St. Ausgustine's. Credo et intelligam.
Deus Misereatur, amen.
UPDATE: You may make a gift to support CWO-2 Cantrell's family via the Special Forces Charitable Trust. Mark your gift "to support family of fallen SF hero, 3/6/12" at the link here.