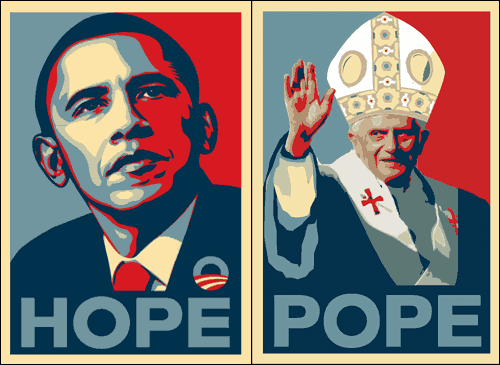 Regarding threats to religious liberty, I go with believing the Pope every day of the week, and twice on Sunday. The choice is pretty easy to make in my book. See, on the one hand we have a man who says this,
During a campaign stop in Denver, Colorado with pro-abortion activist Sandra Fluke, pro-abortion President Barack Obama refused to back down on the HHS mandate  his administration put in place forcing religious groups to cover abortion-causing drugs.

"Let me tell you—there's nothing conservative about a government that prevents a woman from making her own health decisions," he said. "Let me tell you something, Denver—I don't think your boss should control the care you get," Obama added, referring to the desire by religious groups to not be forced to violate their own consciences.

"I think there is one person who should make decisions on your health care, and that person is you," he continued. "I don't think a college student in Colorado Springs should have to choose between textbooks or the preventive care she needs."

"We worked with Catholic hospitals and universities to find a solution that protects both religious liberty and a woman's health," Obama falsely claimed. "We've made sure churches and other houses of worship don't have to provide or pay for it."
Riiiiight. All without budging an inch, or communicating with the Bishops on this matter after blindsiding them. I think we call this failed governing, though the administration called it a fait accompli.
On the other hand, we have our Supreme Pontiff of the Universal Church saying this,
In the light of these considerations, it is imperative that the entire Catholic community in the United States come to realize the grave threats to the Church's public moral witness presented by a radical secularism which finds increasing expression in the political and cultural spheres. The seriousness of these threats needs to be clearly appreciated at every level of ecclesial life. Of particular concern are certain attempts being made to limit that most cherished of American freedoms, the freedom of religion. Many of you have pointed out that concerted efforts have been made to deny the right of conscientious objection on the part of Catholic individuals and institutions with regard to cooperation in intrinsically evil practices. Others have spoken to me of a worrying tendency to reduce religious freedom to mere freedom of worship without guarantees of respect for freedom of conscience.

Here once more we see the need for an engaged, articulate and well-formed Catholic laity endowed with a strong critical sense vis-à-vis the dominant culture and with the courage to counter a reductive secularism which would delegitimize the Church's participation in public debate about the issues which are determining the future of American society. The preparation of committed lay leaders and the presentation of a convincing articulation of the Christian vision of man and society remain a primary task of the Church in your country; as essential components of the new evangelization, these concerns must shape the vision and goals of catechetical programs at every level.

In this regard, I would mention with appreciation your efforts to maintain contacts with Catholics involved in political life and to help them understand their personal responsibility to offer public witness to their faith, especially with regard to the great moral issues of our time: respect for God's gift of life, the protection of human dignity and the promotion of authentic human rights. As the Council noted, and I wished to reiterate during my Pastoral Visit, respect for the just autonomy of the secular sphere must also take into consideration the truth that there is no realm of worldly affairs which can be withdrawn from the Creator and his dominion ( cfr. Gaudium et Spes, 36). There can be no doubt that a more consistent witness on the part of America's Catholics to their deepest convictions would make a major contribution to the renewal of society as a whole.
Pope Benedict XVI made the above remarks back in January. Just recently, though, a Papal letter delivered to Carl Anderson, Supreme Knight of the Knights of Columbus by Vatican Secretary of State, Cardinal Bertone, reemphasized the threat as seen from Rome,
Dear Mr. Anderson,

His Holiness Pope Benedict XVI was pleased to learn that from 7 to 9 August 2012 the 130th Supreme Convention of the Knights of Columbus will be held in Anaheim, California. He has asked me to convey his warm greetings to all in attendance, together with the assurance of his closeness in prayer.

The theme of this year's Supreme Convention – Proclaim Liberty Throughout All the Land –evokes not only the great biblical ideals of freedom and justice which shaped the founding of the United States of America, but also the responsibility of each new generation to preserve, defend and advance those great ideals in its own day. At a time when concerted efforts are being made to redefine and restrict the exercise of the right to religious freedom, the Knights of Columbus have worked tirelessly to help the Catholic community recognize and respond to the unprecedented gravity of these new threats to the Church's liberty and public moral witness. By defending the right of all religious believers, as individual citizens and in their institutions, to work responsibly in shaping a democratic society inspired by their deepest beliefs, values and aspirations, your Order has proudly lived up to the high religious and patriotic principles which inspired its founding.

The challenges of the present moment are in fact yet another reminder of the decisive importance of the Catholic laity for the advancement of the Church's mission in today's rapidly changing social context.
I said once that saints tell temporal kings "No," when they err. It was true in the past, and it's still true today. Thankfully, we have an opportunity to effect regime change come November.