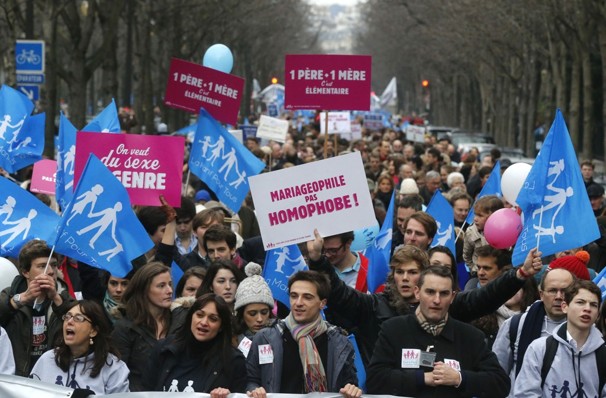 Andrew Cusack has the best coverage I've seen on this protest.
France Marches for Marriage
Led by a provocative comedian, a gay atheist, and a socialist teacher, protest against same-sex marriage draws one million

As many as a million protesters descended upon Paris from every corner of France today to demonstrate their opposition to the Socialist government's plans to introduce same-sex civil marriage. The Prefecture of Police estimates at least 380,000 participated in the three marches from different starting points that converged at the Champs de Mars in front of the Eiffel Tower. Organisers, however, set up special counting stations and claim that, by 7:30pm tonight, over one million protestors had joined the march.

Volunteers charted more than eight hundred vehicles to bring protestors to Paris, while six TGV high-speed trains were reserved for demonstrators. "Had the conditions for chartering trains not been as stringent," an organiser told Le Figaro "the number could easily have been double."

"In the freezing cold," Le Figaro reports, "young, old, and families with children were trying to keep warm waving thousands of pink flags to the jerky rhythm of techno music."

The entire workforce of the Directorate of Public Order & Traffic was called out to handle the massive demonstration, which forced a Paris Saint-Germain football match to be brought forward. Police believed it would be impossible to secure the area around the Parc des Princes stadium when hundreds of thousands of protesters were expected in the centre of the French capital.

The protest today was organised by the eccentric comedian Frigide Barjot, founder of the Collectif pour l'humanité durable, joined by gay atheist Xavier Bongibault of the association Plus gay sans mariage ("More Gay Without Marriage"), and Laurence Tcheng of La gauche pour le mariage républicaine("The Left for Republican Marriage").

The unlike troika claim to have launched "a guerrilla war" against the current Socialist Party government's proposed same-sex civil marriage legislation. Avoiding the mainstream media, 'Team Barjot' went direct to supporters through social media such as Facebook and Twitter, and, countering the government's branding of same-sex civil marriage as "Mariage pour tous", named their protest "Le Manif Pour Tous" ('The Protest for All'), asserting that all children have a right to a mother and father.

If opinion polls are to be believed, the campaign against the proposed law seems to be changing perceptions. From 2000 to 2011, polls showed a steady rise in support for same-sex marriage. In 2012, this percentage began to decline; support for allowing same-sex couples to adopt also fell. Meanwhile, polls claim that 69% prefer same-sex marriage be put to a referendum.
Go to Andrews' website to read the rest and see the many photographs of the French protest march he has uploaded there. The U.S. Mainstream media outlets have picked up on the story as well. Reuters reports the following, for example.
(Reuters) – Several hundred thousand people massed at the Eiffel Tower in Paris on Sunday to protest against President Francois Hollande's plan to legalize gay marriage and adoption by June.

Three columns of protesters, waving pink and blue flags showing a father, mother and two children, converged on the landmark from different meeting points in Paris. Many came after long train and bus rides from the provinces.

Hollande has pledged to push through the law with his Socialists' parliamentary majority but the opponents' campaign has dented public support and forced deputies to put off a plan to allow lesbian couples access to artificial insemination.

Champ de Mars park at the Eiffel Tower was packed, but turnout estimates varied widely. Organizers claimed a million people had protested, while police put the number at 340,000, high even in protest-prone France.

"Nobody expected this two or three months ago," said Frigide Barjot, a flamboyant comedian leading the "Demo for All". At the rally, she read out a letter to Hollande asking him to withdraw the draft bill and hold an extended public debate on the issue.

Strongly backed by the Catholic Church hierarchy, Barjot and groups working with her mobilized church-going families and political conservatives as well as some Muslims, evangelicals and even homosexuals opposed to gay marriage to protest.

Hollande's office said the turnout was "substantial" but would not change his determination to pass the reform.

TOLERANT BUT CONCERNED

"The French are tolerant, but they are deeply attached to the family and the defense of children," said Daniel Liechti, vice-president of the National Council of French Evangelicals, which urged its members to join the march.

Opponents of gay marriage and adoption, including most faith leaders in France, have argued that the reform would create psychological and social problems for children, which they believe should trump the desire for equal rights for gay adults.

Hollande has angered those opposed to same-sex marriage by trying to avoid public debate on the reform, which Justice Minister Christiane Taubira described as "a change of civilization", and then wavering about some of its details.

His clumsy handling of other promises, such as a 75 percent tax on the rich that was ruled unconstitutional, and a faltering struggle against rising unemployment have dented his popularity in recent opinion polls.

CATHOLIC PROTESTS IN BRITAIN, ITALY

Same-sex weddings are legal in 11 countries including Belgium, Portugal, the Netherlands, Spain, Sweden, Norway and South Africa, as well as nine U.S. states and Washington D.C.

Over 1,000 Catholic clerics in Britain issued a protest letter on Saturday against plans to legalize gay marriage there.

In Italy, the Vatican daily L'Osservatore Romano on Sunday condemned a court ruling against a father who sought custody of his son because the mother now lives with her female partner.

The marches in near-freezing temperatures included young and old protesters, many of them couples with children in tow, in strollers or on their fathers' shoulders.

"I am perfectly happy that homosexual couples have rights and are recognized from a civil point of view," said protester Vianney Gremmel. "But I have questions regarding adoption."

Cardinal Andre Vingt-Trois, a Catholic leader who launched the opposition with a critical sermon in August, greeted protesters in southern Paris but did not march with them.
The size of the turnout cannot be denied. CNN, the Huffington Post, Bloomberg, Associated Press, and other news outlets, are reporting hundreds of thousands of protestors on what looks to be like March for Life size turnout.
Want to see video? Say thank you to Al-Jazeera.
Here's another, with footage from the BBC.
UPDATES:
First Things: France's Surprising Resistance to Gay Marriage.
NPR: Thousands  in France Protest Gay Marriage
Go to the La Manif Pour Tous website for more information.
Holy Souls Hermitage update on the march.