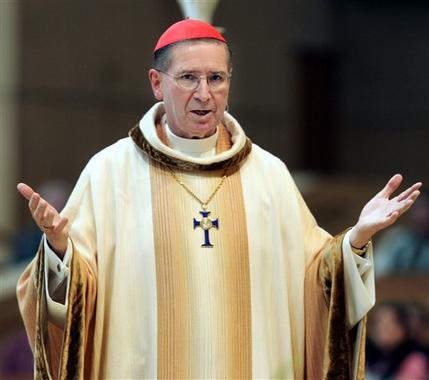 In a follow up to the Los Angeles Times report that hit the wires yesterday, this hit the wires a few hours ago from the Daily News,
Los Angeles County prosecutors said today they will begin reviewing internal documents released by the Los Angeles Archdiocese which show that retired Cardinal Roger Mahony and other church leaders maneuvered to protect priests accused of child molestation from law enforcement.

The revelations were contained in thousands of pages of documents released Monday by the attorney for a man who claims he was abused by a priest and has filed suit against the church. The flood of records from the personnel files for 14 priests reveal publicly for the first time how the Catholic Church handled abuse allegations, and the elaborate strategies for keeping molestation secret.

The files of about 75 additional priests are slated to become public in the next few weeks under the terms of a 2007 settlement with more than 500 victims, who received a record payout of $660 million.

A lawyer for about 30 of the priests fought to keep the records sealed, but a judge recently ordered their release without redacting the names of church leaders.

"The Los Angeles County District Attorney's Office will review and evaluate all documents as they become available to us," said Jane Robison, spokeswoman for District Attorney Jackie Lacey.

J. Michael Hennigan, an attorney for the archdiocese, said the church hopes to release the documents within the next two weeks.

"We are accelerating this as fast as we can," he said.

In 2007, when the settlement was announced and officials thought the release of personnel files was imminent, then-District Attorney Steve Cooley vowed to pursue criminal charges against anyone implicated by their contents.

"(The) massive civil settlement highlights the institutional moral failure of the archdiocese to supervise predatory priests who operated for years under its jurisdiction," he said at the time.

"If these documents reveal evidence of criminal activity on behalf of individual priests or anyone else, we will pursue them. The book is not closed on our investigation."

Many of the documents released Monday involve correspondence between Mahony, who retired as archbishop in 2011, and his vicar of clergy, then Msgr. Thomas Curry, who now is the bishop of the Santa Barbara Pastoral Region.

Mahony issued a statement Monday, in which he apologized to victims for mishandling their cases.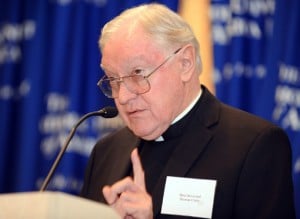 The Times reports today that despite this development, it is unlikely that any charges will be handed down.
Bishop Thomas J. Curry, whose thoughts on the First Amendment I have shared in this space before, played a big role in moving priests around and generally trying to keep a lid on the scandal. Today, more on his involvement, and an apology, came to light as well.
The records of 14 priests — expected to be followed eventually by a huge wave of records on more accused priests — include correspondence showing Curry, retired Archdiocese of Los Angeles Cardinal Roger Mahony and others worked to shield priests and the church.

Curry, then vicar of clergy, is now auxiliary bishop of a region in the archdiocese that includes Santa Barbara and Ventura counties.

"I wish to acknowledge and apologize for those instances when I made decisions regarding the treatment and disposition of clergy accused of sexual abuse that in retrospect appear inadequate or mistaken," Curry said in a prepared statement.

"Like many others, I have come to a clearer understanding over the years of the causes and treatment of sexual abuse and I have fully implemented in my pastoral region the archdiocese's policies and procedures for reporting abuse, screening those who supervise children and abuse prevention training for adults and children."

About 3,000 pages of records were released this week as a result of a lawsuit seeking to show a cover-up pattern by the church. About 30,000 pages of records are expected to be released soon in a separate action, as part of the archdiocese's $660 million settlement in 2007 with alleged clergy abuse victims.

The records released Monday include a 1987 memo to Mahony in which Curry discussed ways to keep reports of acts, including "some sexual touching" by the Rev. Michael Wempe, as legally privileged and protected information. Wempe, who served at several Ventura County parishes, would ultimately admit to abusing 13 boys.

In a 1987 letter to Mahony, Curry discussed the concern that one of the numerous alleged sex abuse victims of the Monsignor Peter Garcia would see the priest if he began working again in the archdiocese.

"He (Curry) was directly involved in most of these cases that I have the files on, moving the priests out of state after the complaints came forward," said Anthony DeMarco, the lawyer litigating the case against the archdiocese, adding Curry was also involved in reassigning priests to new parishes after they underwent therapy.

Notes from Mahony show his distress over the abuse and show he sent problem priests for treatment. But the documents also show lengthy delays in action. In a letter regarding Peter Garcia, the cardinal said Garcia should not return to the archdiocese for the foreseeable future.

"If Monsignor Garcia were to reappear here within the Archdiocese, we might very well have some type of legal action filed in both the criminal and civil sectors," Mahony wrote in a 1986 letter copied to Curry and others.

Archdiocese spokesman Tod Tamberg noted the records involve cases that are decades old and do not reflect the abuse reporting and prevention policies followed in parishes and schools for the past 11 years. The archdiocese has also apologized for failing to fully understand clergy sexual abuse, Tamberg said.

Mahony, in a statement released Monday, said that at first he was naive about the full and lasting impact the abuse by priests would have on the victims. He said personal visits with some 90 victims brought heart-wrenching awareness. He said he prays for the victims daily.

"Toward the end of our visits, I would offer the victims my personal apology — and took full responsibility — for my failure to protect fully the children and youth entrusted into my care," he said.
UPDATES:
Cardinal Mahony:"I remained naïve…I am sorry."
it's difficult to take Mahony's claims of naivete seriously, given how keenly aware he seems to have been of both the actions of his priests and their legal ramifications. He knew these were criminal acts even as he sought to hide them from public scrutiny.
Flash-Back Post: Personal Thoughts on the Scandal on a Sunday.