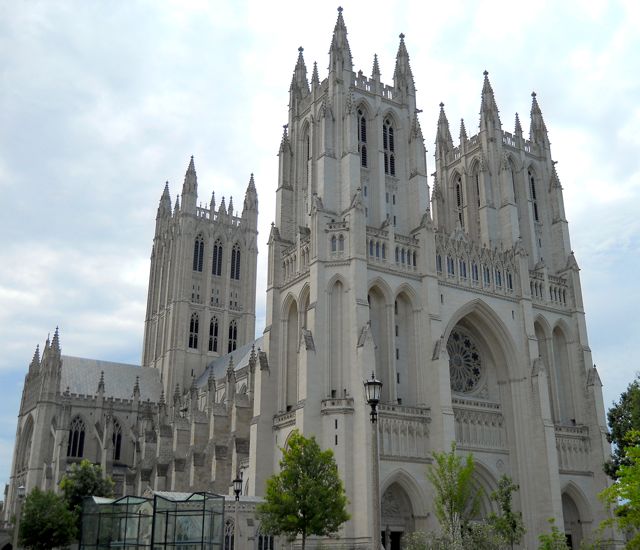 From the Associated Press,
WASHINGTON (AP) — The Washington National Cathedral, where the nation gathers to mourn tragedies and celebrate new presidents, will soon begin performing same-sex marriages.

Cathedral officials tell The Associated Press the church will be among the first Episcopal congregations to implement a new rite of marriage for gay, lesbian, bisexual and transgender members. The church will announce its new policy Wednesday.

As the nation's most prominent church, the decision carries huge symbolism. The 106-year-old cathedral has long been a spiritual center for the nation, hosting presidential inaugural services and funerals for Ronald Reagan and Gerald Ford. It draws hundreds of thousands of visitors.

In light of the legality of same-sex marriage in the District of Columbia and now Maryland, the Rt. Rev. Mariann Edgar Budde, the Episcopal bishop of Washington, decided in December to allow an expansion of the Christian marriage sacrament. The diocese covers the district and four counties in Maryland. The change is allowed under a "local option" granted by the church's General Convention, church leaders said. Each priest in the diocese can then decide whether to perform same-sex unions.

The Very Rev. Gary Hall, the cathedral's dean, said performing same-sex marriages is an opportunity to break down barriers and build a more inclusive community "that reflects the diversity of God's world."

"I read the Bible as seriously as fundamentalists do," Hall told the AP. "And my reading of the Bible leads me to want to do this because I think it's being faithful to the kind of community that Jesus would have us be."

Celebrating same-sex weddings is important beyond the Episcopal Church, Hall said. Church debate is largely settled on the matter, allowing for local decisions, he said. The move is also a chance to influence the nation.

"As a kind of tall-steeple, public church in the nation's capital, by saying we're going to bless same-sex marriages, conduct same-sex marriages, we are really trying to take the next step for marriage equality in the nation and in the culture," Hall said.
Pastor Hall isn't interested in the Catholic Church's teaching on marriage, but if you are, you can find it here:
Between Man and Woman: Questions and Answers About Marriage and Same-Sex Unions.
UPDATES:
Does Calling for Illinois Governor Pat Quinn's Excommunication Make Sense?

Governments Have Always Discriminated in their Marriage Laws.
Get Religion's Terry Mattingly.