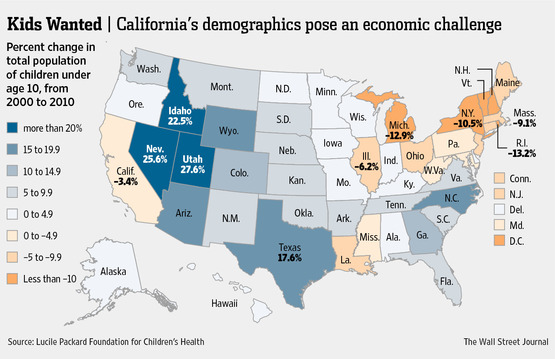 A low birth-rate problem. Miriam Jordan writes about it in the Wall Street Journal.
Declining migration and falling birthrates have led to a drop in the number of children in California just as baby boomers reach retirement, creating an economic and demographic challenge for the nation's most populous state.

"After decades of burgeoning population and economic growth…the state now faces a very different prospect," said a report released Tuesday by the University of Southern California and the Lucile Packard Foundation. The report, "California's Diminishing Resource: Children," analyzed data from the 2010 census and the American Community Survey to conclude that the trend marks a "historic transition" for the state.

In 1970, six years after the end of the baby boom, children made up more than one-third of California's population. By 2030, they will account for just one-fifth, according to projections by lead author Dowell Myers, a USC demographer. "We have a massive replacement problem statewide," Mr. Myers said in an interview.

California's demographic shift mirrors that of many Northeast and Midwest states, including New York, Massachusetts, Illinois and Michigan, where the percentage of children fell even more sharply from 2000 to 2010. But unlike those states, California has always relied on migrants from other states and abroad to fuel its economy, and the change represents a new reality for the Golden State.

Ever since the Gold Rush, the majority of Californians has been born elsewhere. That pattern began to change in the 1990s, when migrants were attracted by the lower cost of living and rapid growth in other Western and Southern states. Then, the housing bust and 2008 financial crisis hit California harder than most states. By 2010, more than half of all adults 25 to 34 years old were born in California.

At the same time, the state's birthrate fell to 1.94 children per woman in 2010, below the replacement level of 2.1 children, according to the study. California's rate is lower than the overall U.S. rate of 2.06 children in 2012, according to the Central Intelligence Agency.

The shrinking pool of youngsters coincides with a bulging population of older people. Nationally, "we are approaching a period of very large retirement, something like two million people a year for the next 20 years," said Stephen Levy, director of the Center for Continuing Study of the California Economy, an independent research group.
Looking at the map above, you can see that Michigan, New York, and Illinois are even worse off. Remember Singapore's experience? What should we do? Live in fear?
Hardly. I said it before, a long time ago: Be rebels. Get married. Settle down. Have kids. Stick it to the Man.