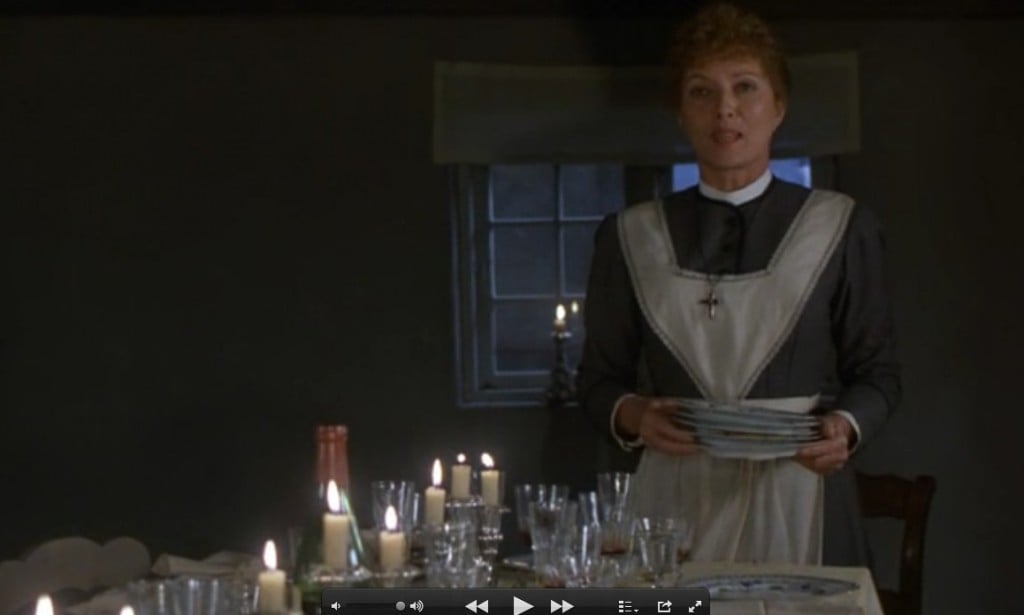 Truth be told, I almost featured this last week. But what with the conclave and all, I chose The Shoes of the Fisherman instead. I'm glad I did, too, as the inner workings of the voting, the making of smoke signals, and the naming of an unlikely Pope all kind of set the stage for the real thing that happened on Wednesday.
Fast forward through a heady week to today, and I found this little tidbit in a list of interesting facts about Pope Francis published by Bloomberg,
His favorite movie? "Babette's Feast," a 1987 Danish film based on a Karen Blixen story. It recounts the story of two austere, devoutly Christian spinsters transformed by the arrival of a French female chef in 19th-century Jutland.
Well looky there! I went right back to the public library and checked that DVD out as soon as Mass was over. ZING! Have a look at the trailer,
Steven D. Greydanus gives this film an A+ rating. Here's a taste of his review,
Babette's Feast is a feast in itself, for the heart, the senses, and above all the spirit. At the same time, unlike many food-themed films (cf. Like Water for Chocolate; Tortilla Soup), it isn't a voluptuous or sensual affair. It's sensitive, funny, hopeful, and ultimately joyous; but there's a restrained, almost ascetical quality to it, especially in the first half. Even in the climactic feast, there is no collapse into epicurian dissolution or "food pornography." Elevation, not mere gratification, is the goal of Babette's Feast.

Behind the film's deceptively simple story is a sort of parable or fable of religion and life. A voice-over narrator introduces us to a pair of aging sisters, daughters of a now-deceased Protestant minister on the Jutland coast of Denmark, whose names are Martina (Birgitte Federspiel) and Philippa (Bodil Kjer) — "after Martin Luther and his friend, Philip Melanchthon."

These pious sisters lead quiet lives of touching service among their late father's remaining followers, a handful of older residents of a tiny nineteenth-century coastal settlement that is at once almost a religious community and a sect unto itself.
The cast? You've never heard of any of them.
Stephane Audran as Babette Hersant
Bodil Kjer as Filippa
Birgitte Federspiel as Martine
Jarl Kulle as General Lorens Löwenhielm
Jean-Philippe Lafont as Achille Papin
Bibi Andersson as Swedish courtier
Ghita Nørby as Narrator
Asta Esper Hagen Andersen as Anna
Thomas Antoni as Swedish lieutenant
Gert Bastian as Poor Man
Viggo Bentzon as Fisherman in Rowboat
Vibeke Hastrup as Young Martine
Therese Hojgaard Christensen as Martha
Pouel Kern as The Minister
Cay Kristiansen as Poul
Did the film win any awards, you ask? Yep. It took home the Oscar for Best Foreign Film for 1987. Is it streaming anywhere? Yep. Try Hulu Plus, and Amazon.
Supper is Pescado al Horno, made with tilapia filets, and served over rice. And this shouldn't surprise anyone now, but I'll wash that down with my beer of record. Dessert? Nah…saving room for popcorn, while I enjoy this film with the whole family.
Join us, but please…silence your cell phones. 🙂