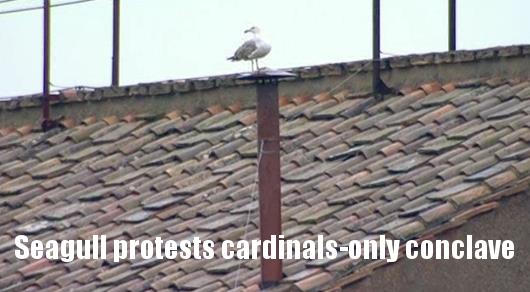 Update! In disgust, Sistine Seagull flys off in a huff after darkness settled over the Eternal City. Our last report is that the angry bird was continuing to protest by joining a group in a Roman pub crawl.
"He was squawking about how unfair it was that only cardinals were allowed inside," said John Carruthers, an American that just happened to be in Rome because of the American Chesterton Society's brilliantly timed Pilgrimage to Rome.
"I said, 'cosa stai avendo?,' and he just flew off muttering something like "tourists!"
We'll share film when we can get it. 🙂
Follow the Sistine Seagull on Twitter. Really.
What the bird didn't realize was that the Cardinals selected a Pope already. Habemus Papem! Watch Live at NBC for coverage and commentary with Fr. Robert Barron, and George Weigel.
Visit NBCNews.com for breaking news, world news, and news about the economy