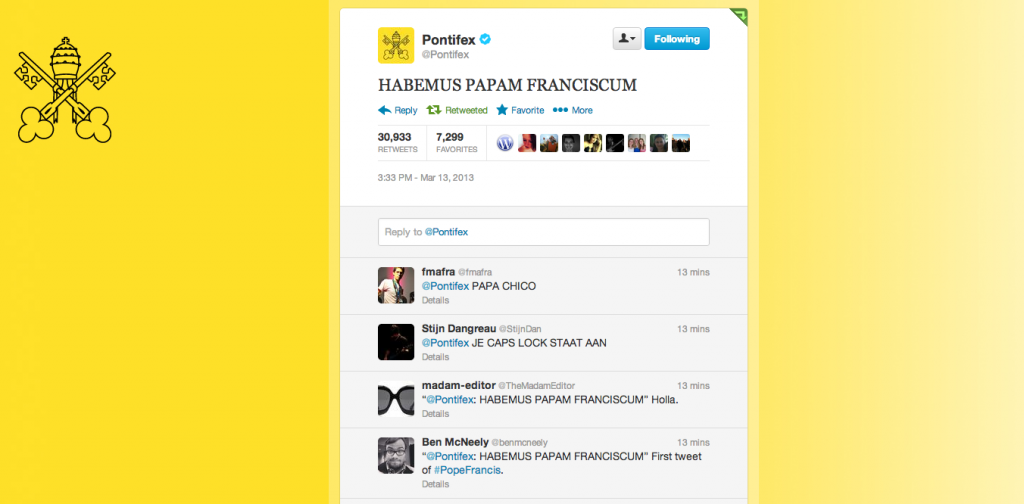 Wikipedia is already updated. There are lots of "firsts" here.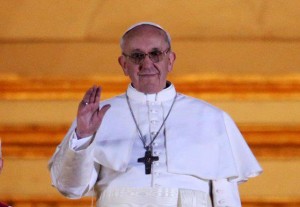 First American Pope.
First Jesuit Pope.
First Pope to use the name "Francis."
John Allen's profile of Pope Francis. When will he be installed? On the Feast of St. Joseph, naturally (March 19th).
ad majorem Dei gloriam!
Updates (as they come):
Archbishop Chaput's thoughts (H/T Brandon Vogt),
"I'm about to speak with the media here in Philadelphia but I wanted to share with you my statement on the joyous news of our new Holy Father, Pope Francis.
"I first met our new Holy Father at Rome's 1997 Synod for America, and still have a gift from him, a portrait of Mary, the mother of Jesus, on my desk.

"Pope Francis, the former Cardinal Bergoglio, is a man from the new heartland of the global Church; a priest of extraordinary intellectual and cultural strengths; a man deeply engaged in the issues of contemporary life and able to speak to the modern heart; open to the new realities the Church faces; and rooted in a deep love of Jesus Christ. He is a wonderful choice; a pastor God sends not just to the Church but to every person of good will who honestly yearns for justice, peace and human dignity in our time. May God grant him courage and joy, and sustain him with his divine presence.

"And may Catholics in Philadelphia and around the world lift him up with our prayers.

May God bless you all."
From news.va, Pope Francis's remarks at his introduction,
Brothers and sisters good evening.

You all know that the duty of the Conclave was to give a bishop to Rome. It seems that my brother Cardinals have come almost to the ends of the earth to get him… but here we are. I thank you for the welcome that has come from the diocesan community of Rome.

First of all I would say a prayer pray for our Bishop Emeritus Benedict XVI.. Let us all pray together for him, that the Lord bless him and Our Lady protect him.

Our Father…
Hail Mary…
Glory to the Father…

And now let us begin this journey, the Bishop and people, this journey of the Church of Rome which presides in charity over all the Churches, a journey of brotherhood in love, of mutual trust. Let us always pray for one another. Let us pray for the whole world that there might be a great sense of brotherhood . My hope is that this journey of the Church that we begin today, together with help of my Cardinal Vicar, be fruitful for the evangelization of this beautiful city.

And now I would like to give the blessing, but first I want to ask you a favour. Before the bishop blesses the people I ask that you would pray to the Lord to bless me – the prayer of the people for their Bishop. Let us say this prayer – your prayer for me – in silence.

[The Protodeacon announced that all those who received the blessing, either in person or by radio, television or by the new means of communication receive the plenary indulgence in the form established by the Church. He prayed that Almighty God protect and guard the Pope so that he may lead the Church for many years to come, and that he would grant peace to the Church throughout the world.]

[Immediately afterwards Pope Francis gave his first blessing Urbi et Orbi – To the City and to the World.]

I will now give my blessing to you and to the whole world, to all men and women of good will.

Brothers and sisters, I am leaving you. Thank you for your welcome. Pray for me and I will be with you again soon.

We will see one another soon.

Tomorrow I want to go to pray the Madonna, that she may protect Rome.

Good night and sleep well!
Goodnight Papa!
Better Bloggers
Tom McDonald: Habemus Papam.
Rebecca Hamilton: Habemus Papem! Pope Francis I: Who is He?
Tony Rossi: Papal First Impressions and a Prayer.
Truth & Charity: Habemus Papam!
Dawn Eden: Francis: Our new Pope of Divine Mercy.
The Gregorian Blog: Three Keys to Pope Francis
Mark Shea: has a series of reaction posts here.
Joanne McPortland: Salus Populi Romani—A New Pope Goes Home to Mamma.
Rocco Palmo: "Lowly, And Yet Chosen," Enter Pope Francis
Catholic Herald: Cardinal Jorge Bergoglio: a profile.
Acton Institute: 9 Things You Should Know About Pope Francis.
Sistine Seagull reports,