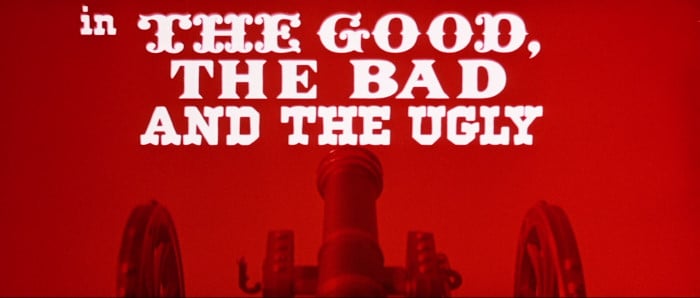 Recently a friend I met on Facebook asked folks about spiritual music. You know, something along the lines of  "what is your favorite piece of sacred music, hymn, poem, etc. ?"
The first thing that popped into my head? Cistercian chants.
Folks kept chiming in though, adding videos of their favorites like Donna Summer, Steve Winwood,  poems like those from Rilke's Book of Hours, and W.H. Auden, favorite hymns, etc.  Someone mentioned Ennio Morricone's  "Gabriel's Oboe," from the film The Mission.
Which led me to suggest a not so sacred, but spiritually and physically moving, piece of music that goes hand in glove with the title of this post. Let's listen to (and look at it) it's origin now,
So, you always thought Lee Van Cleef was "the Bad," didja? Heh.
Am I saying I'm a Catholic because of a spaghetti western? Not quite.
What I am saying is that the good, the bad, and the ugly are all around us. I reckon I'm also saying that the medium of film is powerful, in that the mere suggestion of Ennio Morricone's work led me to post another recommendation. It's the music from the showdown at the end of the film, and though it may not be technically "sacred," it kind of is to me.
Have a listen, and see if you agree. You might even hear "Gabriel's Oboe" a wee bit…
http://youtu.be/1-rHdSWZLpQ
You know what the worst thing about that piece is? It ends.  Or does it?
I'm thinking about the Good, the Bad, and the Ugly, and I hear the main theme often, because everyday I am confronted with examples of all three. Sometimes close to home, and sometimes from afar.
Take today for example. In "the Good" category I see a couple of examples. Pope Francis's homily, for one, an embattled Catholic priest for another, and Steven D. Greydanus' hopeful post on the passing of Roger Ebert.
In "the Bad" category, I see the US Army Reserves calling Catholics "extremists," a couple of kids attacking a Catholic priest because he preaches the faith, and my mean streak rearing up as a result.
Bringing up the rear in the ugly department are horrors that range from the difficult to imagine to the unbelievably stupid. Did I mention stupid? Just checking.
In the film you may recall, of the three, only "the Ugly" dies. "Angel Eyes" gets it in the end, as "the Good" saves the skin of "the Bad." There is a mysterious lesson in this, I think. The wheat and the weeds comes to mind. And with it, this iconic piece of musical genius. styled by Hugo Montenegro…
Starting all over again tomorrow in the theater of you.
Hint: Stay away from the ugly, for there is no path of redemption therein.