So when we learn the details of Scalfari's interview, it's like Simcha Fisher says,
He didn't tape the interview. He didn't take notes.

He didn't tape the interview. He didn't take notes.

He didn't tape the interview. He didn't take notes.

I'm just a teeny, two-bit, part-time writer on the very outer fringes of what could possibly be considered journalism, and even I know that this is outrageous. Insanely irresponsible. Something that should make people lose their jobs and all credibility forever. Holy shit.
Not in Italy, baby. It's just another day in the arena (which is closed between the hours of noon and 3pm).
I love her post though, because it gave me a great idea for a Pope Francis meme.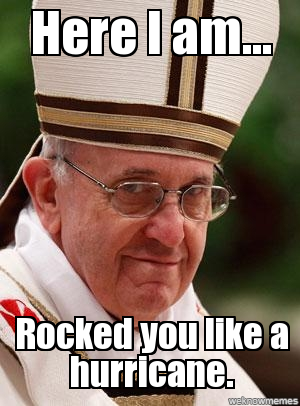 Why? Because Francis haters are like the prophets of climate change. No matter what happens, it's just more evidence for what they've been telling us all along. Got a hurricane? Expect to see more and more of this kind of thing, because climate change! One of the calmest hurricane seasons in the last 62 years? Continue to panic! Because climate change! Polar ice caps melting? You see, that's climate change! Polar ice caps growing and getting icier? Have you not been listening???? This is classic climate change.

When you're completely wedded to the idea of anthropogenic climate change, bad news is bad news, and good news is bad news, too.

Same with the Francis haters. Absolutely anything you say about the man — and about the demonstrable, incontrovertable good effects of his papacy — it's all just more evidence of bad news. They don't like what he says, and then they hear that he didn't actually say it, and the response is, "I'm tired of the excuses!" Okay. So you're tired of the truth? Yeah, I thought so.
Read it all. Don't you dare smile. Take not counsel of your fears.
Related,
Pope Francis: The Good, the Baffling, and the Unclear.
A really fine exchange between Tom Kreitzberg and a reader upset by Pope Francis.