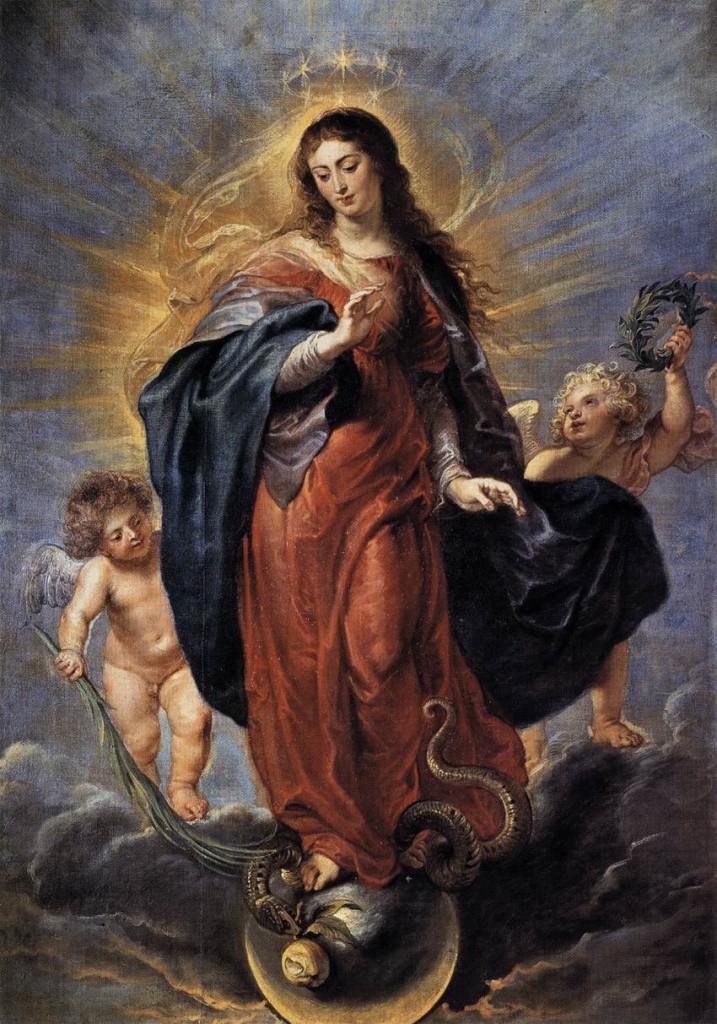 Last Christmas, I shared what I called mind blowing thoughts of Blessed Duns Scotus on the Incarnation. Yesterday, though, was the Solemnity of the Immaculate Conception of the Blessed Virgin Mary, and Blessed Duns Scotus is a big reason why, roughly 550 years after his thinking on the matter, Pope Pius IX (in 1854) infallibly declared the dogma that we celebrate just as the season of Advent rounds into week #2.
Below, I'm pleased to present one of the Subtle Doctor's articles on the matter, along with his rebuttal and answers to objections. If you are used to reading St. Thomas Aquinas, the style here is the same. I found what follows at the excellent Franciscan-Archive.org in the section where St. Thomas Aquinas's Summa is compared to the Scoti Summae Theologicae, following the order of St. Thomas' work. A friar named Jerome of Montefortino (1662-1738), laid the two doctors side by side, which makes for a book of considerable heft, intellectually, as well as physically.
Come and see the mind of the Subtle Doctor at work.
Article 2. Whether the Blessed Virgin was sanctified before animation?

Scotus [Oxon. 3 d.3 q.1; Report. ib.]

Objection 1. It seems that the Blessed Virgin was not sanctified until after original sin had been contracted. For [Oxon. 3 d.3 q.1 n.3] Christ was the universal redeemer of everyone and opened the door to everyone: but if the Blessed Virgin had not contracted original sin, Christ would not have been her Redeemer, because she would not have needed him; therefore we cannot and we should not attribute original innocence to his Mother because this would derogate from her Son himself.

Objection 2. [Oxon. ib.] The Blessed Virgin had the penalties common to human nature as propagated from Adam, namely hunger, thirst, and other such things; but she herself did not voluntarily assume these punishments, as they were voluntarily assumed by Christ for the satisfaction of our sins; because the Blessed Virgin was not our redeemer or repairer; therefore they were inflicted on her by God; and not inflicted unjustly; therefore they were inflicted, as in the case of other human beings, because of original sin.

Objection 3. If the Blessed Virgin had not been guilty of original sin, God would have bestowed a greater benefit on those whom he did liberate from that guilt than he did on his Mother: but that does not seem likely; therefore it is not to be said that she did not fall in Adam. Proof of the minor: [Oxon. 4 d.22 n.16] from Luke 7, where it is held that Christ inquired of Simon about the two debtors, to one of whom the creditor had forgiven more and to the other less, which of them would love the creditor more; and he replied, "I suppose it was he to whom he gave more," and that judgment was approved by the Savior; therefore those liberated from sin already contracted would be more bound to God, because he had forgiven them more, than the Mother of Christ, to whom he had forgiven less; therefore it is to be supposed that she had contracted original guilt.

On the contrary, [Oxon. 3 d.3 q.1 n.2] Anselm says (De Conceptione Virg., ch.18), "It was fitting that the Virgin should shine with that purity than which a greater under God cannot be conceived:" but if she had once been under original sin, we could rightly conceive a greater purity; therefore the Blessed Virgin was most pure and immune altogether from every sin.

I answer that, it must be said that although the Blessed Virgin was not sanctified before her animation, because the flesh, as it is not the subject of sin, so neither is it of sanctifying grace, she was nevertheless sanctified in her very animation, that is to say, in the same moment in which it was necessary, from the common law of the sons of Adam, that guilt be in her, such that there never was, nor did she contract, original sin. The very excellence of her Son, for the purpose of not derogating from which some hold the opposite opinion, is what shows this. For [Oxon. ib. n.4] it was fitting for the most perfect Mediator, such as Christ the Lord was, to have had the most perfect act of mediating with respect to some person of whom he was Mediator: but he is not conceived to have existed as the most perfect Mediator of God and of his Mother unless he had preserved her from falling into original guilt; therefore she was preserved from being infected with original guilt. The minor is shown: [Oxon. ib.] first by comparison to God to whom he reconciles: second by comparison to the evil from which he liberates: third by comparison to the person for whom he reconciles. And the first in this way, by supposing that it was not impossible for original guilt to be prevented from being present, since it is not guilt, except contracted from another; and if that was possible, for no one did it become the Mediator to have done it than for his Mother. Therefore the argument is as follows: [Oxon. n.5] a mediator is not conceived to mediate most perfectly, or to placate someone for an offense that had to be contracted, unless he prevents the offense from being present and prevents anyone from being offended by it; for if he placates someone already offended, and sways him to remit guilt, he does not exercise the most perfect act of mediating or placating, as he would have done by preventing the offense; therefore Christ does not most perfectly reconcile or placate the Trinity for the guilt to be contracted by the sons of Adam, if he does not prevent the Trinity from being offended, on account of the inherent guilt, in some one among them. Since therefore Christ was the most perfect Mediator, it is necessary that he have altogether prevented someone from contracting original guilt: but it was not fitting that this be any other besides his most blessed Mother. — The argument under the second head: [Oxon. ib. n.6] because Christ seems to be more immediately our Repairer from original sin than from actual sin; for the necessity of the Incarnation is commonly assigned from original sin: but he was to that extent the most perfect Mediator with respect to his Mother that he preserved her from every actual sin; therefore also from original sin; especially since this original sin is a greater punishment than the lack of the Divine vision; for sin is the greatest of punishments for an intellectual nature; therefore Christ, as the most perfect Mediator, merited to take away this most heavy penalty from his Most Blessed Mother, otherwise he would not have reconciled most perfectly nor would he have been the most perfect Mediator. — The argument finally from the third. [Oxon. ib. n.7] A person who has been reconciled is not supremely obliged to his mediator unless he has from him the whole of the good which he can receive: but preservation from contracting guilt can be had through a mediator; therefore no person was supremely beholden to Christ as Mediator if he did not preserve anyone from original sin. (The minor was touched on also in article 1, and will be declared more clearly in the following articles.)

Reply to Objection 1. I concede that Christ is the universal Mediator and Redeemer of everyone and even of his Most Blessed Mother, and consequently [Report. 3 d.3 q.1 n.8] that she needed the Redeemer more than anyone else whatever, and she needed him the more, indeed, the greater the good that was conferred on her by him; and since perfect innocence is a greater good by far than remission of guilt after an offense, a greater good was conferred on her by the Mediator when she was preserved from original sin than if she had been purged and cleansed afterwards; therefore [Oxon. 3 d 3 q.1 n.14] she needed to the greatest possible extent the Redeemer through whose merits grace prevented her from being infected with any spot of sin, just as others need the Mediator so that sin contracted might, through him, be remitted to them.

Reply to Objection 2. About the penalties and sufferings of the Blessed Virgin I concede that she had them and that she bore them most powerfully, not because they existed as the consequences of original guilt contracted from the common way of propagation, as the argument proceeds; but rather [Oxon. ib. n.8] they were left to her so that she might win merit, whether for herself or for us; for there is nothing unacceptable if useless and inappropriate punishments, such as are sins, are taken from her by the Mediator, and useful ones, and those that would be of advantage, left to her.

Reply to Objection 3. Although [Report. 3 d.3 q.1 n.6] it is true that, of two debtors, he is more obligated to whom more is forgiven than he to whom less is; nevertheless, it is a benefit greater by far to be preserved from contracting any obligation of debt than for a
debt already contracted to be forgiven; therefore, that person is bound by an absolutely greater obligation who is preserved by the Mediator from original sin, than the person who is cleansed of what has already been contracted by the same Mediator, because the
former has received a benefit more excellent by far than those who, after sin has been contracted, are freed by the grace of the Mediator. (But the intervening article, appropriately placed below after article 2, should be looked at).
Read more of Blessed Duns Scotus's work over at Franciscan-Archive.org.