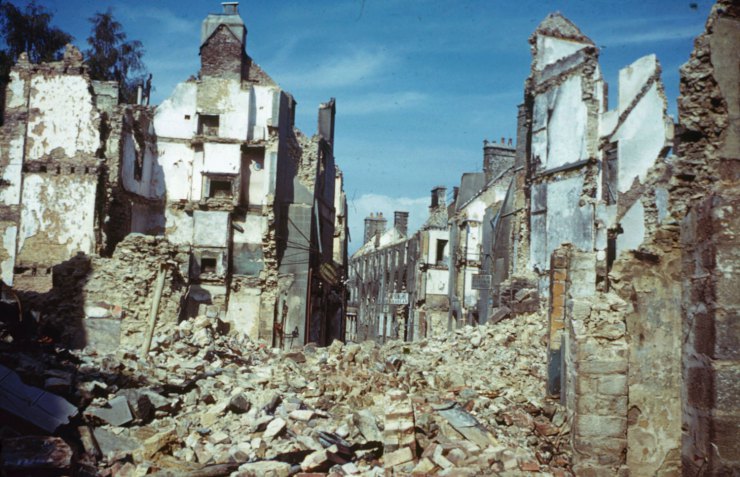 Pope Francis remembers, and is grateful.
Francis praised "the numerous soldiers who left their country to land on the beaches of Normandy to fight against Nazi barbarism and free occupied France".

The Vatican said Francis "also does not forget the German soldiers dragged into this drama, like all victims of war".
Though written long before the invasion of Normandy, G.K. Chesterton's thoughts from his book, Orthodoxy
(1908), captures the paradox faced by the soldier, and why gratitude for their courageous efforts (when exercised justly) is something not to be taken for granted by us, but to be lauded and praised.
"Take the case of courage. No quality has ever so much addled the brains and tangled the definitions of merely rational sages. Courage is almost a contradiction in terms. It means a strong desire to live taking the form of a readiness to die. 'He that will lose his life, the same shall save it,' is not a piece of mysticism for saints and heroes. It is a piece of everyday advice for sailors or mountaineers. It might be printed in an Alpine guide or a drill book. This paradox is the whole principle of courage; even of quite earthly or brutal courage. A man cut off by the sea may save his life if we will risk it on the precipice.

He can only get away from death by continually stepping within an inch of it. A soldier surrounded by enemies, if he is to cut his way out, needs to combine a strong desire for living with a strange carelessness about dying. He must not merely cling to life, for then he will be a coward, and will not escape. He must not merely wait for death, for then he will be a suicide, and will not escape. He must seek his life in a spirit of furious indifference to it; he must desire life like water and yet drink death like wine. No philosopher, I fancy, has ever expressed this romantic riddle with adequate lucidity, and I certainly have not done so. But Christianity has done more: it has marked the limits of it in the awful graves of the suicide and the hero, showing the distance between him who dies for the sake of living and him who dies for the sake of dying."
The photograph above is from a collection that was shot by Frank Scherschel (1907 – 1981) for Life magazine, but which the magazine never published. Seeing the photographs in living color is jarring.
The impulse behind posting the gallery, meanwhile, is really no more complicated than this: to commemorate those Allied troops who fought and died; to honor those who fought and lived; and to mark the occasion by also remembering what happened to countless towns — and townspeople — in France and around the globe when the Second World War unleashed hell in the midst of their lives.
Go see them all. After D-Day: Color Photos From Normandy, Summer 1944 | LIFE.com
With thanksgiving, pray for the souls of those who gave all on this day, seventy years ago, so that the powers of darkness could not extinguish the light of liberty.