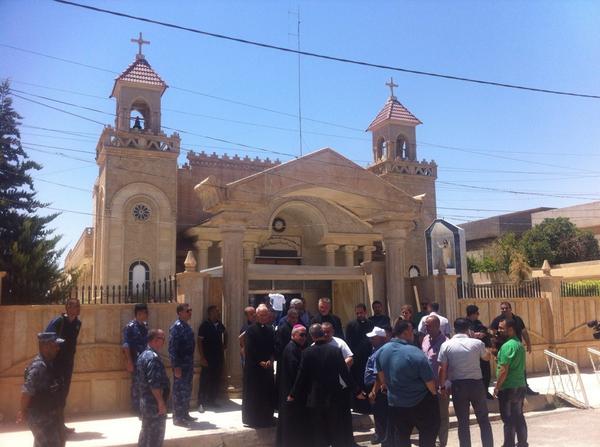 The little video below comes via Natalia Trouiller's Facebook page. She is accompanying the delegation of French bishops that is visiting Iraq right now.
Here are the people we are praying and fasting for tomorrow. Roll clip!
What? You were expecting some solemn "whoa is me" dirge? Wrong religion, gang.
Trouiller's Twitter account is brimming with photographs of our joyous Iraqi brothers and sisters. The French government has offered asylum to the Christians being besieged by the terrorists of ISIS. More on the French visit to Iraq can be found via News.va,
Pope Francis' universal prayer intention for the month of August was released on Tuesday and focuses on "refugees, forced by violence to abandon their homes" that they may "find a generous welcome and the protection of their rights".

Ahead of the papal appeal the French government announced that it is ready to help facilitate asylum in its territory for Christians and other minorities fleeing an Islamist onslaught in Northern Iraq.

French Foreign Minister Laurent Fabius and Interior Minister Bernard Cazeneuve said in a joint statement on Monday that they are taking steps to ease the suffering of Christians now fleeing northern Iraq en masse.

Support growing in France for the religious minority being run out of their homeland in northern Iraq by ISIS jihadists, with thousands taking part in demonstrations of support this weekend in various cities across France.

Meanwhile a French Church delegation led by Cardinal Philippe Barbarin, Archbishop of Lyon, has travelled to Iraq in a sign of solidarity with the Christian community there. The group includes Bishop Michel Dubost, of Evry-Corbeil-Essonnes , who told Vatican Radio there is some concern that the situation in Gaza is overshadowing the plight of Eastern Christians and what is happening to them:

"The images on our television speak clearly: what we see is Gaza. But we have no images of what is happening in Syria and Iraq. Yet the Christians here are really suffering! There is little or no mention of this so we are trying our best to bring this suffering to public attention".

Bishop Dubost also denounces the failure of the international community to intervene to find a solution. He says the US led invasion of 2003 opened a "Pandora's box, which has done more harm than good" and warns that the so-called "Caliphate" appears to be very well financed with an alarming access to resources and media. This, he adds, should be of global concern.
He's right, you know. It's time we own up to the mess we made. After all, can you really claim victory in the War on Terror if you lose the peace?
Fast and pray for these great souls tomorrow. Share this post with folks so they will know that Christians in Iraq isn't some wacky, contradictory idea, but a reality that has been on the ground there since the early days of Christianity.