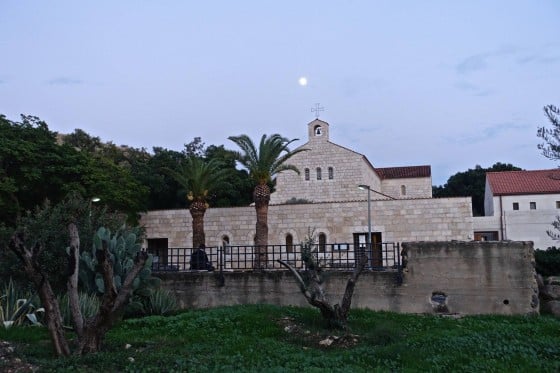 Let's just say that in the case of the fire at the Church of the Multiplication of the Loaves and Fishes, that occurred early this morning in the lakeside town of Tagba, ISIS, Muslims, or the other usual suspects,  aren't even on the list of potential perpetrators.
Roll clip,
According to the Associated Press,
The nationalist crimes unit of the Israeli police's West Bank settlement division is investigating the incident. The youths arrested are all religious Jewish seminary students from West Bank settlements. Their lawyer, Itamar Ben Gvir, told Israeli Army Radio the police had no evidence against the youths and that they were under suspicion simply for looking like young settlers.

Jesus accomplished a lot in Tabgha.

Father Matthias Karl, a German monk from the church, said a souvenir shop, an office for pilgrims and a meeting room were badly damaged, and bibles and prayer books were destroyed in the fire.

"It's totally destroyed. The fire was very active," he said.

A monk and a church volunteer were hospitalized from smoke inhalation, but the prayer area of the church was unaffected by the fire, he said.

In recent years, mosques and churches have been targeted by vandals in similar attacks. They are often attributed to extremist Jews in West Bank settlements.

Such attacks are widely condemned across the political spectrum in Israel. Deputy Foreign Minister Tzipi Hotovely condemned Thursday's church burning and said Israel respects freedom of worship for all religions.
That the people who did this be brought to justice, and that this church, built on the site where Jesus fed the multitudes, may be fully restored, we pray…