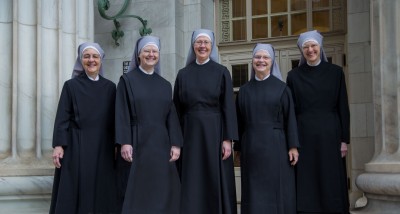 A few days ago, I was going to mention that the main reason why some cases are settled justly the first time, while others aren't, has a lot to do with which circuit court the case is heard in. When a lower court decides against a plaintiff, the next step is to appeal the judgement.
To the highest court of the land, then, is where the Little Sisters of the Poor are headed. Again.
WASHINGTON, D.C. – Today, for the second time in two years, the Little Sisters of the Poor must ask the Supreme Court to protect them from the government. The order of Catholic nuns and other non-profits have been forced to ask the Court for relief due to the government's refusal to exempt them from a regulation that makes them choose between their faith—which prohibits them from providing contraceptives—and continuing to pursue their religious mission of serving the elderly poor (see video).

"The government has lost every single time they have made these arguments before the Supreme Court—including last year's landmark Hobby Lobby case. One would think they would get the message and stop pressuring the Sisters," said Mark Rienzi, Senior Counsel of the Becket Fund for Religious Liberty and lead attorney for the Little Sisters of the Poor. "The government is willing to exempt big companies like Exxon, Chevron, and Pepsi Bottling, but it won't leave the Little Sisters alone."

The Becket Fund for Religious Liberty and leading Supreme Court advocate Paul Clement—the same legal team that won Hobby Lobby—filed the petition on behalf of the Little Sisters as well as the Christian Brothers Employee Benefit Trust, Christian Brothers Services, Reaching Souls International, Truett-McConnell College, and GuideStone Financial Resources of the Southern Baptist Convention. They are seeking relief from a 100-page decision by the Tenth Circuit that disagrees with the ministries' understanding of moral theology. Today's petition is the fifth the Court has received and makes it likely the Court will decide in the upcoming term whether religious ministries, like religious for-profits, will receive protection from the Mandate.
While you're at it, consider making a donation to the Little Sisters of the Poor. The Becket Fund for Religious Liberty can put your dollars to work as well.
St. Bridget of Sweden, pray for us.