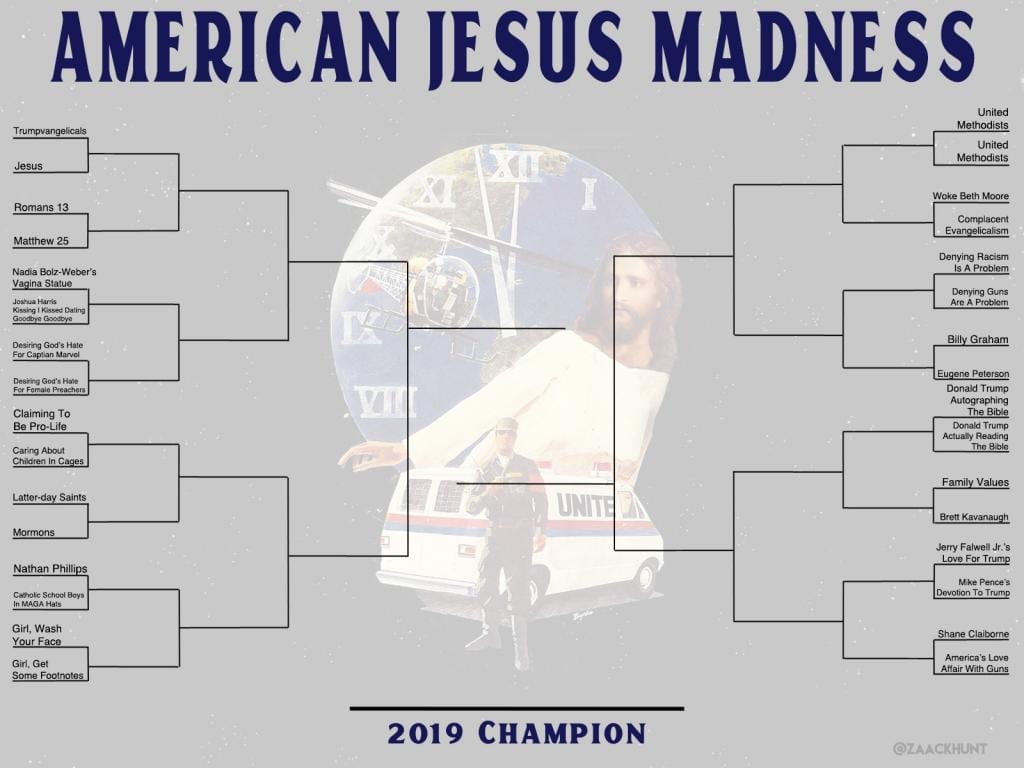 It's time once again to crown a new champion of American Christianity.
As always, we've got some really tough 1st round matchups. And as always, who moves on is totally up to you, so vote and vote often!!
Voting is unlimited!!
Vote for your favorite, vote for your least favorite, vote for the thing you're passionate about, or vote for the thing you can't believe is a real thing plaguing Christianity in America but this is the world we live in and you might as well vote because angrily clicking things on the internet is surprisingly therapeutic. It's totally up to you.
And if you're still not sure who or what to vote for, check out this handy tournament breakdown from Matt Gorkos.
Lastly, since we always have a few new folks with us every year, here's a few reminders about voting…
You can vote on each matchup or just the ones you like. Again, it's totally up to you.
Voting is unlimited. So, vote now and vote often. But remember that Poll Daddy may send you to a "cool off period" after a bunch of votes in row. No worries, though. Just give it a couple of minutes and you'll be available to vote again.
The best way around the Poll Daddy cool off period is to get your friends and strangers to vote for your favorites. So share this link and get everybody you know to vote!!
Polls close at 10pm CST
The winners of each matchup will be announced tomorrow morning at 8am CST
Voting for the Salacious 16 will begin tomorrow at 9am CST
Salacious 16 results will be announced Saturday morning, March 23rd

The second-chance Resurrection Bracket will open up on Saturday once the Salacious 16 results are announced
Resurrection brackets are due by midnight Sunday, March 24th
Voting for the Egregious 8 round will begin Monday, March 25th
That should be about it, but if you happen to have any questions, please don't hesitate to ask in the comments section below.
Let the games begin!
1st Round voting is now closed. Check back tomorrow morning to find out who advanced to the Salacious 16!!