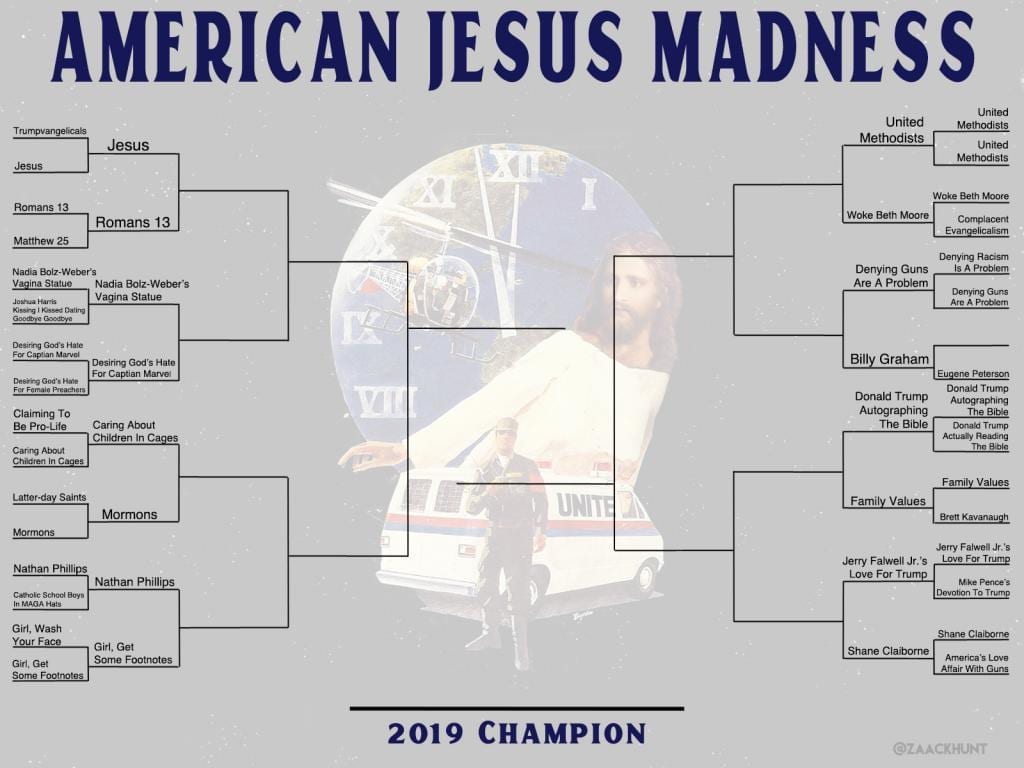 I think my favorite matchup this round was the United Methodists vs. United Methodists because the result to turned out to be eerily – sadly – close to real life.
On a more cheerful note, there are some upcoming matchups in the next round that I'm particularly looking forward to including Shane Claiborne vs. Jerry Falwell Jr.'s Love For Trump (another eerily resemblance to real life) and Jesus vs. Romans 13.
How those matchups will turn out is, as always, up to you.
So, check out the results below and the bracket challenge leaderboard below that, then head back here at 9am CST to start casting your votes for the Salacious 16 round!!
1st Round Results
Trumpvangelicals – 33%         Jesus – 67%
Romans 13 – 60%         Matthew 25 – 40%
Nadia Bolz-Weber's Vagina Statue – 93%         Joshua Harris Kissing I Kissed Dating Goodbye Goodbye – 7%
Desiring God's Hate For Captain Marvel – 69%           Desiring God's Hate For Female Preachers – 31%
Claiming To Be Pro-Life – 33%         Caring About Children In Cages – 67%
Latter-day Saints – 34%         Mormons – 66%
Nathan Phillips – 70%         Catholic School Boys In MAGA Hats – 30%
Girl, Wash Your Face – 8%         Girl, Get Some Footnotes – 92%
United Methodists – 51%          United Methodists – 49%
Woke Beth Moore – 92%          Complacent Evangelicalism – 8%
Denying Racism Is A Problem – 36%       Denying Guns Are A Problem – 64%
Billy Graham – 65%        Eugene Peterson – 35%
Donald Trump Autographing The Bible – 87%          Donald Trump Actually Reading The Bible – 13%
Family Values –  61%        Brett Kavanaugh – 39%
Jerry Falwell Jr.'s Love For Trump – 85%         Mike Pence's Devotion To Trump – 15%
Shane Claiborne – 66%        America's Love Affair With Guns – 34%
Bracket Leaders
1. Richard McNeeley  –    16 points
2. Russ Guill  –      13 points
3.  Joel Gibbel  –        12 points
3. Megan Hamshar  –     12 points
3. Kara Govoni  –      12 points
3. Phil George  –      12 points
3. Tracie McConnell  –      12 points
3. Kimbre Birdwell  –      12 points