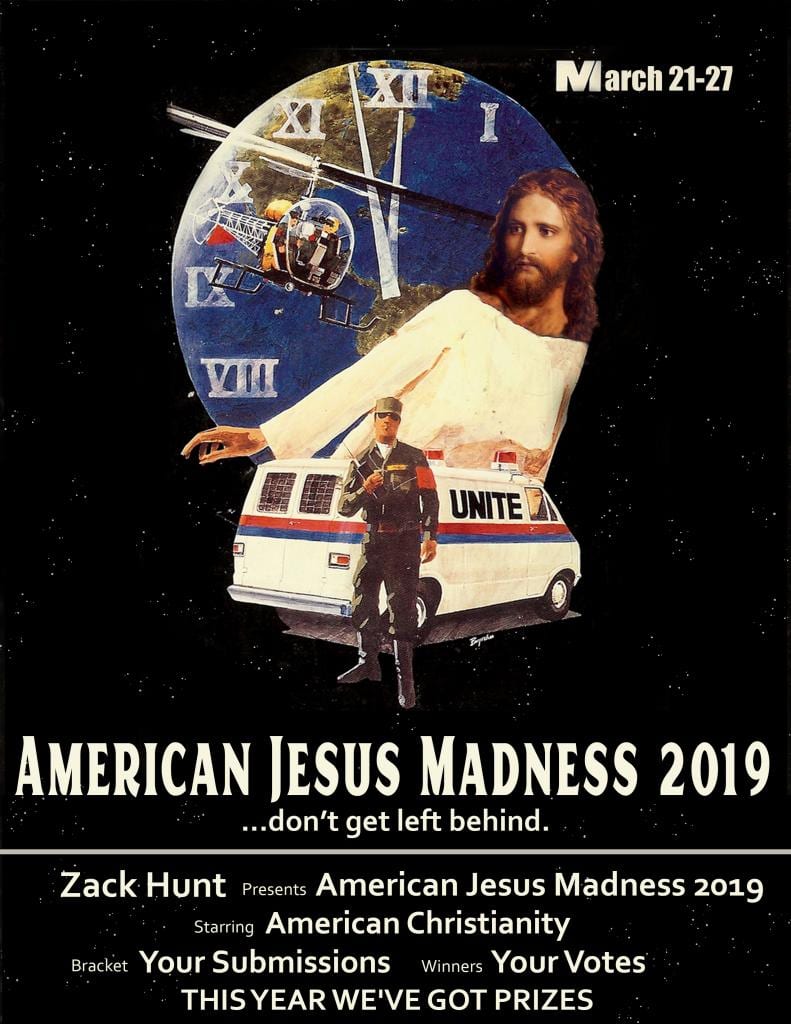 America Jesus Madness is back!!
And this year I've got actual for real prizes!!
For reals.
I know, I know. How could I possibly top the immortal internet glory that has been given out to winners in years past? The answer, of course, is I can't. But I can bring some of that glory into the physical world.
This year, thanks to the wonderful generosity of my publisher Herald Press, I've got a stack of books I'm handing out to first place, a slightly smaller stack for second place, and even third place will get a book too!
And no it's not just a stack of my upcoming book, Unraptured. Mostly because that's the only book I personally have to offer. Obviously it will be included, but the winners will be getting books from some of Herald's other fantastic authors too.
But wait!
There's more!!
In addition to actual for real prizes, this year I'm also creating what I'm calling the Resurrection Bracket.
"What is that?" you ask.
It's salvation for those whose brackets get busted in the first two rounds, a shot a redemption, if you will, and more importantly, another chance to win one of those fabulous actual for real prizes I mentioned earlier.
Here's how it will work: after we make it through the first 2 rounds, anyone who has had their bracket completely busted OR anybody who simply missed the original deadline can submit a brand new bracket based on the remaining matchups. Those brackets will be collected together in a new bracket challenge (separate from the original) with the winner receiving a free signed copy of my upcoming book Unraptured.
Is it super obvious yet that I'm using American Jesus Madness to promote my book?
It should be. (Winky face emoji)
But it should also be a lot of fun.
Of course, there will be no fun to be had without a bracket and as always, I need your help with that.
Leave your matchup ideas in the comments below, on my Facebook Page, or tag them on Twitter using the hashtag #AJM2019. Anything – and I mean anything – related to American Christianity in the past year is eligible, the more creative the better. If you need some ideas to get you started or have simply never played American Jesus Madness before, check out last year's bracket.
As always, I can't wait to see what you all come up with.
Nominations are open now and will stay open until this coming Sunday night, March 17th.
I'll release the bracket Monday, March 18th.
Filled out brackets will be due Wednesday, March 20th.
And American Jesus Madness 2019 will start bright and early Thursday, March 21st.
Until then, bring on the matchup nominations!!